The telecommunications sector is one of the most defensive that offer higher yields to investors compared with the rest of the stock market. The sector is very resilient to economic cycles because people connect with each other all the time, and even in times of economic recession the telecom companies' revenues don't fall too much. Because of their high cash flow generation capacity, telecommunication stocks have some of the safest dividend yields in the stock market.
The sector has been underperforming the wider European market over the last months. Comparing the eurozone telecom sector index, which is down 21% over the last year, with the European benchmark DJ EuroStoxx 50, the underperformance is around 9% in the last 12 months. The sector has been penalized by the weak macroeconomic outlook in Europe and the ongoing sovereign debt market. These companies' links to governments and high debt piles make the sector especially vulnerable to Europe's weaknesses.
As I discussed recently in my previous article "Portugal Telecom: Is The 16% Yield Sustainable", the Portuguese company Portugal Telecom (PT) currently offers the highest yield within the European sector, but there are other European telecom companies that also offer very good opportunities for dividend investors.
The table below summarizes the key figures for European companies with highest dividend-paying stocks within the telecom sector (apart from Portugal Telecom)
| | | | | | | |
| --- | --- | --- | --- | --- | --- | --- |
| Company | Market Cap(€m) | Div. Yield(%) | Payout Ratio (%) | P/E Ratio | EBITDA Margin (%) | Net Debt/EBITDA |
| Telefonica | 55.657 | 12.5 | 127 | 10.2 | 32.2 | 2.3x |
| France Telecom | 29.177 | 12.7 | 95 | 7.49 | 33.2 | 1.8x |
| KPN | 11.731 | 9.9 | 77 | 7.8 | 39.5 | 2.2x |
| Belgacom | 8.173 | 9.0 | 92 | 10.25 | 30.2 | 0.7x |
| Mobistar | 2.268 | 11.4 | 117 | 10.27 | 31.9 | 0.6x |
Source: Bloomberg
Telefonica (TEF): Telefónica is a Spanish company and one of the world leader's integrated operators in the telecommunication sector, providing communication, information and entertainment solutions, with presence in Europe, Africa, and Latin America. It operates in 25 countries. As of December 2011, Telefónica's total number of customers amounted to 306.6 millions.
The company has maintained a policy of gradually increasing the dividend, which has been complemented with various share buyback plans. It currently offers a 12.5% dividend yield and trades with a 10.24x P/E ratio.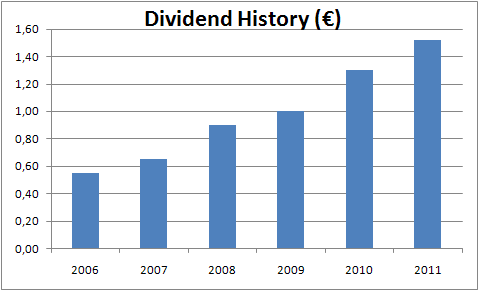 Source: Telefonica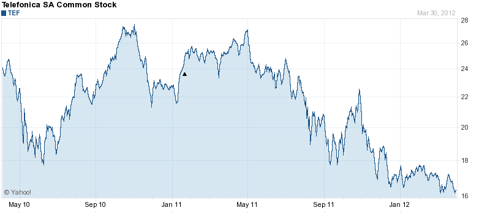 Click to enlarge
Source: YahooFinance
France Telecom (FTE): France Telecom is a telecommunication operator with 172,000 employees worldwide and sales of €45.3bn in 2011. Present in 35 countries, the Group had a customer base of 226 million customers at December 31, 2011, including 147 million customers under the Orange brand, the Group's single brand for internet, television and mobile services in the majority of countries where the company operates. Orange is one of the main European operators for mobile and broadband internet services.
Regarding its dividend distribution policy, the Group wants to preserve a strong financial structure and is targeting a net debt to EBITDA ratio of around 2.0 in the medium term, and it will maintain a policy of returns for shareholders aligned with operating cash flow generation capacity. It currently offers a 12.7% dividend yield and trades with a 7.49x P/E ratio.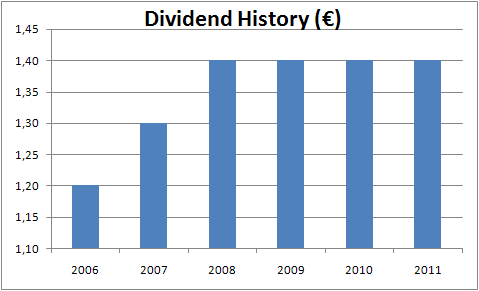 Source: France Telecom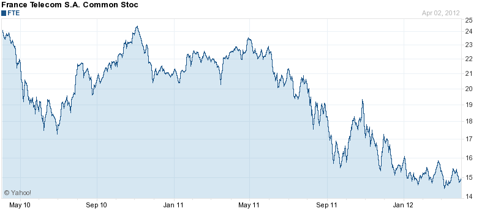 Click to enlarge
Source: YahooFinance
(Click to enlarge)
KPN (OTCPK:KKPNY): KPN is the leading telecommunications and ICT service provider in the Netherlands, offering wireline and wireless telephony, internet and TV to consumers and end-to-end telecom and ICT services to business customers. In Germany and Belgium, KPN pursues a multi-brand strategy in its mobile operations and holds number three market positions.
At December 31, 2011, KPN served more than 44.5 million customers.
KPN's shareholder remuneration policy is based on the financing principles that secure a solid balance sheet with a sufficient equity level, a net debt/EBITDA ratio between 2.0 and 2.5x and a growing dividend per share. It currently offers a 9.8% dividend yield and trades with a 7.8x P/E ratio.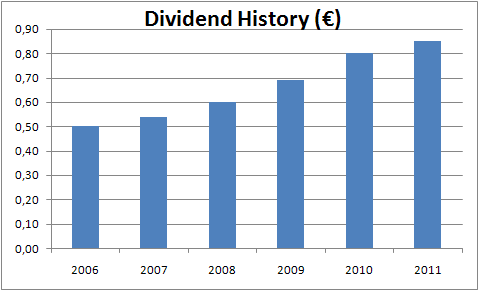 Source: KPN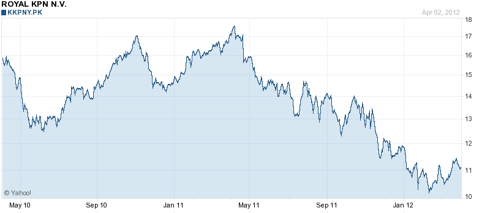 Click to enlarge
Source: YahooFinance
(Click to enlarge)
Belgacom (OTCPK:BGAOY): Belgacom is based in Belgium, provides communication services and products to residential, business and corporate customers both domestically and internationally. Through its subsidiaries the company further offers mobile phone and Internet services.
The company policy is to return most of the annual free cash flow to shareholders. This will be accomplished by dividends and share buybacks. It currently offers a 9% dividend yield and trades with a 10.25x P/E ratio.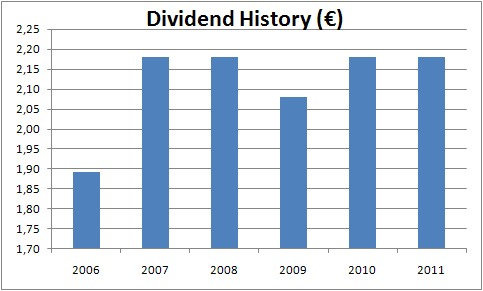 Source: Belgacom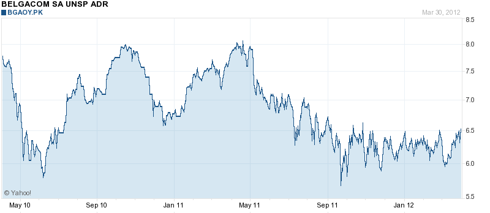 Click to enlarge
Source: YahooFinance
(Click to enlarge)
Mobistar (OTC:MBSRY): Mobistar is one of the main actors in the world of telecommunications in Belgium and Luxembourg, active in mobile telephony, fixed telephony, fix data, ADSL and on other services with a strong growth potential. The company develops innovative products and services for the residential and the business market.
Through its subsidiaries, France Telecom owns 52% of Mobistar. It currently offers an 11.4% dividend yield and trades with a 10.27x P/E ratio.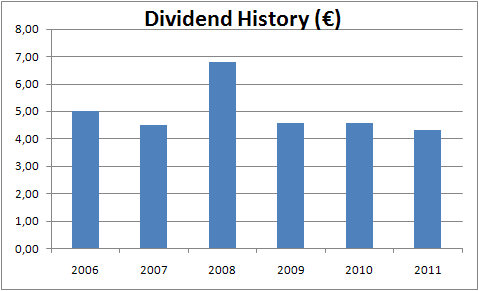 Source: Mobistar
Disclosure: I have no positions in any stocks mentioned, and no plans to initiate any positions within the next 72 hours.