We've got to hold on to what we've got/It doesn't make a difference if we make it or not/We've got each other and that's a lot for love/We'll give it a shot.

Whoa, we're halfway there/Whoa-oh, livin' on a prayer/Take my hand, we'll make it I swear/Whoa-oh, livin' on a prayer Livin' on a prayer.

Bon Jovi, Livin' On A Prayer
You can poke fun at Sirius XM (SIRI) longs all you want, but one thing is for certain. The longest of the ardent SIRI longs stick together. Their passion and devotion to the cause approaches the intensity of some of the great social movements of our time. It's us against the world and, of course, the people united will never be divided.
Several of us on Seeking Alpha often warn investors to avoid allowing their emotions to run away with their investments. While I cannot deny that sticking with SIRI has paid off for shareholders who got in at the right price (as in, after the implosion), a ceiling really does seem to exist in this stock, as Seeking Alpha's Cameron Kaine pointed out earlier.
And, as I noted earlier:
Now, take a look at what moves the stock. Debt upgrades, inclusion on an index and takeover rumors. That should scare you.
Let us consider some of this, using the following charts, courtesy of Yahoo Finance.
July 11, 2011: Sirius XM to Join the NASDAQ-100 Index.
The chart, from July 11, 2011 to August 11, 2011 shows that SIRI topped out at $2.33 shortly after the news only to swoon in the dog days of summer. I fell into the trap of over-blowing this news, but, I learned from history and bailed from my position.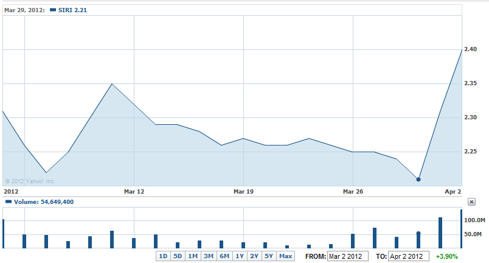 That would warrant a laugh if it was not so ominous. The little blue dot marks March 29th, 2012, the day Liberty Media (LMCA) made its apparent "move to take control of Sirius XM." The stock rocketed in the following days on speculation as to what this might mean. The other easily-identifiable dip ended on March 6th, 2012, the day that Liberty could officially up its stake in Sirius XM. The stock ran, nothing happened, it dropped again, only to rise on more baseless rumor and innuendo.
Here's the intraday chart from April 3, 2012: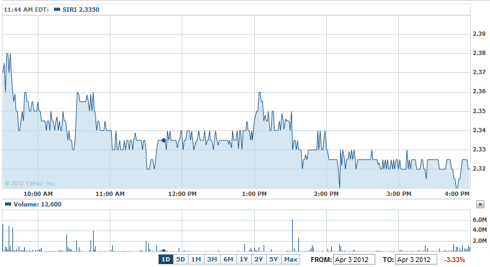 Of course, you could blame broader market pressure on Tuesday's plunge, but really, what we're seeing is history repeat itself so you should probably chalk it up to this:
On Tuesday, Canaccord Genuity analyst Thomas Eagan noted Liberty can monetize its stake without buying more shares and doubted Liberty would pay $1.5 billion for an additional 10% stake after paying $530 million for 40%.

"We believe a spin-out of its 40% SIRI stake would help monetize the investment," he wrote.

On Monday, a Standard & Poor's equity analyst raised his price target on Sirius to $3 from $2.50, noting its improving results and the possibility any Liberty moves could enhance the stock.
In other words, the FCC dog and pony show means nothing. If you think for one second that the FCC has any power in this matter, I've got a job for you at a government agency that actually means something and can make impactful decisions. They push papers at the FCC and get their panties in a bunch over things like curse words and wardrobe malfunctions that mean absolutely nothing in the grand scheme of life and society.
Liberty's filing to the FCC amounts to a whole bunch of moot. It's a symbolic move meant to mess with Sirius XM CEO Mel Karmazin's head. It basically is a preemptive barb designed to keep Liberty's options open in the unlikely event it decides to exert control, overspend and increase its stake in or take over Sirius XM. The FCC will sign off on whatever the DOJ or some regulatory agency tells it to sign off on.
If you're long, strong and of bullish conviction, re: SIRI, stick with it. It has, over time, performed well. However, if Apple (AAPL) bulls are crazy with their heads in the clouds as they close their collective eyes on the way to a comical $1,000, SIRI bulls are livin' on a prayer if they think $3.00 is in the cards, given the flighty history of this equity.