Market Recap: The market struggled on Tuesday after the Federal Reserve surprised with commentary that right now they are not interested in further quantitative easing that would create QE3. The market had been speculating there may be some commentary about it, and its lack of inclusion led to an intraday sell-off. Factory orders came in just under expectations at 1.3% vs. 1.4%, but it was a great improvement over the -1.1% reading from last month. Further, Europe was weak on the day as fears over Spain continue to grow, which also weighed on the market.
While we understand that no QE is going to cause an initial sell-off, what is the reason for no more QE? Is it because of inflation or growth? Is it because unemployment is improving? In reality, QE has been a crutch for a weak market. If the Fed is seeing that the crutch is no longer needed, in the long run that may be very good for the market. An initial sell-off for no QE may mean a lot of upside in the future. We will have to wait and see.

Two Trades (Investments)
Here is what we like for investing right now. Our two favorite companies for investment are Sociedad Quimica y Minera (SQM) and Dollar General (DG). We will start with the discount store. We have a Buy rating and recently upped our PT to $55 from $52. We continue to like this stock. The company has tons of upside for growth as we believe the smaller convenience store that offers discounts will remain popular as brand recognition was helpful for DG in recession times. They have redesigned stores to provide more ease and have tons of growth potential. They are safe haven stocks that can do well in tough times and good growth in the general economy is also good for them.
SQM is a great minerals play in Chile. The company has access to a lot of minerals in Chile that gives the company a bit of a monopoly in the region, and they are going through an amazing growth cycle right now. We are looking at around 20% growth in sales this year and 8-10% in 2013. The company is on the brink of breaking out as they have been stuck in 55-60 range for quite some time. Some may say 21 future PE means upside is limited, but we are looking at an EPS that could very well double by 2013.
(Click to enlarge)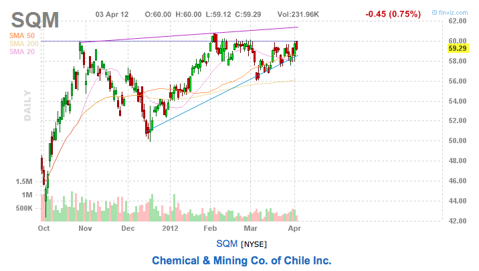 Tomorrow's Outlook
The market had a tough go after starting the week strong, and the Fed decision is going to loom at least for another day before we get to the unemployment numbers on Friday. Those numbers really are what matters right now for this market as the QE talk is short-lived. The unemployment situation is much more tangible and has more fundamental impact than QE. We do have a lot happening tomorrow that could shift the market. From Europe, we have the ECB decision. That report will be important especially in light of no QE decision from the Fed. At home, we get ADP Employment Change, ISM Services and Crude Inventories. ADP will be important as it will be the only major employment numbers the market can react to intraweek, so we may see a larger push on those numbers tomorrow. From Asia, we get basically nothing. All attention on ECB, ADP and ISM tomorrow.
Analyst Moves
The interesting analyst moves for us today were Fifth Third Bancorp (FITB) to Buy from Stifel Nicolaus. FITB is starting to emerge as one of the best mid-cap banks in the country. They have been rated well as far as safety and liquidity and are seeing growth in a lot of key markets. We like them as well.
We did not, however, agree with Stifl Nicolaus' downgrade of Coca-Cola (KO) to Hold as we still see them as a Buy at these levels with a 2012 target of $85 on them. We released several upgrades and downgrades as well that can be viewed here. We downgraded Dean Foods (DF) to Hold from Buy and dropped PT to $14 from $15. We maintained Dow Chemical (DOW) at Hold but upped PT from $29 to $31. We maintained Rockwood (ROC) at Hold but upped the PT from $41 to $51. We maintained Tim Horton's (THI) at Hold but upped PT from $58 to $61.
Commodity Talk
We have not been playing oil as it sorts out a new range. The 105-109 range was broken last week, which was great to see as we believed oil was overvalued, and we are waiting to see how inventories come out and the oil market reacts to it. Will the new range be 101-105 or are they going to bring it back over 105? We want to see how things play out tomorrow. Gold continues to look weak, and we are now looking for $1,600 before we would look to go long on gold again. SPDR Gold (GLD) will be a nice pick up at that level.
Our Moves
We closed several positions today and had a nice day. We got out of half of a long we picked up on Monday in Abercrombie & Fitch (ANF) for a 1.5% gain. We closed a 570/620 bull call spread we had in Apple (AAPL) in our $50K Apple Portfolio for a 17% gain. We were able to get an exit on half of our Coinstar (CSTR) long in our Earnings Alpha Portfolio for a 2% gain. We added three positions today as well. We got long on VF Corp (VFC) in our Short-Term Equity Portfolio. We went long on Ashland (ASH) in our Earnings Portfolio by selling $60 puts. We did a reverse iron condor on Direxion Daily Financial Bull (FAS).
We have the following positions: In our Short-Term Equity Portfolio we are long ANF and VFC. In our Options Portfolio, we are long Visa (V), PetSmart (PETM), Starbucks (SBUX), Ralph Lauren (RL), Google (GOOG), and IBM (IBM). We are short Apollo Group (APOL) and iShares Russell 2000 (IWM). We have reverse iron condor in FAS. In our Earnings Portfolio, we are long Ulta (ULTA), Canadian Pacific (CP), ASH, CSTR, and Goldman Sachs (GS).
Chart courtesy of finviz.com.
Disclosure: I am long VFC.