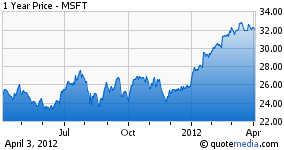 Microsoft (MSFT) has had a fantastic run thus far in 2012, up a healthy 24% through Q1. The question I ask myself is whether its run is about to sputter or continue forward, and if it is to continue, what a smart play might be. The following analysis provides my thesis as to why Microsoft's run is not over and how you can benefit from this position. The Street is missing something and I believe it to be material.
First, Microsoft has an overhang on its stock price that I somewhat respectfully call the "Ballmer effect." The effect can be seen in a multitude of ways ranging from financial articles to analysts reviews which poke fun at the former Harvard grad.
Microsoft Today
Steve Ballmer and Microsoft have learned quite a bit in the past decade. Although competing is in their blood, it is valid to say that their "scorched earth competitive policy" has just about been left behind. Today, they are actually cooperating with the Chinese government to reduce the rampant piracy that goes on in that country. While one cannot say this effort has been an unmitigated success, it is fair to say that progress is apparent.
This improvement is a much better result and approach as compared to Google's (GOOG) unwise April 2010 decision to cede China, the world's largest and arguably highest growth opportunity, to competitor Baidu (BIDU) (It seems Google's fateful decision was based on ego and a misunderstanding of their dominant share vs. limited power position).
Back to Mr. Softy - Microsoft has grown up. In addition to how it is handling China, the company also is developing valuable partnerships with the likes of Nokia (NOK) in tablets and smart phones, with General Electric (GE) in healthcare information and management, with Yahoo (YHOO) in search and advertising, and Apple (AAPL) not as a partner but instead as having mutually beneficial (somewhat) business models. It seems Google is a greater threat to both Apple and Microsoft than they are to one another and as a result there has been a détente of sorts. I ask why I have not seen any of those funny "I'm a PC, I'm a Mac" TV ads of late? Maybe there is a truce? See today's article in Reuters where they are working together and accusing Google of unfair patent fees. Additionally, it is interesting to see recently where Microsoft is developing software to manage its Bing Adcenter in Europe on Macintosh computers.
Beyond its new-found ability to play nice (at least nicer), Microsoft's fundamentals are solid and improving in most areas. For instance:
1. Earnings Per Share: As can be seen from the chart, EPS has steadily grown for the past eight years at an average compounded rate of 19% while the stocks gains have totaled only 1.13%/year compounded.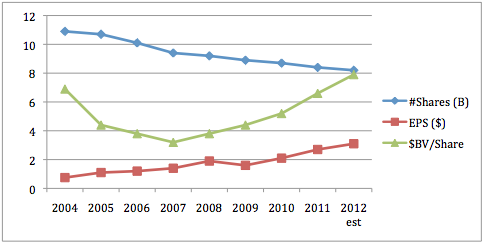 2. Share Count Reduction: The past eight years indicates a consistent share reduction of 3.5%/year.
3. Book Value: Their negative BV trend has been reversed with a consistent and positive five-year trajectory.
4. AAA credit rating: Yes, they are one of only four companies remaining with a higher credit rating than the U.S. government.
5. Payout Ratio: Is a safe, low 26%, providing a yield of 2.5%. A successful Windows 8 launch in late 2012 would likely cause an increase in the dividend to 3% though this may happen sooner.
6. Margins: Not a strength due to its transition from an unhealthy dependency on Microsoft Windows and Office to a balance including lower but improving profitability for Xbox, Kinect and Bing platforms. The TTM OP Margins stand at 37.6%, off their eight year high of 38.8% reached in FY 2011.
Looking deeper into what is driving the above numbers demonstrates why I fundamentally believe Microsoft is headed higher notwithstanding its PC OS market share being chipped away by Apple.
First, it is instructive to view how Microsoft communicates its progress. Below I have included its five business units and how each is progressing in the marketplace. In the coming months I will be attempting to obtain direct support from Microsoft to add a geographic element (as Apple does) to enhance how they communicate to investors. Without this, we investors are left to estimate (guess) when we should not have to. If I have success in coming quarters it will likely help us all.
WWLD - Windows and Windows Live: Emerging market growth is solid, DM growth slightly negative. Business growth outpacing consumer growth. As mentioned above, protection against piracy is helping the EMs.
MBD - Microsoft Business Division: Multi-year licensing revenue (60%) is growing double digits. The smaller Transactional licensing revenue (40%) is lagging the overall PC market.
STB - Servers and Tools: Enterprise Services is the best story within this group and is growing in the high teens.
OSD - Online Services Division: As Bing continues to increase its global penetration, economies of scale will kick in and provide a nice boost to the bottom line. This slow but steadily improving approach is what Microsoft has historically been good at. They typically are not the innovators but do well when learning from others, then producing products which leverage the network.
EDD - Entertainment and Devices: This division has been an unmitigated success. Their Kinect (18MM installed base) and Xbox live (33%YOY growth) have been real winners. As they continue to grow, their scale will dramatically improve their margins. This is the division I suggest the market is discounting rather heavily. I project the Windows 8 launch in late 2012 to be nothing short of a game changer for Microsoft. As they enter the smartphone and tablet markets in a serious way, these new platforms will not have the legacy coding baggage that windows has been hampered with. This blank slate opportunity, plus the inherent advantage of partnering with Qualcomm( QCOM) and ARM (ARMH) chips, will allow them to compete effectively in two markets with tremendous growth rates. As an added bonus, this segment also includes the high priced Skype (200MM active users) acquisition, which is beginning to show growth rates and scale that justify the original acquisition price. In summary, if Microsoft can market these products in a coherent, compelling "home entertainment" manner, they will be well on their way to creating a large number of Microsoft evangelists. A missing link today.
One factor that could derail the entire thesis is the overall market trends. There are many views for and against a continued resurgence of the economy and stocks. I tend to align with the view of Wharton Finance Professor Jeremy Siegel. Mr. Siegel has written a number of books and leans on statistics and long-term trends to underpin his case. I respect his analysis and have included his recent CNBC appearance.
With the above backdrop, my recommendation on how to play Microsoft with this bull thesis is simple. Buy very inexpensive in the money calls as if you were buying the stock but at a fraction (about one-fourth) of the cost. When the stock goes up 6-15%, sell your calls at a profit of 20-50%. In addition to the above fundamental drivers, the relatively low volatility allows you to get in the game with a nominal theta, defined by Investopedia as: "A measure of the rate of decline in the value of an option due to the passage of time."
Now for the mechanics of this recommendation:
Wait to buy (limit order) the MSFT Jan 2013 Calls at a strike price of 25 and a premium of 7.05. This total of $32.05 is about a $.20-.30 time premium as of the writing of this article. The objective then is to buy the call options at this price and then sell those same options when the underlying stock increases to 34-36. As of this moment, the bid is at 7.10 and I recommend patience. The higher your sell price, the more you will make but also the greater risk you are taking as the stock could drop back. The stock has about 10 months to get to these levels and with the market moving like it is and Microsoft expected to have a number of announcements (catalysts). My thesis is that you certainly could achieve a return of 20-50%.
Disclosure: I am long MSFT, AAPL, QCOM, BIDU.
Additional disclosure: The above information was obtained from the Microsoft SEC filings, Morningstar, Business Insider and CNBC. As investing in options can be risky, the author recommends the above trade be made with the similar percentage of your portfolio you are willing to lose as if you had invested in Microsoft stock over the same 10 month time period.