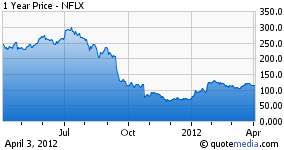 When Netflix (NFLX) appeared on the scene, it immediately dominated the rental market, and sent traditional brick and mortar rental shops packing. Even the previous market leader, Blockbuster Video, has been shutting doors across the country due to a change in the way people rent movies and TV shows. But things are rapidly changing again, and many analysts are asking whether or not Netflix is going to keep up. I see its recent adjustment to streaming and its careful content choices as good news for Netflix investors, and will continue to stand behind this $115 stock.
Netflix
So, what are these good decisions, and is management really savvy? Most recently, Netflix cancelled a deal with Fox for the show "Terra Nova," but has invested in new episodes of fan favorites like "Arrested Development." Its newest content is likely to bring in more subscribers and keep existing subscribers satisfied. Rather than relying on customers to join, it is reaching out to customers in an effort to keep everyone happy.
And it's not just customers that are happy with Netflix, but internally, Netflix is one of those companies that people enjoy working for. More and more, investors are losing on the market, because they don't realize how important corporate culture is to a successful business. Everyone is angry about the way Netflix dropped 76% recently, and for good reason. But over the past five years, Netflix stock is still up 500%. One of the strengths of the company is good management and excellent corporate culture.
CEO Reed Hastings has a couple of tricks up his sleeve. For one, the company hires and retains only "stunning" employees, and the policy goes like this: "Adequate performance gets a generous severance package." Whether you stay or go, you are well paid at Netflix, and they don't have a vacation policy or any tracking system for paid days off, nor do they have a dress code in the office. The truth is that if you hire excellent, or even "stunning" employees, and you treat them well, you are going to get the results that keep you ahead of competitors.
So Who or What is the Competition?
Last summer, when Netflix tried to separate its DVD service from its streaming service, everything tumbled. Quikster was quickly shelved, and investors hoped to never see the name again. The good news is that Quikster is gone. But Netflix seems to be going forward with its plans to separate out DVD from streaming. They're just being more subtle this time around. The fact is that the biggest competition that the Netflix model is seeing is in the streaming market. Why wait for a DVD to arrive in the mail when you can download or stream what you want to watch right now?
So, while investors and customers were angered by the threat of Quikster, Netflix may be making a very smart move in the long run. Top competition for Netflix is coming from companies like Amazon (AMZN), whose Kindle Fire platform allows streaming of Amazon content. Amazon is in a much better position, cash-wise, to push streaming, and the Kindle Fire was a big hit with consumers.
Last February, Amazon purchased U.K. based online rental service Lovefilm. This year, Netflix has countered by entering the U.K. and Irish markets. Back in January, it would have looked like a bad time to be holding Netflix stock, but things have been looking up since then. All-in-all, Amazon threatens Netflix, and is probably taking a bite out of market share, but Netflix seems to be strategizing by including exclusive content that Amazon just cannot nab fast enough.
Another potential threat is the release of Google Play from Google (GOOG). But this is unlikely to make a dent in the Netflix market at all. Google has a pay-per-rental model, which is really in direct competition with Apple (AAPL) and the iTunes store. Netflix looks like a much better deal, with unlimited streaming for just $7.99 per month.
The real competition for the DVD side of things comes from Coinstar's (CSTR) Redbox and from DISH Network's (DISH) Blockbuster. This version of Blockbuster is giving subscribers to DISH's satellite TV service unlimited streaming, as well as the ability to order DVDs via mail. The company is limited by its own platform, however. Redbox business has soared by 28% in the past year, just when Netflix lost millions of DVD plan accounts. Redbox is also threatening a streaming option slated to be introduced later this year.
Wal-Mart (WMT) is also stepping into the streaming game. Wal-Mart sells 40% of DVDs that are sold in the United States. Its deal with Ultraviolet allows customers to upload DVDs to the cloud. This may keep Wal-Mart in a good position with customers who are growing wary about buying physical DVDs when streaming is so readily available. But it is unlikely that this will have an effect on Netflix. In the long run, paying to upload DVDs may actually encourage Wal-Mart shoppers to finally make the move to a once monthly fee for streaming with Netflix.
Is Netflix a Winner?
I see the combination of investment in quality programming and quality employees as a sign that Netflix will continue to move in winning directions. They will see some competition heat up, but they have also taken steps to cut costs, even within its already extremely low cost model. The fact that its stock has risen so dramatically over the past five years should also be a comfort. Last year's scare was a rather big blip, but now is not the time to cut and run. I'm not alone in thinking that Netflix has nothing but a bright future. Its name recognition, and the fact that they really do invest in good people and good programming, gives the company some distinct advantages against competitors who are busy with many other aspects of this business.