The first quarter earnings season starts next Tuesday with Alcoa's (NYSE:AA) report after the close. Below is a chart showing the number of companies reporting earnings by day this reporting period. As shown, we really won't see a large number of reports until the middle of the month. Then the busiest weeks for earnings season will be the last week of April and the first week of May. Thursday, May 3rd is the busiest day this season with a whopping 427 companies reporting that day.
(Click to enlarge)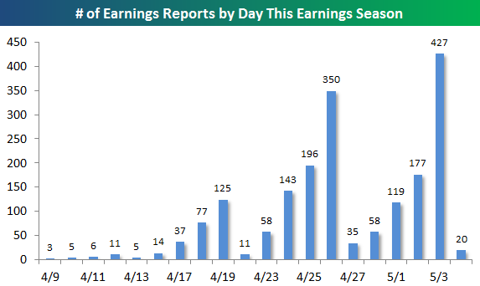 From our Interactive Earnings Report Database (available to Premium Plus members), below is a list of the stocks that have historically been the most volatile on their report days. To make the list, the company must have at least four years (16 quarters) worth of reports in our database and have a report date between now and the first week of May.
As shown, Travelzoo (NASDAQ:TZOO) is the most volatile stock on its report day with an average one day move of +/-15.12%. TZOO is trailed by Infinera (NASDAQ:INFN), VASCO Data (NASDAQ:VDSI), priceline.com (NASDAQ:PCLN), First Solar (NASDAQ:FSLR) and Multi-Fineline (NASDAQ:MFLX). Other notables on the list include Netflix (NASDAQ:NFLX), Intuitive Surgical (NASDAQ:ISRG), Crocs (NASDAQ:CROX) and True Religion (NASDAQ:TRLG).