Research In Motion (RIMM) seems to be on the path of another Canadian company, Nortel. Over the past year, its stock price has dropped 74% to $14.37. The current market value of RIM is roughly $7.53 billion. For a company with more than $1.5 billion cash and no debt, the stock appears to be a bargain. It has attracted many investors who look for undervalued companies in the market. Does RIM pass the value test? Is it a buy? I believe the answer to both questions are no. RIM is either on its way to bankruptcy or it may be bought out at an even lower price.
(Click to enlarge)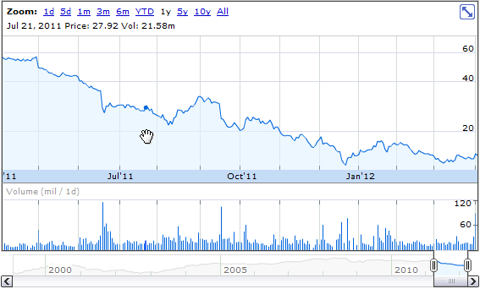 1. Income and balance sheet
Many people argue that RIM has an attractive stash of cash on its balance sheet. This serves as the margin of safety when investing in RIM. This conclusion can be very wrong. During the first quarter of 2012, RIM's revenue dropped $4,190 million from $5,556 million the same quarter last year. Its income from operations dropped to a loss of ($142 million) from a profit of $1,213 million. RIM has tactically hidden about $400 million of inventory increase in the balance sheet. With decreased revenue and increased inventory, we can only imagine that these are the products hard to sell. They will have to be sold at a discount, hence the reality could be even uglier than a loss of ($142) million, more like ($300) to ($400) million. At this speed, RIM's cash would not even last a year before it has to start take on debt.
2. Competition
Many Seeking Alpha articles have covered RIM's tough market situation with Apple's (AAPL) iPhone and Google's (GOOG) Android both going strong. On Amazon's (AMZN) top 10 bestselling mobile phones, none is a Blackberry. In fact, I don't see many Blackberry users. What I want to emphasize is another hidden dragon in this market: Microsoft (MSFT). It has partnered with Nokia (NOK) to exclusively produce Windows 7 based smart phones. The first major product, Lumia 900, is coming out this month. All online reviews point to a device with very user friendly software and solid hardware. RIM's only bright spot in its recent quarterly report is the number of business subscribers using RIM's global network infrastructure. Microsoft's mobile OS will be able to seamlessly communicate with other Windows based software such as Office. It is a major threat to RIM's business. This is going to be the final nail in RIM's coffin.
3. Product
Blackberry Bold, Torch, Curve: none offers anything exciting that would attract attention in a market flooded with cool new phones. Blackberry playbook: dead on arrival. In fact, if RIM continues to develop products based on its own platform, it is hopeless. Its software is simply inferior to iOS, Android and Windows. It will not catch up -- not with the kind of R&D budget that Apple, Google, and Microsoft have. On hardware, it doesn't have any advantage over Apple, HTC, Motorola, or Nokia either. So even if RIM switches to either Android or Windows platform, without much differentiation from the competitors, it's going to have to take a razor thin margin. Its survival is still questionable. You see, there is no way out.
4. Intellectual property
Many RIM bag holders have the hope that its intellectual property is going to be worth some money. It can be a takeover target, just like what happened to Motorola when it was purchased by Google. Motorola has 17,000 patents, with 7,500 pending. RIM, well, has 2,033 patents. Motorola was acquired at $12.5 billion, which makes RIM a $1.5 billion acquisition target. Moreover, Motorola's hardware was a decent fit for Google's Android. Any company acquiring RIM for its intellectual property will have to face a thousand headaches to get rid of RIM's hardware business. There are no potential suitors in the market that fit RIM well. Patent trolls can be very interested in acquiring RIM. But they wouldn't chip out that much cash for intellectual properties.
In summary, cautious investors shall never be allured into a value trap like RIM. As a technology company, RIM no longer has any edge in the market. Its R&D capabilities are much weaker than its super-size competitors. Once it starts hemorrhaging money, the cash on its balance sheet will get burnt faster than many believe. In other words, it has no hope. We may see small dead cat bounces here and there, just like what happened after the most recent earnings conference. But they are just small blips on a sure and fast paced declining slope.
R.I.P., RIM.
Disclosure: I have no positions in any stocks mentioned, and no plans to initiate any positions within the next 72 hours.