ACADIA Pharmaceuticals (ACAD) unfortunately appears to be losing steam. Like the little train that could, the "could" is being saved for another day while day-traders sell out and move on to the next biotech stock. ACADIA has had a wonderful run and that's good news for investors who got in early and sold for a profit, but now it looks like the bears are moving back in.
The stock recently closed at $2.27/share, and is now on that slow decline where stock-winners risk becoming stock-baggers. The oddity is how after 12 March 2012, the stock saw a sudden run on no news except the usual fodder of day-trading writers. On 6 March 2012, the stock was at $1.60/share and then saw this extraordinary jump to $2.27/share for no apparent reason. Since then, the stock has been slowly slipping and could fall as low as the resistance line at $1.20/share.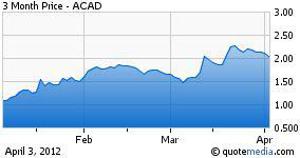 Recently, ACADIA did win a very miniscule research award from the Michael J. Fox Foundation, but the amount, while appreciated, was a paltry $322,000. The "supplemental award" (Ibid) is not the kind of cash infusion ACADIA needs as the quarterly cash burn eats away at cash reserves. Nevertheless, the award is a shot in the arm even though it will make very little impact on the company's overall struggle to bring a drug candidate to market.
Since I study technical measures, I am especially concerned by Tuesday's price action. The dip dropped to $1.91/share before recovering to $2.03/share. If you study the candlestick formation, the odds are the stock could fall as low as $1.50/share, or $1.20/share as I mentioned earlier.
Of course, investors may prefer the high-risk that comes with buying an ACADIA and day-traders who rode the stock from $1/share are likely not complaining. But the year-long chart looks like ACADIA has lost its momentum and there could be heavy selling any day now. While ACADIA's pipeline looks inviting, it's as risky as it gets.
Very recently, the company announced an At-The-Market agreement for up to $20M. Personally, I understand the need to raise cash because it's put towards clinical R&D, but unfortunately the market usually shares another opinion.
STRONG SELL: My recommendation is that day-traders take their profits and wait until the stock retraces.
Disclosure: I have no positions in any stocks mentioned, and no plans to initiate any positions within the next 72 hours.
Additional disclosure: Investors buy and/or sell at their own risk.