As an American moving to China, I was amazed at the level of technological advances that have taken place in such a short time. I was familiar with some of the problems that Google (GOOG) had encountered with the Chinese government, but I was not prepared for my coveted Google search engine to be slower than the pace of a tortoise. By moving its operations out of mainland China to Hong Kong, the door flew open for Baidu (BIDU) to take the lead.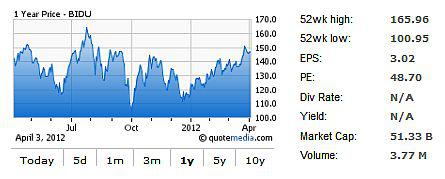 With the falling out between Google and the People's Republic of China, Baidu has taken up the charge racing up the Great Wall of Internet domination in China. Baidu is a Chinese internet search provider located in Beijing, incorporated in 2000. Baidu offers a multitude of internet services and continues to expand its offerings. Most recently it has partnered with DigitalGlobe (DGI) to enhance its mapping capabilities of over 344 cities in China. Currently over 85 million square kilometers of highly accurate imagery in China is offered and 2 billion kilometers of worldwide imagery is available.
Over 500 million Chinese users search for the ideal solution, answer or nugget of information on the internet. China is still poised for extreme internet growth as it is estimated that over 60% of China is still offline. Baidu holds a 76% revenue share of the internet-search market in China. It was the first Chinese company to be included in the NASDAQ-100 index.
Growth in China has stalled somewhat. Chinese Premier Wen Jaibao in his annual state-of-the nation report projected the growth rate for 2012 would be 7.5% down from the 9.2% of 2011. Even though growth has slowed somewhat in China, utilization of the internet and demand by users for faster and freer access continues to rise.
The Chinese government still maintains strict control and censorship over the internet. A recent crackdown on social media and blogging sites has curtailed some forms of free expression. China has begun to require users posting blogging comments to register their true identity. YouTube, Facebook, Twitter and similar sites are all blocked. However, this does not stop the Chinese user from finding ways around the "Great Fire Wall" by utilizing freeware such as Freegate that enables a user to bypass normal censorship and reach western social media websites.
This is where Baidu faces its biggest and thorny challenge: Keeping Wall Street investors happy while maintaining good relations with the Chinese government in Beijing. The company walks a thin tightrope. Baidu already has garnered a reputation for censoring search results and blocking websites, while at the same time allowing pirated music and movies to leak through.
Google dismisses claims that it has abandoned the Chinese market. In an effort to fortify international operations, Baidu recently opened up a new center for international operations in southern China. Its stock price has fallen slightly to around $146 per share with a current P/E ratio of just over 48. The P/E 2012 return is estimated to be roughly 31.
Baidu is held in some of the most well-respected mutual funds portfolios such as T. Rowe Price Growth Stock, Vanguard International Growth Investment, Morgan Stanley Institution Mid Cap Growth, Fidelity Growth and Invesco Van Kampen Capital Growth.
Competitor Sohu (SOHU) is trading up at around $55 with a P/E of almost 14. Mutual fund powerhouses like Oppenheimer, Hartford and Vanguard hold Sohu in their arsenals of small cap and developing fund portfolios. Sina (SINA) is trading slightly downward at $65, while Yahoo (YHOO) was down to around $15 with a P/E of just over 18.
The strongest competitor is Sina, with its Weibo platform allowing messaging platforms to spread uncensored information and opinions across the internet in China. Sina is also discussing a partnership with Flipboard, a mobile news startup, to integrate with Sina's Weibo into a Twitter like platform. However, once again, recent censorship crackdowns have halted some of this free expression.
Baidu holds tightly to the reins, however, working in partnership with Apple (AAPL). Baidu has been chosen as Apple's default search engine in the iOS operating system used in iPhones and iPads in China. As a result, ThinkEquity (San Francisco) has pegged Baidu at a 12 month buy rate of $200.
Baidu's market share grew in 2011 to 78.3%. Google's share was only 16.7%. Baidu appears to have a greater lead over its rivals than Google has over Yahoo or Microsoft (MSFT) in the United States. So the question is whether Baidu is too expensive or has enough growth potential to justify purchase?
Q4 2011 reports indicate that earnings rose around 80% and sales increased by 90%. During the same period, Google increased earnings by 6% and sales by 25% in the most recent quarterly reports. Baidu's earnings are anticipated to increase 54% in 2012 and an average of over 48% annually for the next five years. Google's average is anticipated to be around an 18% average.
Baidu is increasing its efforts to provide wide internet access for users while placating Beijing's desire to maintain a hold on censorship. Google's issues with the Chinese government are not likely to be resolved, which will continue to limit Google's desire for domination in mainland China. Facebook (FB) is facing the same challenge as it contemplates its IPO filing and how to conduct business in China and be compliant with the Chinese government mandates and control. This lack of U.S. internet firm invasion will most likely continue to be an advantage for Baidu's growth and strength over the coming years.
Baidu is strong against its Chinese rivals Sina - blogging, Renren (RENN) - Facebook type and Youku (YOKU) - YouTube replica. Baidu is clearly a best choice for a dot-com stock pick, enjoying solid gains and a positive outlook for long-term growth.
Is that the only question to ask yourself before investing in Baidu? Is return on investment the only part of the equation to evaluate? For me it goes much deeper and becomes a moral issue.
Baidu appears to be basking in glory because of its support of the Chinese government's strong hand on censorship. Google has handicapped itself by virtue of the fact that it has chosen not to succumb to Beijing's pressure. Clearly for me, the choice between the two stocks would be easy. Google would win, hands down.
Freedom is a fundamental right that when denied to some eventually affects us all. To purchase a company solely on return is a cursory level of due diligence. The social values of a company must be taken into consideration when making a solid investment. Those social values will eventually impact the bottom line for the shareholder.
I would be remiss if I did not ask myself how important freedom of speech is before purchasing shares in Baidu. I for one am a protestor of censorship. In an effort to reach internet freedom, I too utilize "over the wall" software that allows me to avert the Chinese censorship and reach true open internet access.