Mobile TeleSystems OJSC (NYSE:MBT) is a wireless communications industry leader as a mobile phone operator in Russia and Commonwealth of Independent States. The company is a very important component of Russia's telecommunication sector. Together with its subsidiaries, MTS services over 76 million subscribers including the regions of Russia, Armenia, Belarus, Turkmenistan, Ukraine, and Uzbekistan, in which MTS (Mobile TeleSystems) and its associates and subsidiaries are licensed to provide GSM services for a total population of more than 230 million.
Mobile TeleSystems fundamentals are compelling, since its excellent financial position is bolstered by strong cash flow, substantial quarterly revenue growth and good profit margins. This company has posted results that are some of its industry's best. Its market cap stands at $27.30 billion. Increased focus on customer relationship and business effectiveness has allowed for more predictability in relation to consistent financial results. A good prove of this factor is a strong 36% in operating margins. Equally impressive is its 40.82% return on equity. Profit margins trailing twelve are currently at almost 22%. Revenue/wise MTS posted $7.31 billion yoy. Gross revenue came in at $4.95 billion for a net income of $1.55 billion. $3.02 billion in operating cash flow.
One detail worth pointing out is management's continued efforts in injecting investments into its core businesses, particularly in terms of sales coverage, advertising and acquisitions in order to accelerate long-term growth capabilities. This has reflected into the company's competitive position and strong market share, subsequently resulting in enhanced shareholder value.
On September 4th, Mobile TeleSystems reported a higher-than-expected second-quarter net profit of $507.9 million, saying it was pushed up mainly by the growing traffic.
Earnings rose by 72 percent from $294.7 million in the second quarter of 2006. The company's second-quarter revenues climbed 32 percent to $1.97 billion, also beating analysts' forecast of $1.92 billion. Chief Executive Officer Leonid Melamed said in a statement:
A significant growth of revenues and net profit is evidence of the success of our efforts to stimulate traffic in the company's main markets.
Mobile Telesystems has a diversified presence which stretches across various markets including domestic and foreign. This last Monday, country's largest mobile phone company announced, that it will spend up to 310 million euros ($430 million) to buy control of Armenian operator VivaCell, thus continuing expansion beyond the saturated Russian market. MTS bought 80 percent in the parent company of K-Telecom, which operates under the VivaCell brand according to Reuters.
Conclusions

Most stocks in the telecommunication industry have added to books growing revenues and earnings over the past three years. MTS has done even better than most of its peers in relation to its top-line growth. Revenues have grown quite rapidly in comparison over the past three years.

Current earnings estimates in fiscal 2007 stand accumulatively at $4.80. Projected fiscal 2008 expected at $5.40. Revenue/wise $7.80 Billion, $8.73 for fiscal '07- '08 respectively.

For this company to generate decent returns for investors, it will probably only have to realize moderate growth in earnings or a higher valuation by the market. Having said that, from a technical analysis perspective, MTB's chart reflects continued growth while steadily climbing. The price action has yet to significantly test a support zone. Clearly buyers are in charge as the advancers volume is trending higher than that of decliners.Needless to say, overall chart remains in a strong bullish uptrend.
My take is that this stock is healthy in absolute terms. Pps-wise it will continue to gain higher grounds towards the $82 - $84 levels in relatively short to mid term basis.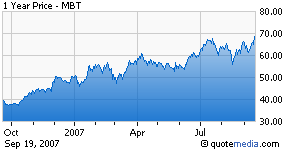 Disclosure: none