The German taxpayers have largely been ignored in the global media storm covering the euro debt debacle. There is no doubt that the German taxpayers hold resentment and frustration towards countries that have held no fiscal responsibility and, in the face of default, continue following the same policies. But at the same extent, the German people should not lose hope in the euro and make a rash decision in reintroducing the Deutsche Mark. The burden of bailouts should be considered as a small cost for the large benefits provided by the euro. The euro has allowed Germany to achieve unheralded export growth and the driver of this growth must be better understood by the German taxpayers.
Total exports in Germany exceeded €1 trillion for the first time as can be seen in the figure below. Exports recovered from the significant drop experienced during the GFC and have now reached historical highs. Compared to 2010, exports have grown 11.4% which is a dramatic increase considering Germany accounts for 9.5% of world export trade. Since 2000, exports have almost doubled as opposed to the 68% increase experienced in the 10 years prior to the introduction of the euro in 1999.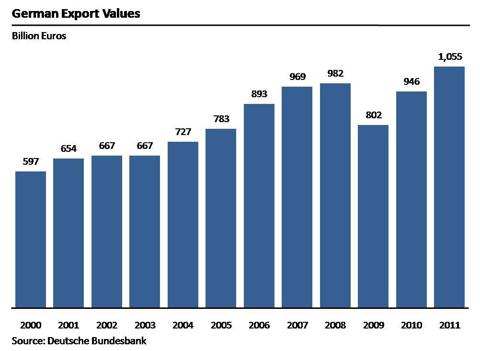 This growth is undoubtedly impressive and it is largely attributable to the cheap euro currency. There is growing enthusiasm for the reintroduction of the Deutsche Mark by the German people but this would prove to be disastrous in maintaining current export levels. Ultimately, this means that the cost of leaving the euro would be significantly higher than the cost of bailing out indebted nations. The benefits provided by the euro still outweigh the costs of a euro zone bailout and so it appears that it is in the best interest of the German population to remain in the euro.
It should also be noted that Germany's economic strength has also provided capital inflows into the EU member states since Germany's import volume has also reached new records. In 2011, German imports amounted to €902 billion which has topped the previous record of €805 billion in 2008. The EU has been able to capitalize on the trade growth of Germany since it accounts for 63.5% of its imports.
Disclosure: I have no positions in any stocks mentioned, and no plans to initiate any positions within the next 72 hours.