True Religion Apparel, Inc. (TRLG) is a wholesale and retail clothing company comprising four segments. The U.S. Consumer Direct segment that includes retail stores in the United States and all e-commerce sales, the International segment that includes 16 stores at the end of 2011 with expectations to open 14 more in 2012, the declining Wholesale segment, and the Small Licensing segment. While our expectations for the broader market remain bullish (with a target price of 1600 on the S&P 500 by the year-end), we expect TRLG to seriously underperform and trade around $22.82.
Most of the data mentioned in this article has been taken from the company's most recent annual report.
Click to enlarge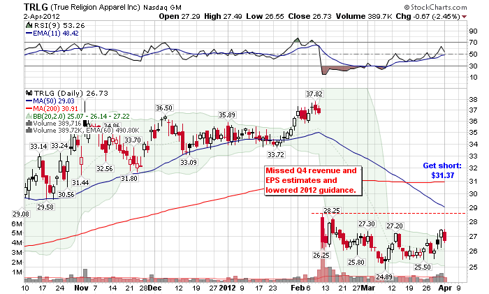 Strengths
The U.S. Consumer Direct segment had 109 stores open as of the end of 2011, with net sales of $251.3M or 59.9% of the total net sales for the company. This segment grew sales 32.9% in 2011 compared to 2010. Net sales for the company overall have grown from $173.3M in 2007 to $419.8M in 2011.
Weaknesses
The company's most glaring weakness relates to its current long-term contracts for cotton. If cotton prices were to decline in the near term, (see chart below) "we may not realize such savings in our cost of sales for some time" (10K). This is an alarming statement considering that cotton has declined over 50% the past 12 months. If competitors are buying their cotton in shorter intervals, they will be able to mark down prices and still maintain their current profitability. This will lead to massive market share being taken away from TRLG.
True Religion does not anticipate its Wholesale customers to return to carrying the levels of inventory they had prior to the recession. This segment generated net sales of $86.3M, or 20.5% of the company's net sales. The Wholesale business has seen sales decline 17.7% in 2011 when compared to 2010.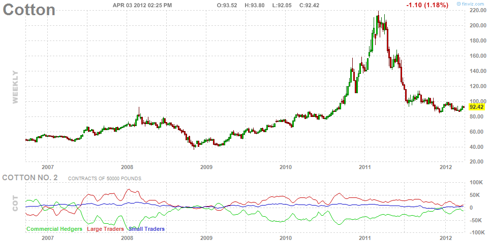 Opportunities
The International segment has generated net sales of $79M, or 18.8% of the company's total net sales. There were 16 stores at the end of 2011 and TRLG expects to open 14 more in 2012.
Growth in the International segment has been robust, with a 22.5% year-over-year gain, and this growth should continue to be impressive going forward. The new stores, however, do cost money and will be a cloud hovering over profit margins for many quarters to come. For this reason, we do not expect any EPS growth until the long-term contracts for cotton products end. TRLG has done a great job transitioning from a wholesaler to an international retailer so far, but the shares will not shine until profit margins expand.
Threats
It seems as if too much has to go right for True Religion to be really successful. There is a lot of competition in this luxury-clothing segment and only a certain number of consumers are willing to pay $200 for a pair of jeans. The business model seems incredibly boom or bust - and considering all the factors mentioned above, we believe TRLG should trade at a lower multiple. It had been severely underpriced going back to 2008 when EPS was 1.83 and it was trading at 6.5x earnings. The run-up in shares since then has not been due to EPS expansion (most recently 1.80 per share in 2011), but to a higher earnings multiple (15x) for last year.
The company is being forced into an identity change. Department stores are not buying TRLG products like they have in the past so the company has become more of a retailer. The risks associated with being a retailer involve higher upfront costs to open stores. Exposure to the mall customers is hurt because there are less True Religion products and more competitors' products on the shelves of upscale department stores and boutiques.
Best-case scenario: $31.37 (the ultimate short)
Under the right circumstances (S&P 500 hitting our 1600 target at the end of 2012), we can see TRLG trading as high as $31.37, a point that would provide an opportunity of a lifetime to go short. This number assumes similar sales growth to 2011 and factors in the reduced margins we are expecting. It does not factor in a consumer switch to similar competitors' products due to lower costs and loss of market share.
2012 target price: $22.82 (or lower)
We expect EPS to be similar to that of the past few years, at around 1.80 per share. We believe the market will continue to re-price TRLG shares and reduce the multiple at which it currently trades (14.5). Our expectation is that with the recent earnings miss, relatively high cotton costs, and increased SG&A, an earnings multiple closer to the average for the past 3 years is warranted (12.5).
Technical Analysis
We see on the daily chart (above) TRLG hit a new all time intra-day high ($37.82) just two days before the February 10 announcement that Q4 2011 results missed on both the top and bottom lines, as well as on the lowered 2012 guidance. The gap created by this news is obviously the most striking feature of TRLG's shorter-term chart. With all the fundamental headwinds, we see TRLG facing a complete retracement of the gap as unlikely. Just breaking through the resistance created by the bottom of the gap ($28.59) may be a monumental task with what should be lowered valuation expectations, as well as moving averages overhead that will likely serve as difficult resistance boundaries.
The weekly chart gives us some clues as to other key levels we may see TRLG trade near about for the remainder of the year.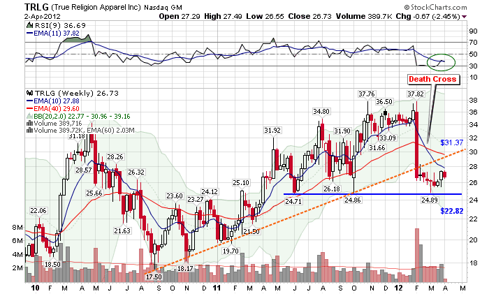 On the longer-term weekly chart, the Q4 miss caused price to break through an uptrend that had been in place since late August 2010. As the stock now moves to recover some of this extreme revaluation, we may see this trendline reemerge as resistance (if price recovers robustly). Price had been obeying the 10-week MA fairly strictly for the previous 17 months until the recent move produced a dreaded death cross. We wouldn't be surprised to now see the 10-week MA serve as a near-term resistance level.
The weekly chart does have some bullish characteristics, as the recent low of $24.89 is a level of support that has held twice previously (in June and October 2011) and since the dramatic fall, the RSI has recovered from mildly oversold levels. While these factors, in combination with a stubbornly rising broader market, may help TRLG drift to our best-case scenario target ($31.37), our fundamental outlook has our end-of-year target of $22.82 looking far more likely as a sustainable level.
Summary
While there may be some short-term upside for a trade based on a partial recovery of the severe move in early February, long-term investors will certainly want to steer clear of TRLG, as nothing short of a miracle may be needed to assist the company in overcoming the hurdles it faces.
The international openings in 2012 represent the highest risk/reward for shares going forward. If these international store openings do not go well, we could see profit margins turn negative. The recent drop in cotton prices will not be showing up on the bottom line due to the long-term contracts and there hasn't been any EPS growth in years.
With elevated fixed cotton costs and SG&A expenses for international openings dragging margins we certainly do not expect EPS growth for 2012. Our target price of $22.82 is somewhat optimistic considering all the issues True Religion is facing this year. It is highly likely that TRLG will experience a significant decline in market share due to relatively higher input costs, and thus it could trade at an even lower multiple than our expected 12.5.
Disclosure: I am short TRLG.
Additional disclosure: Short position initiated at $26.69, will add more to position if it reaches $31.37 area