There are 3 reasons not to be invested in the U.S. stock market during the month of April: Apple, Inc (AAPL), the Euro (FXE), and the volatility index (VIX).
Apple is due to report Q2 earnings on April 24th 2012. A quick look at the chart and two large unfilled gaps are still left open. The closing price for APPL before the Q1 earnings announcement was $420.41 and now currently AAPL is $629.32 or just shy of a 50% gain from the day of the earnings announcement. A disappointing Q2 report will send shares toward the 2 large unfilled gaps from the previous earnings report and also weigh down the major U.S. markets including the S&P 500 (SPY) and the Nasdaq 100 (QQQ).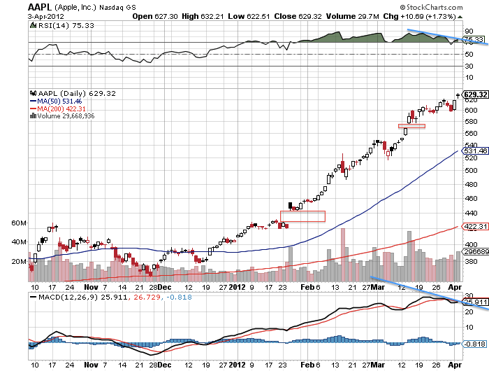 Next up is the Euro, which is sporting a head and shoulders pattern on the charts. A decline in the euro will likely have a negative effect on U.S. markets which are priced in U.S. dollars. Confirmation is a move below $130 and measures to around $127 currently.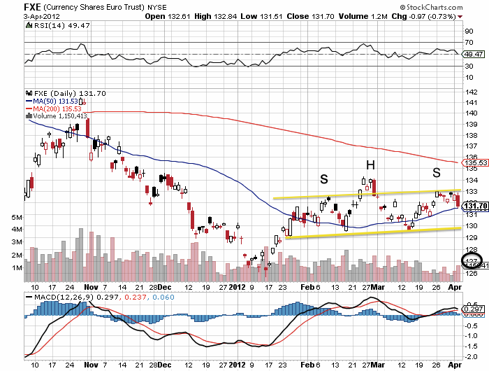 Click to enlarge
Finally, the S&P 500 volatility index (VIX) is well off its low of 13.66 to its current value of 15.66. Also, the RSI and MACD both are turning up. A rise in the VIX or fear gauge is signaling trouble ahead for the S&P 500 index .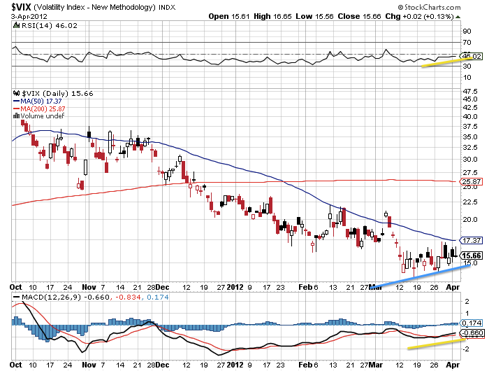 Click to enlarge
In conclusion, April 2012 is a better month to sit and watch from the sidelines rather than be invested in the U.S. market.
Disclosure: I am long GOOG, UUP, CMG, AAPL: long AAPL 615 APR 12 WK1 put, GOOG 630 APR 12 WK1 put, UUP 22 MAY 12 call, GOOG 530 APR 12 put, and CMG 380 APR put.