I read that 23 of 24 top economists had predicted a 25 basis point cut to the Fed Funds rate. And a few of them expected a 25 basis point cut in the discount rate as well.
So much for predictions!
The Fed chopped a half point (50 bps) off the Fed Funds rate and another half point of the discount rate. The latter now makes it possible for banks to borrow from the Fed's window at 4.25%.
At this point, many will debate and dispute what this means for the economy; you'll see quite a few people talking about the inevitability of a recession; others will talk about the continuing strain of a global credit squeeze.
However, there's little doubt about the fact that the Fed is committed to propping up banks. (And for that matter, international governments have been bailing out financial institutions a la the UK's assistance to Northern Rock.)
This is why you witnessed the KBW Bank ETF (NYSEARCA:KBE) and the iShares Dow Jones US Financial Sector Fund (NYSEARCA:IYF) surge on Tuesday; they led all U.S. exchange-traded stock fund gains with 4.3% and 4.4% respectively.
It is one of those rare times when you can say... the rules of the game may have changed.
Before the Fed's move and subsequent statement, you wouldn't want to get near financials with a 20-foot crane. Now, "Financials" may find themselves in first place over the next 3-6 months.
Consider the chart below. Ultra Financials ProShares ETF (NYSEARCA:UYG) seeks daily investment results, before fees and expenses, that correspond to twice (200%) the daily performance of the Dow Jones U.S. Financials Index. The IYF tracks the daily performance of this index.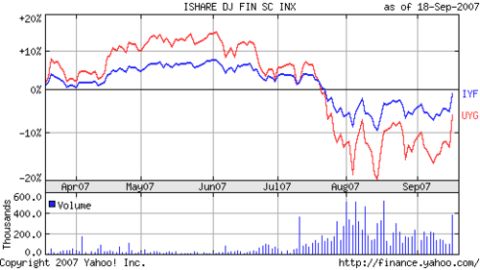 The broad markets hit all-time highs on July 20. At that time, the leveraged financial fund UYG dropped below the IYF. Moreover, it was happening on the downside. This was an ominous sign for the credit crisis.
Here on September 19, 2 months later, UYG looks poised to pass the IYF on the upside. This may be the fortuitous sign that the credit crisis will be contained or that the worst may be behind us. At the very least, it appears that the Fed will do "whatever it takes" to keep the financial sector stable.
With the Fed on the side of "Financials," it's hard not to reevaluate the IYF and its leveraged colleague, UYG. The annual dividend is in the 5% range for both and you're not going to get that kind of payment to invest in other types of companies.