Chesapeake (CHK) is an oil and natural gas Exploration and Production company based in Oklahoma City. The company was founded in 1989 by current CEO Aubrey McClendon and current Sandridge (SD) CEO Tom Ward. Aubrey has built Chesapeake into the second largest producer of natural gas and the most active driller in the US. Recently, Mr. McClendon has acquired millions of acres at a net cost of zero to shareholders by scooping up large areas of land at rock-bottom prices and then creating a JV with a company to fund their purchase. Devon Shire wrote an article about this a few months ago, and since then CHK has announced a huge JV with Total (NYSE:TOT), raising the indicated value of CHK land at $46B. Yes, billion. Yes, CHK market cap is sitting just shy of $16B.
However, there are some reasons as to why the shares are currently depressed. Due to continually low natural gas prices, CHK is in a current cash flow crunch, and is selling assets and switching to liquids to make ends meet. I believe that they will do as promised, because when McClendon says he is getting a deal done, he is getting it done. People also say that McClendon is reckless and does not care about shareholders, and that he has a spending problem. The way I look at it is if his recklessness causes shareholders to have an implied value of $46B from just 7 of his deals- then spend away!
Low Natural Gas Prices at Work
The fact that natural gas prices are depressed is not a surprising headline. With natural gas prices the lowest they have been in 10 years, and with summer (the "supply building" season) approaching quickly, prices are set to move even lower for the short term. In fact, the latest headlines are claiming that low natural gas prices may force pipelines to turn away this clean burning fuel this summer. This will push most producers to either store it themselves, flare the excess, or slow/stop production.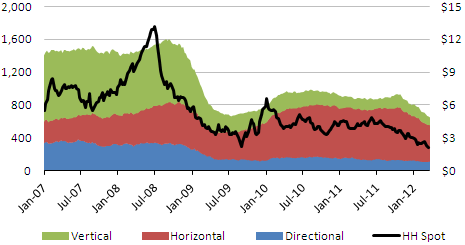 The chart above shows the rig count associated with natural gas compared with the price of natural gas. This shows how most producers have responded to low prices - by drastically slashing CAPEX dedicated to dry-natural gas exploration. While there is still gas associated with oil and wet-gas production, these volumes of gas are much lower than a dry gas reservoir. These moves will help reduce the record-high supply.
Natural Gas Vehicles to the Rescue
While reducing supply is great, the real catalyst for NG prices is to increase demand. This is where CHK is stepping in, and stepping in big time. Chesapeake has been making many moves to be proactive in allowing the NG/CNG/LNG market in the US to blossom into an industry that President Obama says can be a creator of more than 600k jobs by decade's-end. A "short" list is as follows:
-CHK announces JV with GE (NYSE:GE)
-CHK announces JV with 3M (MMM)
-CHK partners with Love's Travel Stops
-CHK announces fleet conversion
-CHK invests in Clean Energy Fuels (CLNE)
And expect more; CHK has created Chesapeake Natural Gas Ventures Corporation (CNGV) primarily to develop the infrastructure for CNG. They have claimed they have dedicated at least $1Billion over the next 10 years to this venture, although I am sure that number will increase.
Natural Gas Vehicles and the Early Settlers
The main risk with the development of CNG infrastructure is the lack of cars being sold today that run on CNG. This provides little immediate incentive for companies to develop the filling stations. As a Catch-22, the public is not exactly jumping at the opportunity to buy a CNG vehicle because of the lack of filling stations available. There must be a handful of companies with either large risk-tolerance or deep pockets (GE) to be willing to tough it out in the short term in order to get the ball rolling on the natural gas vehicle market. The recent partnership between CHK and GE is a beautiful combination of the two.
Personally, I believe that investing in the companies such as CHK, GE, CLNE, and MMM that are willing to pioneer the development of the early infrastructure gives an investor the highest upside potential. Being early players, they will be years ahead of the curve when the inevitable happens - a rise in the amount of natural gas vehicles in the US. As the second largest producer of Natural gas, Chesapeake will also benefit greatly by the associated rise in natural gas prices.
Conclusion
The fact that companies like CHK, GE, 3M, and CLNE are willing to take the inevitable short-term hit on this infrastructure shows how much confidence they have regarding the future of the NG market. As the old saying goes: If you build it, they will come - especially with gasoline approaching $4/gal.
Investors looking to buy shares in these companies should have a long-term horizon of at least 3-5 years. With the upcoming supply-building season, it may be wise to leg into these companies. 
I personally believe CHK has the biggest upside, as it will benefit directly from both the increase in gas prices and the increase in popularity of NGV. It is also sitting just slightly above its 52-Wk low.