SJW Corp (SJW) purifies and distributes water and related services including water system operations, maintenance agreements, and antenna leases. Its water supply consists of groundwater from wells, surface water from watershed run-off and diversion, and imported water purchased from the Santa Clara Valley Water District.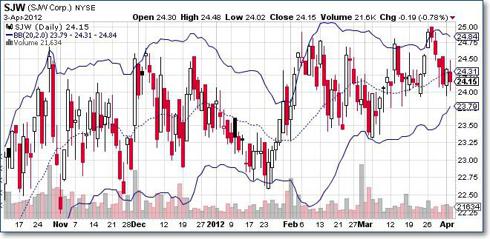 Presently trading at 25.14, the company was recently upgraded by Brean Murray to 'buy' the end of February while being given a price point of 29. This allows it to move a comfortable 20%. Brean Murray said that revenue in the quarter of $62.3 million (a 23% YoY increase) came in nicely above its $53 million estimate.
The company has done well recently, growing in a nice bullish peak and valley formation as it steadily moves up. The stock is steady and provides a modest dependable dividend that has average 2.40% with a 62% payout.
SJW Corp is managed well, and has the best prices to sales ratio in the Water Utility industry. Whereas the average price an investor pays for $1.00 of a sale for the industry is 6.14, SJW comes in at a blistering 1.9. It also boasts one of the best price to book value in the industry. Financially, the company continues to be in good shape. For the last three years it has expanded about 10% a year as a company, while keeping its liabilities in check. Its debt equity is about 35% lower than the industry average and is positioned quite well to pay off any short term debt obligations it has-- better than anyone else in the industry. The cash reserves are solid and the company is quite liquid. This puts it in a good position if in need of short term loans.
Although a lot more growth is not expected this year, earnings through 2013 are projected to grow by 42%. SJW Corp is a solid company that is financially stable and projected to have huge growth potential in the next year, which could mean nice dividend increases in the next couple years. It is worth investigating this stock.