The uncertainties of biotech investing continue to send chills down my spine. What you read, what you are told, what you want to believe, is usually not anywhere how it turns out. I am not trying to be funny, but the biotech market is starting to look like the night sky of shooting stars and I've been seeing more than one fall 60% or more. This is a good moment to remind ourselves: highly speculative biotech stocks are extremely risky.
Enter beleaguered Horizon (HZNP). Here's why I say that.
Early Warning Signs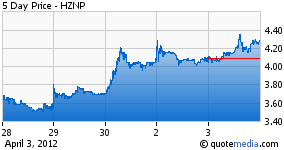 The stock is way down from its 52 week $9.34/share high back in November 2011. On Tuesday's close, the stock was about 50-60% lower at $4.30/share. What happened?
Around 8 November 2011, the share price began a dramatic decline. No doubt long-term shareholders were left speechless as by 18 January 2012, it hit $3.07/share. This kind of collapse gives investors nightmares. You buy a stock and hold, then you see it decline and new buyers with renewed enthusiasm move in and the cycle starts all over again.
What happened is captured in an article by SA author Simon Monger:
Generics may also limit the market potential of even very efficacious drugs as patients try and weigh the costs against the benefits. With the strong efficacy seen in many soon-to-be-generics, patients may feel little need to spend the extra money on prescription drugs. As a result, many of these companies may face an uphill battle even if their pipelines materialize.
According to a prior SA report, Horizon doesn't appear to impress or hold much potential. That SA author writes:
For Horizon, the market potential for Duexis is substantial, but in reality, the market penetration may be disappointing. Duexis prevents one ulcer for every 10 patients when compared to ibuprofen alone, but the data does not indicate that it prevents gastrointestinal bleeding. In addition, there are market forces that may prevent Duexis from gaining any traction in the RA and OA space.
Lawsuit Concerns
Now caught up in a lawsuit against Par Pharma (PRX), Horizon will have a new battle to try to block or postpone a generic market release of its own arthritis tablet Duexis. Lawsuits drag on for months, even years, so time may be on the side of Horizon. On the other hand, it exposes the company's vulnerability to competition. I never see legal problems as a positive for a stock's price, but it is what it is. Horizon has been backed into a corner to protect its intellectual property. It looks though like SA author Simon Monger was correct.
Buyer Beware
With such a small 3 month average trading volume (77,302), this stock is wide open to market manipulation by sheer volume. Curiously, the stock volume was 4x the average 3 month volume on Tuesday's close (306,255). Is there a consortium of buyers here? The market cap is just shy of $150M, so I would warn investors about this high volatility. It could easily happen that small time retailers could be drawn in by the large volume buyer only to witness the bottom fall out. For example, being sold the bill of goods that a lawsuit is a good thing is quite frankly laughable if it were not deplorable.
In conclusion, I recommend staying away from this biotech stock until more of the unknowns are known. It looks to be very risky and could linger at these levels for months. I view any increase in share volume as suspect as a large buyer could create a false impression that the share price is going to go up. Therefore, I am issuing a strong sell on the risk that it could again fall to below $3.50/share.
Disclosure: I have no positions in any stocks mentioned, and no plans to initiate any positions within the next 72 hours.