The Aluminum Corporation of China's (ACH) recent tender for up to 60% of SouthGobi Resources (OTC:SGQRF) has knock-on effects throughout the Gobi Desert in the Mongolian mining complex, and the country of Mongolia. It is not possible to know how this will play out, but it is possible to know there is a lot to consider.
Aluminum Corporation of China, also known as Chalco (and sometimes referred to by its 100% Chinese state-owned parent company's name Chinalco), recently announced an agreement related to Ivanhoe Mines (IVN) and SouthGobi Resources to purchase up to 60% of SouthGobi Resources (also known by its Mongolian subsidiary name: SouthGobi Sands) shares at CAD$8.48. This announcement happened April 1, 2012 (in Canada) before the markets opened in Asia on Monday, April 2, 2012. The tender was made for a 28% premium over Friday's SouthGobi closing share value.
The Basics, Price Action In Related Stocks
At the end of the day Monday, closing prices for SouthGobi Resources were:
in Hong Kong (1878.HK) = $60.50 (tender should be about $66)
U.S. = $7.65 (tender should be about $8.55)
Toronto (SGQ.TO) = $7.52 (vs. tender of $8.48)
Frankfurt (HOX.F) = EUR5.80 (Frankfurt's volume is small, but most among German listings; tender should be about EUR6.45)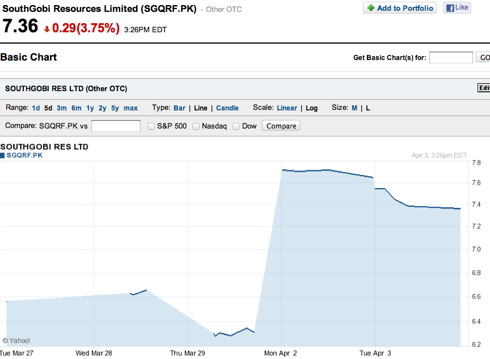 Click to enlarge
Source: Yahoo Finance. Despite the time stamp, this snapshot is after the market close on April 3, 2012. The time stamp notes when the last trade occurred in the U.S.
The discount on share price compared to Chalco's tender price everywhere was 8% or greater. Trading on April 3, 2012, witnessed declines in SouthGobi's share price across global markets rather than a rise to meet the tendered offer in the agreement.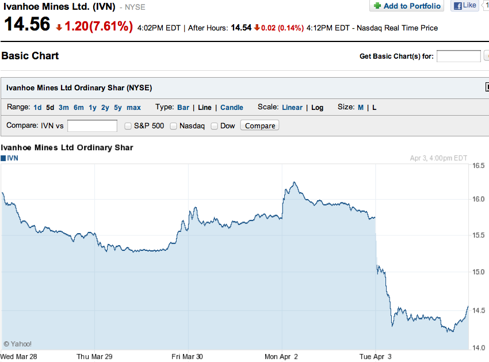 Click to enlarge
Source: Yahoo! Finance.
Ivanhoe Mines' share price closed near even Monday compared to Friday's close, but on Tuesday, April 3, 2012, it fell 7.61%.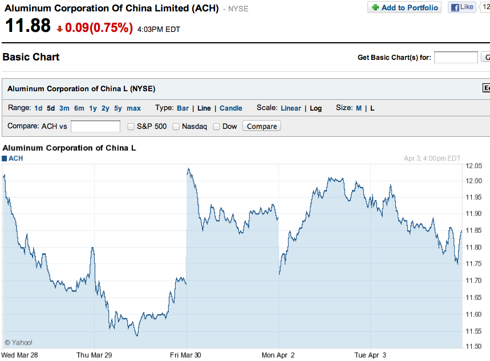 Click to enlarge
Source: Yahoo Finance.
Chalco's share price, relative to the preceding Friday (March 30) close of $11.87, has been relatively stable compared to the wild fluctuations of Ivanhoe and SouthGobi.
Ownership Connections
Rio Tinto (RIO) owns 51% of Ivanhoe Mines as of January 2012. Ivanhoe Mines owns 57.6% of SouthGobi Resources. Publicly traded but state-owned Chalco took an 18% stake in Rio Tinto in 2009, though this Reuters article on the recent deal cites Chalco's stake in Rio Tinto as 12.9% currently.
The linked Reuters article and other news sources make clear that this deal entails Chalco agreeing to purchase Ivanhoe's entire 57.6% stake in SouthGobi Resources. The agreement, though, is for up to 60%, leaving a question mark about where the other 2.4% is coming from (ostensibly SouthGobi itself, or another shareholder).
Ivanhoe And SouthGobi's Valuation At Issue
In a previous article about Ivanhoe Mines' various troubles with its share price, I quoted Oliver Belfitt-Nash from Monet Capital's brokerage in Mongolia significantly. Monet's Samuli Assinen issued a research report on Ivanhoe on March 21, 2012, with a hold rating and target valuation of $17.03 (at the time the stock was $17.82). The valuation model Monet used valued Ivanhoe's 66% stake in the Oyu Tolgoi copper-gold mine as 83% of the company's value. Relevant to the impact on SouthGobi and Ivanhoe's share price, the research note valued Ivanhoe's 57.6% stake in SouthGobi Resources as only 5% of Ivanhoe's value.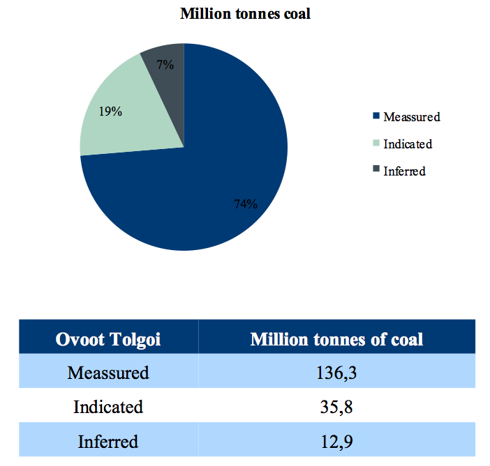 Click to enlarge
Source: Monet Capital.
Monet offers the above chart of SouthGobi's Ovoot Tolgoi coal resources. This does not take into account the company's holdings at their Soumber mine or SouthGobi's benefit from a recent sale of thermal coal at Tsaagan Tolgoi to Modun for $30 million. According to a March 2012 announcement by Mongolian Mining Corporation, the Soumber deposit is designed to produce 4 million tonnes of coal per annum.

Click to enlarge
Key to table: Soumber = SouthGobi Resources (SGQRF.PK). Zeegt = Gobi Coal and Energy (to IPO this year in Canada), OT Underground = SouthGobi Resources (SGQRF.PK), BN = Baruun Naraan, Mongolian Mining Corporation (MOGLF.PK) Page 80, Proposed Issue of Guaranteed Senior Notes announcement by Mongolian Mining Corporation, March 14, 2012.
Monet's research report describes the valuation of SouthGobi as follows:
South Gobi Resources was valued based on their Q3 2011 financial statements. The over all impact that South Gobi Resources has on the total value of Ivanhoe Mines is small, in spite of the company owning 57% of it.

Assuming an average coal sales price of 52.79 USD/ton and an average cash cost of 23.80 USD/ton for coal. With 10% sales and production growth, combined with moderate growth of 3-5% in the average coal price per year, South Gobi should achieve sales revenues of 175-270 million USD and EBIT of 78-133 million USD over the 5 year forecast period. South Gobi is also assumed to have a 20 million USD exploration expense per annum.

Assuming 3% Terminal Growth and the discount rate of 15%, South Gobi will generate 0,81 USD/Share of value for Ivanhoe, accounting for only 5% of Ivanhoe's value.
Peter Epstein, a frequent contributor to Seeking Alpha and consultant for SouthGobi Resources, is a source of information that I expect may contend this valuation model. Mr. Epstein has said, "What has happened is that IVN tendered its stake in a fire sale, they needed the cash" and added later, "even though IVN had other non-bidding indications of interest, it appears that none of the prospective buyers was prepared to: a) move fast enough for IVN or b) pay 100% cash, (clearly an essential factor for IVN)."
Chalco Trades Out Deals, Trouble For Mongolia And An IPO Or Not?
Setting aside Ivanhoe, the government of Mongolia and many nations and companies may be affected by this deal. Erdenes Tavan Tolgoi is Mongolia's state-run coal company with 6.4 billion tonnes of coal reserves. I have written about issues with rail links to China in part 2 of this article about Mongolian Mining Corporation (OTCPK:MOGLF). (Mongolian Mining Corporation's deposit borders next to Erdenes Tavan Tolgoi's deposit.)
On February 17, 2012, News Mongolia wrote what turns out to be a false rumor:
It has been reported that the Chinese company Chalco Ltd has sent an official letter to the executive director of Erdenes Tavantolgoi LLC asking to cancel a coal-purchasing agreement.

In July 2011, Chinalco and Erdenes Tavantolgoi signed an agreement for Chinalco to purchase coal from the eastern Tsankhi area of Tavantolgoi. Chinalco made an advance payment of USD 250 million to the Mongolian government. On August 4, 2011, the company began taking delivery of the coal.

The Government used the advance payment to pay for the MNT 21,000 monthly allowance that each citizen receives. Under the terms of the agreement, Chinalco is to pay USD 70 per ton of coal from Tavantolgoi for five years.
A highly reliable source counters this news article:
There is absolutely no truth in the rumour that Chalco has cancelled the deal with Erdenes Tavan Tolgoi. On the contrary, Chalco are very happy with the arrangements and are offering to extend new arrangements to Erdenes Tavan Tolgoi in order to secure its off-take.

I have no idea where the original rumor came from but it is completely without any basis.

Erdenes Tavan Tolgoi coal and the South Gobi coal are two distinctly different products, both of which are used in a blend to create a premium coke. I see this new move by Chalco to secure all of the inputs needed for them to produce a premium coke of their own.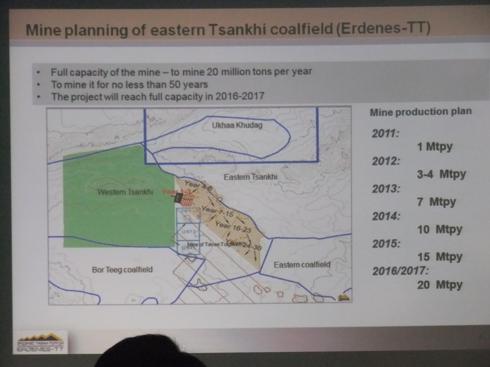 Click to enlarge
The government via Erdenes Tavan Tolgoi currently owns the Western Tsankhi and the Eastern Tsankhi. The government plans to contract out development of the Western Tsankhi deposit in a bidding process. Another mine in the same area listed on the Mongolian Stock Exchange is referred to locally as Little TT, to differentiate from state-run Big TT that owns the Eastern and Western Tsankhi deposits currently. Mongolian Mining Corporation owns the Ukhaa Khudag deposit at the top. Source: Coal Mongolia 2012, Erdenes Tavan Tolgoi presentation.
State-run Erdenes Tavan Tolgoi has been in negotiations to contract a consortium to develop the western portion of its deposit that may include China Shenhua (OTCPK:CSUAY) and Peabody (BTU) as I wrote about in September 2011. As mentioned then, Goldman Sachs (GS), Deutsche Bank (DB) and other investment banks are waiting for Erdenes Tavan Tolgoi to IPO later this year or early next year.
Clarifying a misperception about the West Tsankhi deposit of Erdenes Tavan Tolgoi, COO Graeme Hancock stated:
The Company is not proposing to sell this part of the deposit. It is proposing to enter into a contract with a consortium to develop it, similar to arrangements common to Indonesia in their former Coal Contract of Works. The underlying license will remain the property of ETT and the contractor/consortium will invest and manage the block in return for a production share/royalty payment to ETT.
Add An Election Year And Stir Well
Parliamentary elections in Mongolia are in June of this year. The monthly allowance paid out to citizens (currently 21,000 Mongolian Tugrik [MNT]) and other cash payouts to citizens are an issue among the campaigning parties. Rumors, such as the one suggesting Chalco had pulled out of its off-take agreement with Erdenes Tavan Tolgoi do occur in Mongolia and facts need to be verified through multiple sources. The author of this article who stresses vigilance in verifying rumors was caught-out by that rumor in the original version of this article and I apologize for the error.
The government had promised to make the IPO of Erdenes Tavan Tolgoi happen before the June elections and promised all citizens' shares of the IPO or an equivalent cash payout. However, Erdenes Tavan Tolgoi management recently stated it would not IPO prior to the 3rd quarter 2012 due to weak market sentiment.
Additionally, as discussed in my article on Mongolian Mining Corporation, there are concerns that Mongolia's resources will become overly beholden to, or taken over by, China. A state-owned Chinese company - Chalco - taking majority ownership of one of Mongolia's major coal-mining companies will not alleviate this and could well be open to election year rhetoric.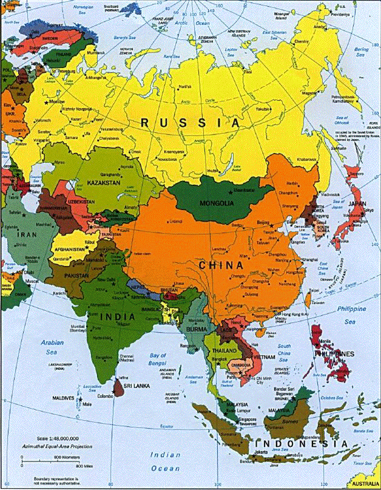 Click to enlarge
The dark green north of China is the sovereign nation of Mongolia. Source: China Tourist Maps.
On top of that, there is the question of the western portion of Erdenes Tavan Tolgoi's deposit. Chief Operating Officer of Erdenes Tavan Tolgoi Graeme Hancock, a former member of the World Bank in Mongolia (interview when he was at the World Bank; English commences at 1:54 mark), has been quoted in papers saying the western deposit of Erdenes Tavan Tolgoi would be preferable prior to the IPO and that the company will need to raise $400 million if the IPO does not go through by December 2012.
Erdenes Tavan Tolgoi COO Graeme Hancock clarified that while a sale does not need to be concluded prior to IPO:
...it is desirable that the deal is completed prior to IPO in order for the value of this contract to be reflected in ETTs valuation. Unless the contract is completed with the consortium it will not be possible for investors to value the contribution of the West Tsankhi deposit to ETTs cash flow. This could then result in the valuation of ETT being lower that its true value. In any major listing like this it is essential to eliminate as many uncertainties as possible in order to enhance value.
Chalco's deal for SouthGobi, atop other factors listed above, puts pressure on the governement to get a deal done for the western portion of Erdenes Tavan Tolgoi pre-election to:
show progress on the IPO.
put an end to local and foreign (media and gossip) interpretations of every maneuver by China, Russia, Korea, Japan, Germany, the U.S. or companies from those countries being a maneuver related to pressuring the Mongolian government to give their country or their country's companies a bigger share of the Western Tsankhi portion of the Erdenes Tavan Tolgoi deposit when it is contracted out.
Getting Back To SouthGobi
SouthGobi looks to be in very good shape if and when this deal goes through. SouthGobi CEO Alex Molyneux was relaxed and confident in his interview with Bloomberg TV following the Chalco announcement. While he mentioned SouthGobi is forming a special committee to look at the deal and make a recommendation on the deal, he made it clear Ivanhoe is agreeing to sell its entire stake to Chalco, which will merely change the SouthGobi's "big brother." The deal for SouthGobi in terms of sales and infrastructure support is tremendous, keeping in mind SouthGobi's Ovoot Tolgoi is a mere 42 km (26 miles) from the Chinese border and its wet washing facility is in Ceke just across the border in China, approximately 50km from Ovoot Tolgoi.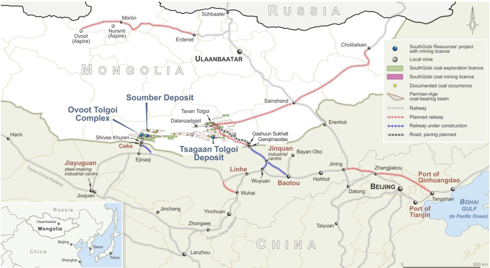 Click to enlarge
Source: SouthGobi Resources October 2011 presentation.
SouthGobi's press release makes the advantages of this proposed transaction clear.
Key benefits under the Cooperation Agreement between SouthGobi and CHALCO include:

Coal off-take by CHALCO - SouthGobi will have the right to offer up to 100% of its salable coal to CHALCO and CHALCO will have the obligation to purchase the coal at market prices for a period of 24 months.

Infrastructure support - CHALCO will assist SouthGobi to procure electricity for its Mongolian business operations either through a direct connection to grid power, or through development of a conveniently located power plant. CHALCO will also provide support to SouthGobi's coal-haul highway project.
Conclusion
Without considering Chalco's benefits and goals for the acquisition of a majority stake in SouthGobi Resources, what is clear is that there are many potential knock-on effects of this deal to companies and sovereign nations. It is unclear how the impact of this deal will project forward and how the market will value all companies impacted going forward. However, to simplify this deal to "Chalco buys majority stake in SouthGobi Resources" grossly under-reports the story.
Disclosure: I am long IVN, OTCPK:MOGLF, OTC:SGQRF.
Additional disclosure: I purchased shares of SouthGobi Resources on the Hong Kong exchange Monday, April 2, 2012. The shares were purchased under the belief that the market would value the company at the value of the deal and I could make a quick turnaround for a profit. I errantly followed the instincts of an investor instead of those of a journalist. That said, I would like to avoid any notion of bias regarding this article or front-running. I have placed an order to sell all my holdings in SouthGobi Resources at the next market open. However, the Hong Kong exchange is closed Wednesday for the Ching Ming Festival. Thus, I am stuck between providing data and being in the position of front-running my own holdings. As I value providing data more highly, what I will do is this: a) sell all my shares of SouthGobi in Hong Kong at the next market open, and b) if there are profits from the sale, they will be donated to a NGO or charity in Mongolia. [Note to Mongolians: You are welcome to suggest an NGO or charitable organization for the donation in the comments. I cannot guarantee I will profit from the trade and have a donation from it, but I can guarantee I would like some ideas of good NGOs and charitable organizations to make donations to from Mongolians.]