With this article, we just want to point out that there are more options than trading the stock market directly. In general, investors are either long (bullish) or short (bearish) in the S&P 500 or other indexes. More precisely, private investors either buy stocks or they keep their money in cash or bonds. We just want to introduce the "new markets" we can build artificially.
To make it clear, there are a number of official markets, like buying stocks using the USD of my account, or buying commodities, like gold, through futures. However, there is not a place where an investor could directly bet that gold is going to outperform oil, or that Apple (NASDAQ:AAPL) is a better company than the Nasdaq as whole (and get the difference positive or negative). Through two examples, we will show two possible real trades using ETFs. These trades are just examples, not recommendations at all. The article only pretends to show how to implement a couple of real trades in practice.
Example 1
i. Reasoning behind
There has been a lot of quantitative easing, printing money... so some investors don't trust the USD that much. These same investors may wonder what would have happened to the stock market if it had been denominated in gold prices. The following chart might answer their doubt:
(Click to enlarge)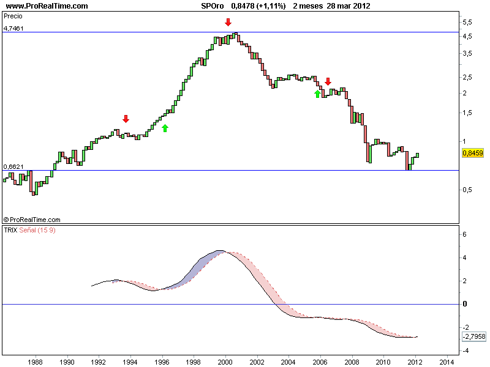 Here, we show the S&P 500 futures divided by gold futures, which it is exactly the way of figuring the stock market as denominated in gold prices.
Some analysts interpreted the graph above in terms of wealth allocation. From 2000, the smart guys started selling stocks and buying gold (which made the curve go down as the denominator, gold, was increasing faster than the numerator, S&P 500). It's curious to observe that the S&P peak in 2007 was not properly based. If we had paid in gold, we would not have seen any other peak as you can view on the chart. Now, however, it seems it has made a double dip. Are the smart guys done and want to buy stocks again with the gold they own?
ii. The trade
If you think they do and want to follow them, you can replicate what they are doing by buying an ETF that tracks the S&P 500, such as SPY, and at the same time buy an ETF that tracks the inverse of gold, such as DGZ, PowerShares DB Gold short, in the same amount. Other options could be DZZ or GLL (inverse of gold with leverage 2x) to buy a smaller quantity of money than what was used for SPY.
iii. Additional: trading systems
Basically we have created a chart (stocks denominated in gold terms) and decided to trade based on that curve. As we have seen however, to trade this curve, we need to buy two ETFs, not just one as if we were trading the S&P 500 directly. An additional advantage of these graphs when they reflect a market reality (like investors selling their shares to buy gold) is that trending trading systems behave better. Usually they have less market traps as there is less competition to trade them.
It is similar to have used basic traditional technical analysis in Livermore's time and made tons of money. This doesn't occur anymore. However, it is worth trying simple systems in some of these synthetic graphs. For instance, let's employ a really basic scheme, like the TRIX indicator (triple exponential average developed by Jack Hutson) crossing its own average on these long-term charts. (Every candle represents 2 months.) There are more ways of using this indicator, but the crossing of the average is one of the easiest ones. As we can check out, it would have been very profitable. Again, the idea behind is that when you trade understandable synthetic charts, sometimes you find hidden gems that behave in a more noble way (less noise, less traps), ideal for any trend following system.
Example 2
i. Reasoning behind
Warren Buffett has repeatedly said that gold doesn't create value and its consumption does not match its price in the markets. Perhaps, gold is not the right "unit" to value the markets but another commodity whose use nobody doubts, oil. Just to clarify, we are not saying that oil has better value than gold. However, some traders might think this way. This second example is for them. So, let's graph the S&P 500 denominated in oil terms (like buying shares with the money obtained after selling oil we previously owned) as an alternative to fiat money, and we come up with the following chart:
(Click to enlarge)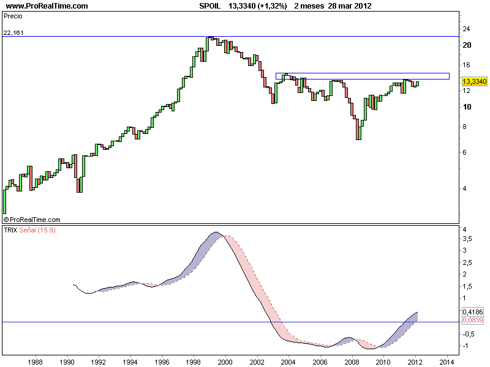 Again we have used futures to benchmark the stock index and the price of oil.
Related to stocks and oil, some investors might be worried about the possibility of increasing tensions with Iran, closing of the Hormuz Strait, which means higher oil prices and a slowing economy. These investors could get some support in the graph, to see if the markets agree with their idea. Unfortunately, in this case, the chart doesn't tell us much, even though the TRIX has left some room to go down again and the price is stuck in an area (shown by a rectangle) which has been a resistance level in recent years.
ii. The trade
An easy way to replicate the above idea is to buy an ETF which follows oil (USO, USL, OIL, DBO, or OLO) and the same amount in an inverse ETF for S&P 500 like SH .
So to sum up, we have just introduced two compounded graphs (a ratio of two), SP500/Gold and SP500/Oil, so that you can play with. The trades above are just examples, (not recommendations) so that anyone could see how a compounded chart works. You can find many other options to graph related products (corn/wheat, Santander/BBVA, etc.) and try to apply your knowledge there or you could use them just as a support to trade under fundamental basis (trying to improve the market timing). In any case, you will find a valuable tool. Good luck with it.
Disclosure: I have no positions in any stocks mentioned, and no plans to initiate any positions within the next 72 hours.