Acura (ACUR) has a very low three month average trading volume: 85,233. I have noticed of late that there seems to be a pattern where the spotlight is turned on these low-trading stocks with market caps between $100-200M.
The problem or issue is, these stocks are easily manipulated if you consider what trading a half of a million shares could do in one day. For example, I observe that Acura spiked to $4.14/share on a trading volume of 442,300 shares on 20 March 2012. That is nearly 5 times its normal volume!
Now here's the thing: I can't find any news out of Acura that would explain this sudden surge of trading volume. Here's what I mean:
| | |
| --- | --- |
| Date | Volume |
| 15 March 2012 | 30,400 |
| 16 March 2012 | 124,100 |
| 19 March 2012 | 327,500 |
| 20 March 2012 | 442,300 |
But what I do observe is that Acura released its 8-K on 5 March 2012. But very curiously, there is no news release to explain this rather unusual phenomenon. Of course, on 21 March 2012 and the days that followed the volume fell back to normal. Here's the deal -- I also note that the share price went from a $4.14/share close on 20 March 2012 to now $3.40/share on 3 April 2012.
It appears to me that the volume was followed by a rapid decline. In fact, a very negative 18% loss.
This pattern is very disturbing to me. It highlights how a high volume buyer could move the stock upward, draw buyers in, then slowly drop the price and take profits.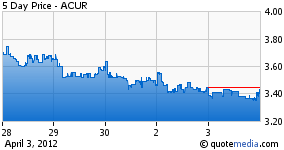 Now this is all a theory, but I do find it most curious. I have been recently following this phenomenon of low-volume biotechs that may demonstrate this same pattern. In time, I hope to write a more detailed expose' exploring this phenomenon.
As for Acura, this tiny 15 employee company is most certainly doing what it can to survive, but unfortunately a licensing agreement won't build long-term shareholder value. While it's great that Pfizer (PFE) is on board, this company is not what you would see as a long-term value driver. That is why I am highly suspicious of the late March trading volume when it doesn't track months of previous data.
One thing though is certain. The stock has been on a steady decline and will soon test recent lows. I suggest retailers wait until they are sure it has hit a solid bottom.
Disclosure: I have no positions in any stocks mentioned, and no plans to initiate any positions within the next 72 hours.