Several weeks ago a discussion broke out in the Fat Pitch Financials Contributor's Corner forum regarding stocks selling below net current asset value. Geoff Gannon submitted several posts about stocks that were selling below net current asset value [NCAV]. He even found one selling below Ben Graham's 2/3 or less of NCAV criteria. This find was Concord Camera (LENS-OLD).
Finding stocks selling below 2/3 of their NCAV is a fairly rare occurance in today's market, but back in the Graham-Newman days this simple value criteria of buying stocks selling at 2/3 of NCAV had tremendous success.
Let's take a closer look at Concord Camera's net current asset value by going over the latest balance sheet for LENS: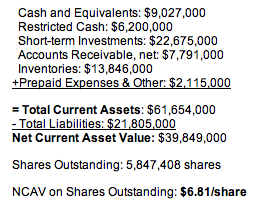 Source: Concord Camera 10-Q, May 10, 2007
Shares of LENS closed at $3.19 yesterday. That is 47% of Concord Camera's net current asset value. If you just look at the amount of net cash per share, it alone is $2.75 per share. I don't normally get interested in net/net stocks as a fat pitch investor, but I decided this one looked fairly promising and worth testing the waters with.
Concord Camera is a small company in the disposable camera business. They stumbled pretty badly in 2006 with a failed attempt at digital cameras. The company is trying to develop new products to help move it out of the declining market for disposable cameras. Their current attempt, OnGuard, a child safety alert system, doesn't really look like a winner to me. However, hopefully there are other projects in the pipeline. Some form of financial restructuring could also help to unlock value.
Apparently, I'm not the only value investor that is invested in this stock. Fellow value blogger, Joe Cit, also has a position in this stock. He recently shared his thoughts on the declining stock price of LENS.
I added Concord Camera to the Fat Pitch Financials Port. I first placed an order for LENS on July 19, 2007 with a limit of $4.12. It took until August 14th for the position to actually get filled given that Marketocracy restricts buy orders to only be filled by a certain percentage of the daily trading volume. My average cost per share came out to $3.81. Hopefully, LENS will recover in price back up above my average purchase price soon.
Full Disclosure: I own shares of LENS.