Below we highlight a one-year chart of the percentage of stocks in the S&P 500 trading above their 50-day moving averages. Tuesday's market gains caused this number to spike sharply.
One of the things we highlighted in the past was that when the market made new highs in July, the percentage of stocks above their 50-days was not making new highs. Currently, the percentage is well above where it was back in July, which is a positive sign for those expecting a breakout to new highs.
click to enlarge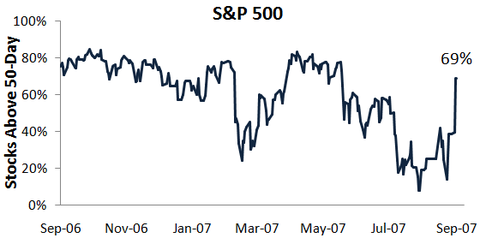 The Financials sector is also looking strong based on the indicator. Currently, 78% of stocks in the sector are above their 50-day moving averages, which is just about inline with the highs made in April and May.