The success of a biotech stock is based on much more than just a positive clinical trial or potential cure for disease. As the market grows, the desire for safe, effective treatments also grows. This is why smart investors have their eye on the aging population of the more than 76 million baby boomers in the country. Their health concerns are the driving force behind research and development at many biotech companies. Focusing on the health concerns of this generation helps you make savvy investment decisions. I believe several companies, including Human Genome Sciences (HGSI), is one of the companies poised to make a big splash in 2012, due to its focus on treatments that will affect the baby boomer generation.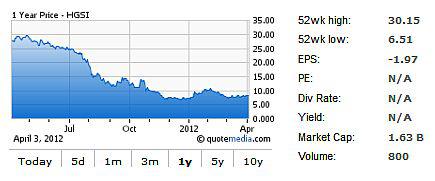 The company reached a 52-week high of $30 per share, but plummeted as low as $6 per share in the last year. Just over a year ago, HGSI released Benlysta, a treatment for adult patients with active systemic lupus who are currently receiving standard therapy. Benlysta was the first drug approved to treat lupus in more than 50 years. The company also has financial rights to a number of GlaxoSmithKline (GSK) products. Even with the significant drop in price, HGSI should still be considered a smart investment, particularly because of its relationship with GlaxoSmithKline.
Type 2 Diabetes
In addition to Benlysta, HGSI, in conjunction with GlaxoSmithKline, saw successful results from phase 3 trials of a drug intended to treat Type 2 diabetes. An April 3, 2012 news release provided more information about the phase 3 trials, showing seven of its eight Harmony Phase 3 Trials were successful. Albiglutide was created by HGSI using its proprietary albumin-fusion technology, but was licensed to GlaxoSmithKline in 2004. However, HGSI is entitled to fees and milestone payments that could amount to as much as $183 million, in addition to single-digit net royalties on worldwide sales if Albiglutide is commercialized.
Obesity
With its latest phase 3 trials a success, HGSI is poised to make a big jump, making it a wise investment, especially for those who want to be a part of the biotech stock surge. Pharmaceutical and biotech stock is closely tied to the future of healthcare and the more severe a health crisis there appears to be, the more likely a stock price is to rise.
Take Vivus (VVUS) for example. It was considered one of the biggest success stories this past winter, and many investors have their eye on the company's latest development, Qnexa. Qnexa is intended to treat obese adults, thus making it fierce competition for a number of other drug treatments available.
Consider this: If a treatment is available to treat obesity, there will be fewer cases of Type 2 diabetes, fewer cases of some forms of cancer, heart disease, and a variety of other health problems. Qnexa could easily take root as a first-line defense against a myriad of health problems, making many other treatments obsolete. This is exactly why stock prices soared after a favorable Advisory Committee vote in late February. The stock price soared 125% over three days, causing a lot of people to take notice. The more comprehensive the treatment, and the quicker and easier the fix means greater growth for stock. Vivus is also poised to present at the Needham Healthcare Conference in April, giving Qnexa more exposure than ever.
Erectile Dysfunction
In addition to the obesity drug, Vivus also announced acceptance of its Avanafil application in Europe. Avanafil is a drug intended to treat erectile dysfunction. Again, this ties directly into the health future of Baby Boomers. There are more people than ever before concerned with erectile dysfunction and more people than ever before seeking safe treatment for the problem. Part of this is because there are safe treatments available for a problem that was once untreatable with medication. However, the number of people facing the problem has also grown and pharmaceutical developments are still a big deal. Coupled with the success of Qnexa, Avanafil will likely keep Vivus in the investor spotlight for a long time to come.
Patient-to-Patient Education
Some companies are taking a less clinical, patient-to-patient approach when it comes to promoting their products. Spectrum Pharmaceuticals (SPPI) is using multimedia versions of patient stories to share with caregivers, healthcare providers, and patients. Zevalin, a drug to treat follicuar lymphoma, features a website filled with first-hand accounts of using the medication. Spectrum states:
This initiative is part of a larger patient-to-patient campaign supported by print, digital, online, and personalized patient educational programs. More than ever patients are going online to learn about their disease and treatment options. Zevalin.com has been redesigned in part to provide a forum for patients and caregivers to learn more from other patients living with follicular lymphoma and treated with Zevalin.
While follicular lymphoma is not a high priority concern for baby boomers, Spectrum's marketing actions certainly play a role. As more pharmaceutical companies reach out to patients in this manner, it will put the power of medical decisions into the hands of patients. Investors are no longer relying on doctors alone to know about and share a product. The more active participants there are in the end process, the more improved the bottom line.
This movement to bring patients into the decision-making process plays a major role in the way treatments are administered and will, therefore, have a major effect on sales of pharmaceuticals. This, in part, is one of the biggest reasons why the future of biotech stocks is so bright. Larger portions of the population are facing disease and illness, and the more these people know about their treatment options, the greater demand is for certain treatment. I believe focusing on specific health concerns affecting the greatest number of people, and then choosing stocks that pertain to these issues, yields the best chances for profit.
HGSI is a major player in this quickly developing landscape of biotechs. Investors need to keep their eye on news about Albiglutide following the successful phase 3 trials, but I would recommend getting in now, while the price is still below $10.
Disclosure: I have no positions in any stocks mentioned, and no plans to initiate any positions within the next 72 hours.