Baidu (BIDU) sees strong growth in mobile search and CEO Robin Li believes that mobile will become an increasingly large percentage of the company's total revenue. Heading forward, mobile search will be Baidu's new frontier as it is already the leader in desktop search with 78% market share. However, China's mobile search market is extremely fragmented, and Baidu does not have clear first-mover advantage and market leadership. Therefore, it is unlikely that Baidu will become the leader in mobile search market in the near term due to intense competition, especially those from Tencent and Easou.
According to Enfodesk, Baidu currently leads China's mobile search market in terms of volume with 35% market share, followed by Tencent and Easou, a Chinese internet company that specializes in mobile search.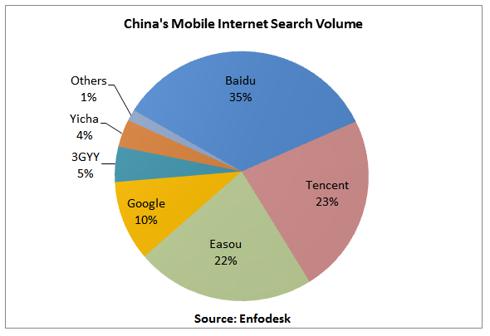 Click to enlarge
While it has a comfortable lead over Tencent and Easou in search volume, Baidu lags Easou in terms of WAP traffic.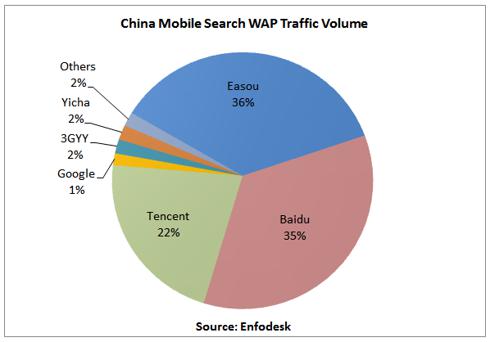 Click to enlarge
Both Easou and Tencent will be formidable competitors to Baidu in mobile search.
Easou has a first-mover advantage in mobile due to its root of being the first mobile search engine in China back in 2005. While Baidu has strong relationship with advertisers and SMEs in major cities, Easou focuses on the rural area and has established strong relationships with rural SMEs, which accounts for 80% of the company's business. Easou currently has over 300 million users and expects revenue to be RMB 1 billion or $159 million this year.
Tencent will also pose a challenge to Baidu due to its large base of 800 million QQ users. In addition, QQ mobile browser accounts for 40% of the market share among China's mobile browsers in terms of active users, compared to 0.4% market share for Baidu.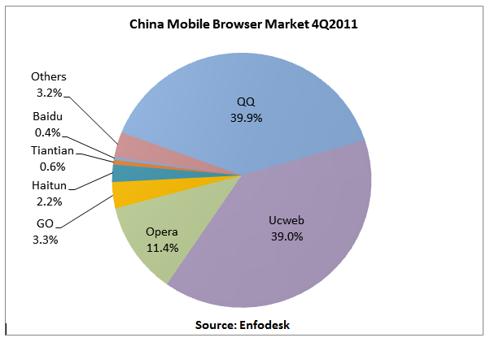 Click to enlarge
Despite Baidu's recent partnership with Apple (AAPL) in which Apple's iOS will feature Baidu's search bar, the Safari browser's market share in China is insignificant. Unless a large number of Chinese mobile users begin to purchase the iPhone or the iPad, it is unlikely that Baidu's mobile search will gain significant traction through Apple.
I would also like to remind investors that both the iPhone and the iPad are priced as premium products as they do here in North America, and should not be perceived as a product for the Chinese masses. Alternatives such from Samsung (OTC:SSNLF), HTC, Motorola (NYSE:MMI) and Nokia (NYSE:NOK) that features QQ, Easou and Google (NASDAQ:GOOG) can easily meet the communication, web browsing and search requirements of the Chinese users.
Disclosure: I have no positions in any stocks mentioned, and no plans to initiate any positions within the next 72 hours.