AstraZenca PLC (AZN)
Share Price: $45
Intrinsic Value: $62
Buy Below: $50
Business description and background:
AstraZeneca PLC discovers, develops, and commercializes prescription medicines for cardiovascular, gastrointestinal, infection, neuroscience, oncology, and respiratory and inflammation diseases worldwide. In addition, the company develops and manages hospital-based outpatient cancer centers in the United States. AstraZeneca PLC markets its products primarily to primary care and specialist doctors, and other healthcare professionals through distributors or local representative offices. AstraZeneca PLC was founded in 1992 and is headquartered in London, the United Kingdom. [Source: Yahoo.]
Thesis
2011 has seen an increased focus on cash generation and returns within the sector, in anticipation of the 2012 trough combined with the continued decline in global markets sentiment. Big ticket M&A - in anticipation of the upcoming 2012 patent cliff - has been a major use of cash since 2006. The five large caps' (Sanofi, Novartis, AstraZenca, Roche,Bayer) aggregate spending has been $143bn on M&A (acquisitions >$2bn) plus a further $14bn in bolt-ons and licensing deals. Major deals include Sanofi's $20bn acquisition of Genzyme, Roche's $47bn acquisition of Genentech, Novartis' $41bn acquisition of Alcon and Astra's $15m acquisition of MedImmune. Combined with $114bn paid out in dividends (35% of post-tax cash flow from ops), and $52bn on share buybacks (16% of post-tax cash flow from ops), between 2006 & 2011, the large caps are estimated to have had a negative $2bn cash movement.
Following FY'11 results reported last month we expect strong upside in AZN, as the impact of greater buybacks in 2011 and 2012 and a lower tax rate more than offset the cuts to core operating profit estimates. FY'11 results seemed to have reminded investors that operating free
cashflow will decline from the 2012 base for the foreseeable future. However, AZN cash generation remains sufficiently strong to (A) Support a growing dividend, (B) allow buybacks to boost EPS growth, and (C) still leave significant cash for business development (BD).
Therefore, AZN remains the stock with probably the best downside protection among Pharma large caps. In a worst case scenario, a £30 share price is well supported by a 6% dividend yield for many more years while AZN can shrink to a size where growth may be easier to achieve. Whilst scope for capital appreciation seems limited from operations alone, AZN's re-rating potential remains substantial in the case that if AZN finds assets that reverse the slowly eroding CF trend. In the absence of BD, AZN's best chances for capital appreciation come from an acceleration of Brilinta scripts; however, we don't expect to see this before mid-2012 at the earliest.
FY 2011 results seemed to have reminded investors that AZN's Core operating free cash flow will decline from the 2012 base for the foreseeable future. However, AZN cash generation remains sufficiently strong to support a growing dividend. Investors seem to be of two minds about BD (Business Development): Some are concerned about "deal risk", others worry that AZN is not doing enough BD, but AZN should be able to do buybacks, and still have significant cash for business development.
Importantly, FCF is projected to erode modestly from 2012 levels, an annual buy back of $3bn from 2013 onwards should reduce average number of shares outstanding by about c. 6% each year. Hence the total amounts to be paid for a growing dividend per share should decline faster than FCF, which keeps an annual $3bn buyback affordable at least out to 2020.
Brilinta's (kind of aspirin to prevent serious heart conditions and blood vessels problems) potential remain underappreciated in the current share price, which also reflects investors' concerns that successive rounds of cost cutting may have damaged the AZN marketing machine. Thus, in the absence of BD, we believe best chances for capital appreciation come from an acceleration of Brilinta scripts, which we expect to see by mid-2012 after greater protocol adoption in US hospitals.
We expect the FY dividend to increase by 9%, in line with 2011 Core EPS growth, as the pay-out ratio of only 40% still leaves sufficient scope for a pay-out ratio hike in 2012, to avoid a dividend cut next year. We expect AZN to announce a buy-back program of c. $3bn, though not exercising Option 2 of the Merck agreement may result in upside to this figure (The agreement dates back to 1998, a decision is expected in late April. This was the option for Merck to buyback certain shares of AZN). Current valuation seems underpinned by a seemingly secure 6% div yield. While scope for capital appreciation seems limited from operations alone, potential for re-rating remains, from successful BD, as single blockbuster could make a substantial difference to the long-term outlook.
Risks
2012 is the long awaited cliff year for AZN when the Seroquel IR patent expiration (US: March 26 2012) should drive a high single digit sales decline and a c. 20% decline in operating profit. Furthermore, 2012 sets the base for a potentially decade long decline in operating profit (JPMCe -5% CAGR 2012-2020), though a $3bn annual buy-back program should be able to sustain modest single digit EPS growth from 2012 in the medium-term.
The significant assets in AZN's pipeline are TC-5214, fostamatinib and Brilinta in secondary prevention, for all of which one can apply a 10% probability of success. AZN faces significant competition in 2012 driven by loss of exclusivity of Seroquel IR in the US, followed in 2014 by Nexium in the US and Symbicort in the EU. Looking forward to 2016, AZN also faces significant generic risk from the loss of exclusivity for Crestor and for Seroquel XR in the US (following settlement with Handa).
AZN seems the only large cap European Pharma stock with "deal risk", as with the prospect of a potentially decade-long decline in operating profit, management may resort to a sizable acquisition. However, even an earnings-accretive transaction may not be appreciated by investors who may prefer buy-backs. A "standalone" future remains a viable option for AstraZeneca, as long as the business supports At least flat dividends in the coming years, and buy-backs sufficient to generate modest Core EPS growth, as well as Sufficient scale of the operating business to develop and market news drugs, once/if they become available.
Both conditions should apply for at least the next five years.
Management & Stewardship:
David Brennan is the CEO of Astra Zenca since January 2006. David Brennan is President of the International Federation of Pharmaceutical Manufacturers & Associations (IFPMA) and a member of the executive board of the European Federation of Pharmaceutical Industries and Associations (EFPIA). He is a past Chairman of the board of the Pharmaceutical Research and Manufacturers of America (PhRMA) and remains a member of the PhRMA board. From 2001 until January 2006, he was President and Chief Executive Officer of the Company's North American subsidiary. Simon John is the CFO and director of the company. He was previously at ScottishPower Energy where he was Finance Director, a position he left following completion of the sale of the company to Iberdrola S.A. His move to ScottishPower followed 15 years' experience with the global management consultancy, McKinsey & Company, where he advised leading multinational companies on a wide range of strategic, financial and operational issues. He has an engineering degree from Cambridge University and an MBA from the London Business School. The insider's of the company own less than 1% of the company.
Valuation:
We have used the DCF valuation using conservative estimates to arrive at the fair value of AZN at $62 which represents a 40% premium to current trading price.
Click to enlarge.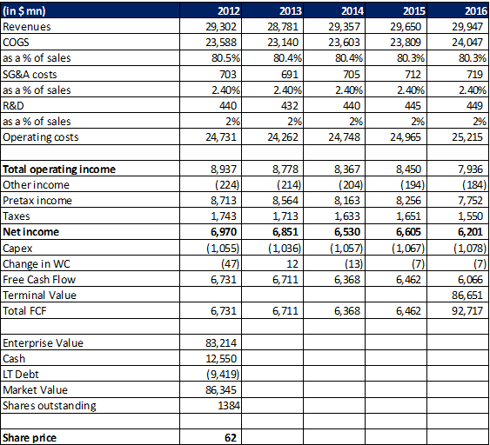 Key valuation ratios against peers: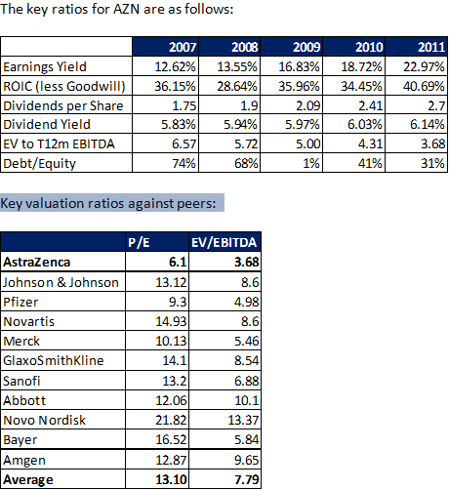 AZN's peer class includes Johnson & Johnson (JNJ), Pfizer (PFE), Novartis (NVS), Merck (MRK), GlaxoSmithKline (GSK), Sanofi (SNY), Abott (ABT), Novo Nordisk (NVO), Bayer (OTCPK:BAYRY), and Amgen (AMGN). As you can see, AZN is trading at a compelling relative valuation.
Disclosure: I am long AZN, PFE, JNJ, ABT.
Disclaimer: This discussion is for informational purposes and should not be taken as a recommendation to purchase any individual securities. Information within this discussion and investment determination of the author may change due to changes in investment strategy when warranted by changing market conditions, or if a security's underlying fundamentals or valuation measures change. There is no guarantee that, should market conditions repeat, this security will perform in the same way in the future. There is no guarantee that the opinions expressed herein will be valid beyond the date of this presentation. There can be no assurance that the author will continue to hold this position in companies described herein, and may change any of his position at any time. We use or best efforts to obtain good data in our models, however it can't be guaranteed that our inputs and data are correct. This is not a recommendation for readers to purchase shares in the above security without consulting your financial professional to discuss your own risk tolerance and objectives.