"Take from a man his reputation for probity, and the more shrewd and clever he is, the more hated and mistrusted he becomes."
- Marcus Tullius Cicero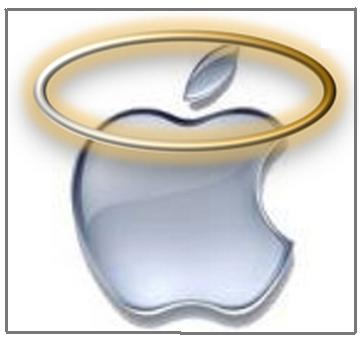 Watching Apple's (AAPL) stock soar over the past two days has caused me to take another angle in my undying thirst to appreciate what the company is and what it has been able to do. Remarkably, there is nothing that I can say about its majestic rise to begin to accurately describe its impact on not only the stock market, but also on the world. Whether through its words or just the image that it projects, the company systematically does things that make you question your own ability to rationalize.
The Shrewd Side of Apple
Apple is like that neighbor that you just can't keep up with and he knows that. What makes it even worse is that he knows that you can't stand him for it - and he loves it. At least that's the way I see it. Its story is widely known and all of the applause and rave reviews are well documented and deserved for what the company has been able to do.
We know that it is now the world's largest company according to market cap and today it is larger than Microsoft (MSFT), Cisco (CSCO) and Intel (INTC) combined. This is certainly a remarkable accomplishment, but many fail to appreciate that Apple did not acquire its current status solely from its "iProducts." Clearly they were and are an important component to the company's success. However, more than anything, what has made the company the powerhouse that it has become is something that it has begun to do better than anyone else - run a shrewd business operation.
We see the nice white iPad and the sleek, smooth shiny logo and think that the company's "Halo effect" implies it has angelic qualities, I think Research in Motion (RIMM) as well as Google (GOOG) will be quick to tell you otherwise because Apple has made RIM - which built the smart phone market - completely obsolete and grossly irrelevant in a manner of only 36 months. And now with its Siri voice search technology, Google is now wondering if it is next. And just like my next door neighbor, Apple loves it because it understands that it order for it to sustain its own success it knows how to force the competition to react - to the extent that it disrupts that which they are/were initially good at. Yet they do this without ever realizing it. In other words, they are unknowingly thrown off their core competency.
You don't have to look to far to remember that Google, the same company that once performed "like Apple" by doing to Yahoo (YHOO) what Apple has now done to RIM, continues to look over its shoulder. As dominant as Google is, Apple continues to scare the company into doing things that it has no business doing - such as forcing Google into a panic purchase of Motorola Mobility (MMI). What Google doesn't realize is that it does not know anything about hardware. The more I thought about it, the less sense it made. By doing this deal, not only is Google risking putting some of its software and services advantages in jeopardy, it had essentially become the competition to several of its partners by becoming Android's second biggest manufacturer.
Essentially, Apple forced Google into this deal by seizing a significant portion of the smart phone and devices market by leveraging its advantages of having a unified platform - or controlling both the hardware and software. Google paid a hefty sum for Motorola just to accomplish the same thing. But it eventually hurt the company when it reported its recent earnings that showed not only a decline in net revenue but also an increase of 35% in operating expenses. This is one of several examples where Apple has created separation with the rest of its competition by indirectly disrupting their operation and forcing them to invest significant portions of their operating capital each year in either acquisition or research and development initiatives that eventually go nowhere.
One such example is with Hewlett Packard's (HPQ) on again and off again TouchPad tablet plans. It was such indecisiveness that eventually caused its CEO to be ousted last September - all of this because everyone is trying to keep up. But the gap is only widening and now significant enough where its competition is only playing catch-up.
Summary
As we applaud Apple for its brilliance in creativity and giving the market the growth that it craves, many continue to overlook and underestimate the company for mastering the art of competition - something that forces me to consider that even at $630 Apple remains grossly undervalued to the extent that analyst Piper Jaffray recently raised his target on the stock to $1,000. Apple's keen sense of the competition and its ability to be masterful at manipulating their moves is nothing short of brilliant. The company continues to present the story that is just too good to be true and better yet a stock that gets remarkably cheaper the higher it goes.