Just as quickly as the second quarter of the new year started on Monday with so much optimism, on Tuesday it was met with panic. Investors were unsure of what to make of the minutes released from the Federal Reserve policymakers that suggested companies will become more hesitant to hire workers if economic growth failed to improve, which I think goes without saying. In minutes from the Fed policy committee's March meeting, only two members appeared at all interested in another round of bond buying to reduce interest rates and encourage investment in stocks. In other words, QE3 is likely off the table (for now).
As evidenced by the sector performance chart below, it is hard to make a case that another round of quantitative easing is needed at the moment as all but one sector (utilities) are down for the year. In fact, there has been nothing but positive news up to this point of the year. So with all of what has been much elation, it seems optimism should remain intact. But that does not appear to be the case, and the Fed minutes inspired investors to secure any profits they had ahead of what was anticipated to be some selling pressure.
Click to enlarge.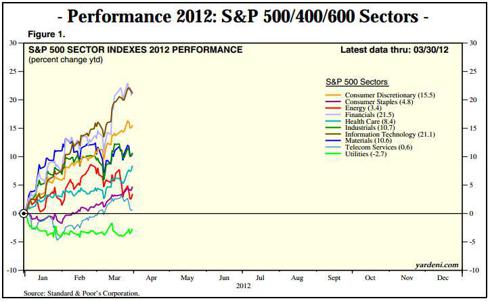 Click to enlarge
So after the broader indices closed Monday with record gains, Tuesday put an end to that momentum and continued what I have recently called "schizophrenic" trading. It is clear that buying and selling can occur for the same reasons at the same time, as made evident by Apple soaring to a new 52-week high yet again while the market was screaming "sell everything else." In this article, we are going to look at three buys and three sells based on what the market continues to prove to be "directional uncertainty."
Apple (AAPL) -- Buy
As far as I'm concerned, technology giant Apple is going to $1,200 and is certainly a must-own in any market. I made this prediction a week ago, and it was recently supported by two analysts who were not shy about slapping a four-digit price target on the company and implying that a market cap of 1 trillion is not as crazy as it sounds. First it was a $1,000 target by Piper Jaffray, which noted to investors that Apple shares will reach $1,000 in 2014. Piper believes Apple will continue to win market share in global mobile devices while maintaining an Overweight rating on the stock.
Brian While of Topeka Capital said "if you can do one I can do one better," and he did one -- one dollar, that is -- better by raising Apple's price target to $1,001, while citing the company's growth potential in China. But as I've said recently, both analysts are $200 short of what I think is more inline with what Apple is capable of doing -- which is doubling its share price in two years. Unlike any other equity on the market, Apple is still cheap based on its true earnings potential. The stock is owned by 71% institutional investors, with a host of retail investors scrambling to pick up whatever shares they can afford.
So the logical question is: How can its stock still be cheap when it comes with such popularity? The answer is simply that investors have not fully appreciated the company's long-term growth potential. For Apple, its success is widely known when compared to where it came from, but many are unable to grasp where it might be going. This is where money can be made. Yet it is this uncertainty that continues to make it the most polarizing stock on the market and the safest buy an investor can make.
Microsoft (MSFT) -- Buy
Investors who are looking for value should really consider Microsoft at current levels. In fact, even at $32 patient investors can still earn 60% more upside in the stock over the next two-and-a-half years -- essentially putting the value at $52 per share. When looking at Microsoft, I see a stock that has indeed appreciated by 30% on the year yet remains significantly undervalued by virtue of its low P/E of 11. One can argue that the stock is still being traded at a considerable discount to its projected earnings. Another advantage for Microsoft is that its premium brand dominates a segment of the market and has the potential to branch off further into emerging growth markets.
So with shares of Microsoft currently trading at $32 per share, I continue to think that its share price has not grown commensurate to its earnings. This is in contrast to its pre-tech bubble valuation, where the argument can be made that it was then overvalued because it simply rose too much and too quickly. The stagnation in the share price since then has had a lot to do with the fact that it has not been able to fully recover from that drop by virtue of its (then) inflated valuation in the late 1990s. But clearly investors can now see evidence that its uptrend is primed for resurgence, one that started at the beginning of this year and will continue after the release of its Windows 8 operating system as well as its Azure cloud platform.
Oracle (ORCL) -- Buy
You know you have invested in a great company when its stellar earnings performances are accepted as being routine. This is where cloud pioneer and database giant Oracle finds itself. But I'm not certain that the company minds at all about its status. As the cloud continues to consolidate, Oracle will remain one of the top players within the space as well as the enterprise. The stock dipped slightly last year when it disappointed Wall Street. But after its recent performances, I think it is fair to say that the company is now poised to not only bounce back, but also to come after its competitors harder than ever. I think astute investors should take advantage of the stock's current weakness to add to their position ahead of the climb.
One has to value Oracle from a fundamental standpoint. Its cash position, deep market penetration, and innovative strategies have positioned its stock as one of the bright spots in today's recovering market. Couple this with shares now trading just below $29 after having bounced off a low of $24.72 in August of last year, its growth projections currently place its valuation at $35 -- and this is even on the most conservative assumptions. Nevertheless, with a relatively low P/E of 16 for a tech giant, value investors who are thirsty for growth and a decent yield should give Oracle a long look at current levels.
Sirius XM (SIRI) -- Sell
As a Sirius XM investor, I have always found myself waiting for the auto numbers to come out and wanting to know how many vehicles were being predicted to be sold during a particular month. All of that changed once I asked myself: How much time do I actually spend in my car? The answer is not very long. It is no secret that Sirius XM's revenue has been driven by increasing auto sales over the past couple of years. And if you are long Sirius XM at the moment, you should be disappointed to realize that this is not likely to change. For this reason alone, I sold my shares in Sirius XM a couple of months ago and realized that, absent some significant changes to its model, I see the company eventually flattening out and the idea of "radio" will succumb to the same fate as newspapers and magazines.
As far as the auto dependency is concerned, it is hard to feel good about a stock and not think that $4 or $5 gas will have some effect on its performance from a consumer confidence standpoint, where the company had already hinted that churn was expected to be higher at 2.1% due to its recent price increase. What will happen if subscribers will now start paying more for gas? That concern, coupled with the fact that the audio entertainment market has now been established and more players have now become involved, is growing more rapidly than before. The question is: How confident are you that Sirius XM will be able to seize enough market share to grow into its already high valuation? If the stock trends higher from current levels I would look to sell into strength and wait for the eventual pullback.
Research In Motion (RIMM) -- Sell
The biggest foregone conclusion in the market is that Research In Motion has lost its long-standing battle in the mobile devices market to Apple. The biggest question regarding the company has been what's next. In a surprising move, it has decided to do now do two of the things that I have previously suggested in order for it to remain viable. We already know that the company recently removed the co-CEOs from the post of chairmen, and then this was followed with both embattled co-leaders been ousted altogether from their posts.
The market then rewarded the company with some temporary applause and sent shares as high at $17 in late January. However, the enthusiasm quickly evaporated when investors realized that although a new CEO had been appointed, it was going to be business as usual for the company. But recently, Research In Motion has decided to show some signs of life. Sadly, I can't help but think that this is anything other than a "too little too late" scenario. As a way of saying "we give up," the company on Tuesday decided that it was going to start focusing more on services and less on hardware by releasing the first version of its Mobile Fusion server software to manage other companies' mobile devices.
Research In Motion said that its Mobile Fusion server can be downloaded for free, with businesses paying $99 per year or $4 a month per phone being managed. There is also a 60-day free trial. In addition, the new software will be able to manage BlackBerry 10 phones when they ship later this year. As nice as this idea sounds, I would get excited if it were anyone other than Research In Motion executing it. I don't see how this can be sustained, and the stock will continue to trend lower given the time it will require to fully monetize this initiative. It has become time for this once-proud company to be put out of its misery. The real tragedy in all of this is its diehard investors who refuse to accept the company's current reality.