Income investors are hard pressed these days to find good yield, given the current state of interest rates and Federal Reserve policies. Finding opportunities in vehicles with reasonable valuations, solid yield and the high probability of consistent dividend growth is paramount for investors who want to build a high yielding portfolio with lower volatility than the overall market.
I have a good portion of my income portfolio in energy MLP's and Business Development companies as they pay great yields and look to have solid, if unspectacular, growth ahead of the them. I am planning to add my first property REIT to that portion of the portfolio on the next market pullback.
BioMed Realty Trust (BMR) - "BioMed Realty Trust, Inc. operates as a real estate investment trust (REIT) that focuses on providing real estate to the life science industry in the United States. Its tenants primarily include biotechnology and pharmaceutical companies, scientific research institutions, government agencies, and other entities involved in the life science industry". (Business Description from Yahoo Finance)
Seven reasons BMR is solid pick for your income portfolio at under $19 a share:
It provides a solid yield of 4.5% and has double its dividend over the last three years after having to cut the payout by 2/3's during the financial crisis. If it gets back to its dividend payment pre-crisis level, it would yield just under 7%.
It is showing consistent earnings growth. The company earned $1.19 a share in FY2011 and is projected to make $1.25 a share in FY2012 and $1.34 in FY2013.
Consensus earnings estimates for FY2012 and FY2013 have risen over the last two months.
The company just secured a $400mm unsecured loan facility at very favorable rates (under 3%)
BMR investment portfolio is focused on life science and biotech properties in the seven core U.S. life science markets of Boston, San Diego, San Francisco, Seattle, Maryland, Pennsylvania, and New York/New Jersey; as well as research parks near or adjacent to universities. These markets have held up better than commercial real estate as a whole and have very stable tenants (Pharma firms and government agencies).
Although net income fell from FY2009 to FY2011, operating cash flow increased approximately 20%.
The stock has long term technical support in the $15 to $19 level (See Chart).
Click to enlarge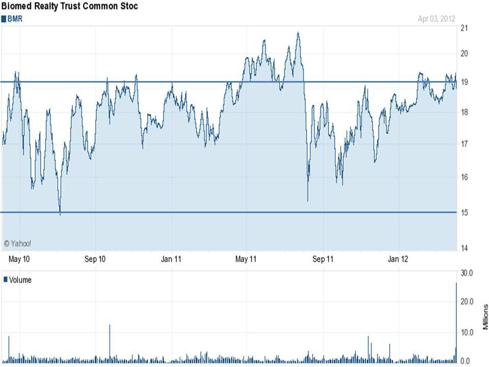 Disclosure: I have no positions in any stocks mentioned, but may initiate a long position in BMR over the next 72 hours.