Nuclear energy-related exchange traded funds are powering back up. The nuclear industry is witnessing a revival in the U.S. as regulators start approving new construction permits after a three-decade gap.
Market Vectors Nuclear Energy (NLR) is up 11.0% year-to-date.
Scana Corp. (SCG) is the second company to gain U.S. approval to build nuclear reactors in over 30 years, reported Brian Wingfield and Julie Johnsson for Bloomberg.
The U.S. Nuclear Regulatory Commission voted 4-1 to allow the company to construct and operate two units near Columbia, South Carolina. The Scana reactors are two of the five units that may be built in the U.S. before 2020. The Scana power plant will not begin fully operating until 2017.
On Feb. 9, Southern Co. (SO) won approval to build two reactors near Augusta, Georgia. The company was the first to receive NRC construction permits since 1978.
Other ETFs that follow global nuclear providers include:
PowerShares Global Nuclear Energy portfolio (PKN): Up 9.0% year-to-date
iShares S&P Global Nuclear Energy (NUCL: Up 7.7% year-to-date
Market Vectors Nuclear Energy
Click to enlarge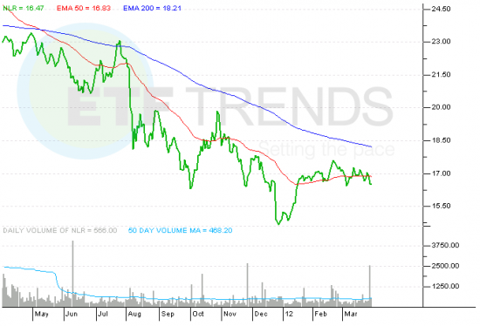 Max Chen contributed to this article.
Disclosure: I have no positions in any stocks mentioned, and no plans to initiate any positions within the next 72 hours.