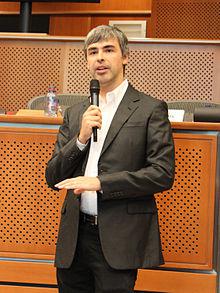 Every company has its fans as well as its detractors. With tech outfits increasingly pitching themselves as one-stop shops, loyalty to one or the other big player is increasingly the norm.
But perhaps no one has drawn more haters in one year, in my 30 years covering the tech sector, than Google (GOOG) CEO (and co-founder) Larry Page.
Page has just ended his first year in charge. He had been CEO at the company's founding, in 1998, but dropped down to "president of products" in 2001, when "adult supervision" arrived in the form of ex-Sun executive Eric Schmidt, saved from the obscurity of Novell.
Page returned to the top just as Google-hatred was beginning to rise. Enemies in the telecom and content industries were gaining traction with charges that Google steals content, that it monetizes peoples' lives, that it is too powerful. After years of heavy praise for its unofficial "don't be evil" mantra and its do-your-own-thing management style, Google was being seen in a different, harsher light.
Page doubled down on it. He expanded the company's embrace of loyal users through Android, Google+ and a new one-size-fits-us privacy policy. He shut down dozens of products, including some good ones, and sought to monetize others (like Google Maps), which angered developers.
Under Page Google is trading about where it was a year ago - $635 per share - but it's been a wild ride, and for long-time shareholders a depressing one. It was as low as $474 in June, and its January peak of $670 is just 5% from its current price.
Business Insider gives his reign a C+, dinging him on government relations, content industry relations, a hyperkinetic acquisitions binge, and an over-reliance on search.
I give him more of a B+, not bad for a first-year student.
Page has focused the company, instituted some serious controls, launched a patent program similar to one Microsoft launched over a decade ago (see the book Burning the Ships for more on that) and taken more control over the Android ecosystem. He has also tried to create a serious corporate culture, in which teammates are required to work together for some hours each day, rather than coming-and-going as they please.
In a recent interview with Business Week Page was politic, praising the magazine's owner (New York Mayor Michael Bloomberg), dismissing much of the criticism as either ill-founded or natural, and saying that, after meeting with Steve Jobs near the end of Jobs' life, he came to the conclusion that Apple's Android-hate was "for show." (Naturally that was the article's headline.)
Page knows he'll always be compared with Jobs, and thus always be found wanting by some. But he seems a man comfortable in his own skin, as he was the few times I met him. He is, now, at about the age Jobs was when he took back the reins at Apple, but today's Google is much, much stronger than that company was.
Steven Levy of Wired suggests Page take a higher public profile in his second year but the best thing about Larry Page may be that he doesn't want to be Jobs. He wants to be his own man.
For the next year, I think he'll be graded mostly on what happens with Motorola Mobility (MMI). It comes in as a big drain on Google's margins, $13 billion in sales with just that much in expenses. Add that to Google's own $37 billion in revenues and $12 billion profit and you get $50 billion and $12 billion, not the kind of ratio people pay big premiums for. Page needs to either squeeze profits from Motorola or get back something like the $12.5 billion he's paid for the pieces.
If we're close to a solution of that problem a year from now, maybe folks will start comparing Page with Jobs for real. If it all goes bad, he could still be the next Jerry Yang.
Personally I'm in for the ride, but it's the Motorola story that will make me decide whether to go in deeper, or just walk away.
Disclosure: I am long GOOG.