Based on a view of local country stock markets and proxy ETFs, Thailand (NYSEARCA:THD), Indonesia (NYSEARCA:IDX) and Peru (NYSEARCA:EPU) look the best.
That view does not take into consideration other important investment factors; however, from return history, and a valuation and yield perspective, they seem strongest among EM countries.
The rolling period yields have been solid for local stock markets in Thailand, Indonesia and Peru - particularly so in Thailand. When it comes to the proxy ETFs, Thailand is the higher yielding of the three.
Figure 1 presents the annualized total returns, price returns and dividend returns for 1, 3, 5 and 10 years for the local country markets expressed in U.S. dollars, as measured by MSCI.

Figure 2 presents the data available at Morningstar for trailing yield, forward yield, forward P/E ratio and five-year forward and historical earnings growth for proxy ETFs (and also forward and historical PEG ratios derived by dividing the forward P/E by the forward or historical earnings growth rate).

Figure 3 presents the percent return for those three country ETFs versus the emerging markets index (NYSEARCA:VWO) and the S&P 500 (NYSEARCA:SPY) on a weekly basis for the last two years.
Figure 1:

Figure 2: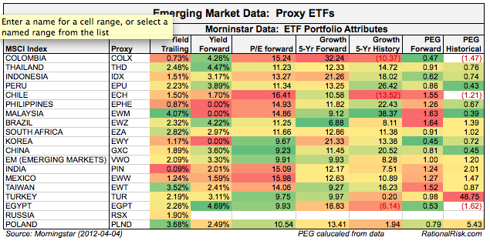 Figure 3: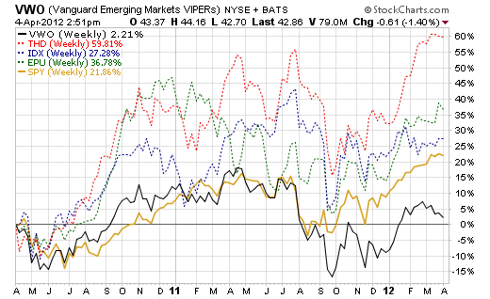 Country Export/Import Profiles:
According to the CIA, Thailand, Indonesia and Peru export and import these commodities, from and to these countries:
THAILAND
Exports:
Textiles and footwear, fishery products, rice, rubber, jewelry, automobiles, computers and electrical appliances
China 12%, Japan 10.5%, U.S. 9.6%, Hong Kong 7.2%, Malaysia 5.4%, Singapore 5%, Indonesia 4.4% (2011 est.)
Imports:
Capital goods, intermediate goods and raw materials, consumer goods, fuels
Japan 18.5%, China 13.4%, UAE 6.3%, US 5.9%, Malaysia 5.4%, South Korea 4% (2011 est.)
INDONESIA
Exports:
Oil and gas, electrical appliances, plywood, textiles, rubber
Japan 16.3%, China 10%, U.S. 9.1%, Singapore 8.7%, South Korea 8%, India 6.3%, Malaysia 5.9% (2010)
Imports:
Machinery and equipment, chemicals, fuels, foodstuffs
China 15.1%, Singapore 14.9%, Japan 12.5%, U.S. 6.9%, Malaysia 6.4%, South Korea 5.7%, Thailand 5.5% (2010)
PERU
Exports:
Copper, gold, zinc, tin, iron ore, molybdenum; crude petroleum and petroleum products, natural gas; coffee, potatoes, asparagus and other vegetables, fruit, apparel and textiles, fishmeal
China 18.4%, U.S. 16.1%, Canada 11.7%, Japan 6.6%, Germany 4.5%, Spain 4% (2010)
Imports:
Petroleum and petroleum products, chemicals, plastics, machinery, vehicles, color TV sets, power shovels, front-end loaders, telephones and telecommunication equipment, iron and steel, wheat, corn, soybean products, paper, cotton, vaccines and medicines
U.S. 24.7%, China 13%, Brazil 7.4%, Ecuador 4.7%, Chile 4.3%, Colombia 4.2% (2010)
Disclosure: QVM has positions in SPY as of the creation date of this article (April 4, 2012).
Disclaimer: This article provides opinions and information, but does not contain recommendations or personal investment advice to any specific person for any particular purpose. Do your own research or obtain suitable personal advice. You are responsible for your own investment decisions. This article is presented subject to our full disclaimer found on the QVM site available here.