In mid-February, I wrote an article stating Walgreen (WAG) is a compelling value based on four factors. In light of the recent FTC approval of the Express Scripts (ESRX) merger with Medco Health Solutions and its first-quarter earnings, I decided to revisit my original investment thesis on Walgreen.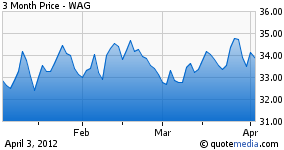 Chart source: Seeking Alpha
The first two factors I cited were the ever-increasing dividends and the looming patent expiration wave. The dividend is holding steady and is not in jeopardy of being reduced, and the patent expirations are proceeding as planned. As of this writing, Geodon, Seroquel and Lexapro have generic equivalents currently available on the market. As we can see from the chart below, there will be a significantly greater amount of generics entering the marketplace as the year progresses. Pharmacies make a far higher profit margin on generics than they do dispensing a branded prescription. This should provide a nice tailwind for Walgreen's margins this year and in the coming years.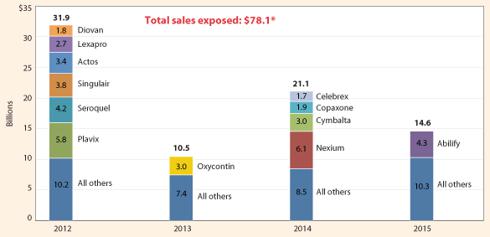 *Note: some of these totals differ from the sum of the columns due to rounding.
Chart source: IMS Health and T. Reinke
Walgreen reported its second-quarter earnings last week. The numbers were highly anticipated as this was the first quarter in which the company was excluded from the Express Scripts network. During the conference call, President and CEO Greg Wasson said:
We posted record second-quarter sales of $18.7 billion, up 0.8% from $18.5 billion a year ago. Second-quarter earnings per diluted share were $0.78, down 2.5% compared to $0.80 in the year-ago quarter. Despite our lower earnings, cash generation continued to be strong as cash flow from operations for the quarter exceeded $1 billion and free cash flow was $703 million. We returned $570 million to shareholders in the quarter, up 23% over the same quarter last year, including $374 million in stock repurchases.Compared to the prior year, the effect of no longer being part of the Express Scripts pharmacy network as of Jan. 1, 2012, impacted our results by $0.07 in the quarter, and the mild cough/cold/flu season impacted net earnings per diluted share by $0.03. This year's results benefited from one extra day vs. last year because of the leap year.
The effect of not participating in the Express Scripts pharmacy network prevented earnings from accelerating when compared to the previous year. The absence of growth in earnings has caused the equity to trade at a discount to the market, whereas Walgreen has traditionally fetched a premium due to its consistently stable and growing earnings stream. This segues into my fourth and final point: the ongoing reimbursement battle with Express Scripts.
In my original article, I stated that I believed the merger wouldn't be allowed to proceed by the FTC. I was incorrect in that statement as evidenced by the following (via Seeking Alpha):
Express Scripts . . . completes its $29.1B purchase of Medco . . . following the FTC's approval of the deal. Three senior Medco execs will join Express' top team, although that doesn't include Medco CEO David Snow. Despite its dispute with Express, Walgreen's . . . contract with Medco will be honored.
At first it would seem as if the merger going through would be bad news for Walgreen. An interesting comment was made by Wade Miquelon, the CFO of the company, during the most recent earnings report. Regarding the client composition of Express Scripts and Medco, he stated:
Now this roughly breaks down as follows: 30% managed care organizations; 29% large employers, including 18 of the Fortune 50; 17% state and local governments; 15% small employers; and 9% Medicare Part D plan. Medco's client composition is different from the Express book which is highly concentrated, specifically with two contracts that account for approximately 50% of the business. Please note that our actual 2013 business with Medco could have further adjustments up or down following the 2012 selling season.
As we can clearly see from the above statement, Medco has a far more diversified client base that would not look too kindly on having a restricted network. Wade also broke down Medco's book of business with Walgreen:
It might be helpful if I size our book of businesses with Medco . . . In calendar 2011, we filled approximately 125 million scripts for Medco members. In calendar 2012, as a result of Medco's net change in client, we are on a pace that would result in our filling about 108 million scripts. Taking into account known client migration to other PBMs, including United Healthcare, we estimate that our book of businesses with Medco will be approximately 74 million prescriptions as of Jan. 1, 2013.
Express Scripts is hoping to gain scale and significantly diversify its client base, making its business more stable. By buying Medco and its more fragmented book of business, Express Scripts seems to be achieving this goal. The problem for Express Scripts going forward is to maintain its newly acquired clients. By excluding Walgreen from its network, it will put, in my opinion, 76% of the newly acquired Medco business in jeopardy. As stated by the CEO during the most recent earnings release, ". . . we're looking forward to this year's selling season. We already know from our survey that even the most price-sensitive payers want 5% savings or more, and most want 10% to consider us a restricted network without Walgreen. We do not believe those savings are truly attainable."
I believe that Express Scripts quickly realized that the cost savings would not be attainable, and stated that the Medco contract would be honored. That leaves the question: Where do they proceed from here? At some point, Express Scripts will have to come back to the negotiating table and work out an amicable deal with Walgreen to preserve and potentially grow its PBM business. By not doing so, the company leaves itself vulnerable to massive defections. A similar situation happened after CVS (CVS) merged with Caremark. That particular selling season went poorly and the company lost a significant portion of its contracts. The stock sold off on the news, and only recently has CVS been able to win back some of the business it lost.
In summary, my original investment thesis for Walgreen remains. I expect an amicable deal to be negotiated between Express Scripts and Walgreen that is satisfactory to both sides and that will be completed in the near future. I anticipate that Express Scripts will want to accelerate the negotiations and complete them before the contract selling season commences. With a new agreement to accept Express Scripts members, I anticipate that Walgreen will recoup most of the business lost and will resume growing earnings again. Thanks for reading and I look forward to your comments.
Disclosure: I am long WAG.