Intel Corporation (INTC) is initially founded in 1968 to perform research on semiconductor circuits. Thanks to its cutting edge research facilities world's first microprocessor was introduced by Intel in 1971. Santa Clara, California-headquartered company has become a world famous technology giant. Besides semiconductor products, it also provides wired and wireless connectivity solutions, as well as, mobile phone components such as GPS and Bluetooth technology. In 2011, the increasing demand for PCs pushed up Intel's total revenues to $54 billion, 25% raise compared with previous year. The company was able to generate a net income of $12.9 billion in the same period.
As of the time of writing, Intel stock was trading at $28.11 with a 52-week range of $19.16 - $28.45. Currently, it is trading near the peak of its trading range. The company has a market cap of $140.44 billion. Trailing twelve month [ttm] P/E ratio is 11.76, and forward P/E ratio is 10.77. P/B, P/S, and P/CF ratios stand at 3, 2.8, and 7.3, respectively. Operating margin is 32.12%, and net profit margin is 23.97%. With a low debt/equity ratio of 0.16, the company seems to have a minor debt issue. Intel's dividend yield is 2.99%, supported by a payout ratio of 31.29%.
Intel has a 3-star rating from Morningstar. Average five-year annualized growth forecast estimate is 10.30%. Among Reuters' analysts 14 have buy, 9 have outperform, 26 have hold and 4 have underperform ratings.
What is the fair value of Intel given the forecast estimates? We can estimate the fair value using discounted earnings plus equity model as follows.
Discounted Earnings Plus Equity Model
This model is primarily used for estimating the returns from long-term projects. It is also frequently used to price fair-valued IPOs. The methodology is based on discounting the present value of the future earnings to the current period:
V = E0 + E1 /(1+r) + E2 /(1+r)2 + E3/(1+r)3 + E4/(1+r)4 + E5/(1+r)5 + Disposal Value
V = E0 + E0 (1+g)/(1+r) + E0(1+g)2/(1+r)2 + … + E0(1+g)5/(1+r)5 + E0(1+g)5/[r(1+r)5]
The earnings after the last period act as a perpetuity that creates regular earnings:
Disposal Value = D = E0(1+g)5/[r(1+r)5] = E5 / r
While this formula might look scary for many of us, it easily calculates the fair value of a stock. All we need is the current-period earnings, earnings growth estimate, and the discount rate. To be as objective as possible, I use Morningstar data for my growth estimates. You can set these parameters as you wish, according to your own diligence.
Valuation
Historically, the average return of the DJI has been around 11% (including dividends). Therefore, I will use 11% as my discount rate. In order to smooth the results, I will also take the average of ttm EPS along with the mean EPS estimate for the next year.
E0 = EPS = ($2.39 + $2.61) / 2 = $2.50
Wall Street holds optimistic expectations on the company's future. Average five-year growth forecast is 10.30%. Book value per share is $9.18.
The rest is as follows:
Fair Value Estimator

V (t=0)

E0

$2.50

V (t=1)

E0 (1+g)/(1+r)

$2.48

V (t=2)

E0((1+g)/(1+r))2

$2.47

V (t=3)

E0((1+g)/(1+r))3

$2.45

V (t=4)

E0((1+g)/(1+r))4

$2.44

V (t=5)

E0((1+g)/(1+r))5

$2.42

Disposal Value

E0(1+g)5/[r(1+r)5]

$22.02

Book Value

BV

$9.18

Fair Value Range

Lower Boundary

$36.78

Upper Boundary

$45.96

Minimum Potential

30.87%

Maximum Potential

63.53%
(You can download FED+ Fair Value Estimator here.)
I decided to add the book value per share so that we can distinguish between a low-debt and debt-loaded company. The lower boundary does not include the book value. According to my 5-year discounted-earnings-plus-book-value model, the fair-value range for Intel is between $37 and $46 per share. At a price of $28.11, Intel is at least 23% undervalued.
Click to enlarge.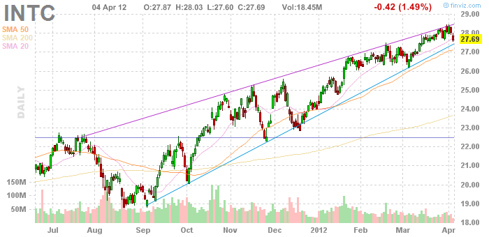 Source: Finviz.
Summary
Technology stocks are pretty cheap in general, and Intel is no exception. It is trading at a significant discount to the rest of the market. Intel was trading for as high as $34.60 on September, 2004. However, it collapsed to $12 on June, 2009. Since then, the stock shows a decisive upward trend.
Intel has been boosting its market position with innovative technology. On January, 2012, Intel unveiled the new wave of Ultrabook in Consumer Electronics Show Press Day. Ultrabooks will include touch screens, voice controls and gesture recognition in near future.
Based on my FED+ valuation, Intel is trading at least 23% below its fair value range. I rate Intel as a buy for long-term investors. At the current prices, Intel is trading at the peak of its 52-week trading range. I think a general correction in the stock markets can pull Intel into a better valuation level. It might be risky investment at the moment. Avian is neutral with a price of $29. Therefore, I suggest waiting for a correction before buying in.