Electronic Arts (EA) is a company in entertainment software and video games, known by their sports games like FIFA, NHL and more recently SSX (a snowboard game).
The company is refocusing on online games, with "Star Wars: The Old Republic" being the crown jewel. In this game, the player is able to control a game character like in the movies, and to interact with other players around the world. This game is intended to steal market share from his competitor Activision Blizzard (ATVI), which dominates this market segment through the game "World of Warcraft."
Moreover, the "Star Wars" game provides a steady income due to the ongoing monthly payments from players who keep playing online. More recently, EA started developing games for smartphones, tablets and social network sites, expanding its market potential.
In terms of residual value, there is a potential depreciation of 75% to the shareholder in case of bankruptcy. Nevertheless, we must remember that the minimum stock price during the sub-prime crisis was $14.06, which is only 16.50% below the current price.
The company has presented losses in the last four years, but notice that the losses decreased year after year, and the last year would have been profitable if we excluded exceptional items.
Technically, the stock price has presented a nice support at $16 for the last month, with 100 days moving average at $19.19 there is a potential fast gain in April. This is a company with potential in the long term, but first let it come into profit, until then just trade it technically.
EA US

Total Debt

3.431

Total Assets

5.696

Debt Ratio

60%

Residual Value

1.398

Actual

QT

Mkt Cap

Pr

Variation

MKT CAP

331

5.561

16,78

Residual VALUE

331

1.398

4,22

-75%

Better

Worst

Net Income

236

76

Mkt Cap

5.561

5.561

PER

23,56

73,17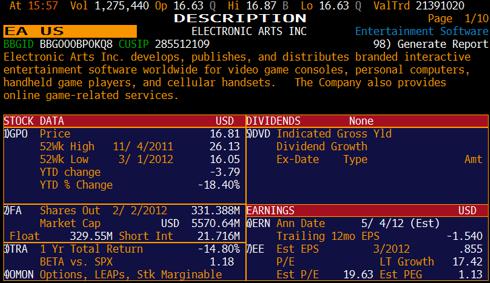 Disclosure: I have no positions in any stocks mentioned, and no plans to initiate any positions within the next 72 hours.