Market Recap: The market continued its struggle Wednesday as "risk-on" trading resumed for the market as investors and traders reacted to a slew of weak news from the Fed to Spain to crude inventories. The hangover from the Fed's no QE talk was dictating the markets to a lower tape today. Additionally, Spain saw yields on its bonds increase, which started to grow some murmurs of European fear once again that has been pushed to the side for some time. ISM Services also missed expectations, which hurt the market as well. It was not a strong day for data, but we did have one bright spot.
ADP Employment Change came in over 200K again this month, and we believe that, while ADP missed expectations just slightly, that a large increase in ADP is good for the non-farm payrolls report on Friday. We believe weakness this week can be completely reversed by a good read on Friday from that report for next week. With that said, we have to respect the weakness in the market and spent the day adding some hedges to the mix. Here are two things we like:

Two Trades
Here are two trades we initiated for hedging in our equity and earnings portfolio. On the equity side, we like shorting Agilent Technologies (A). The company broke its 20-day MA and 50-day MA today as well as a key pivot point and failed strong support at 44. The company broke a key price channel today, and it is technically broken. We believe in a weak market, A will continue to see downside with first support at S1 at 42.15. A retake of 44 is probably a signal that the breakdown was short-lived. For longer purposes, we believe Amazon.com (AMZN) could see continued weakness in the future. Earnings are set to contract again this quarter from 0.44 to 0.07. The company is struggling to make money right now, and we continue to see it as extremely overvalued and having limited upside.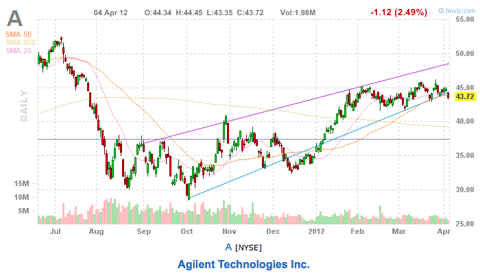 Tomorrow's Outlook
The market is going to be looking at non-farm payrolls to end this week and initial jobless claims will be key tomorrow to continue to set up what people will expect from NFP. Challenger Job Cuts as well be important tomorrow. Yet, the bearish and risk on trading is starting to become more apparent. We are worried that some downside risk is starting to appear. As we set out for our Q2 outlook, we expect weakness before earnings. Yet, we may see things flatten out tomorrow as shorts will cover before the report on Friday. Overall, we are sitting at a crossroads in the market, and we could see some serious weakness into earnings if things go poorly with NFP. Europe is becoming an issue again, and we get the BOE rate decision as well as data from Great Britain tomorrow that is crucial.
Analyst Moves
The interesting analyst move for us today was Starbucks (SBUX) getting an upgrade to Conviction Buy from Goldman Sachs. The company seems a bit late to the party, but SBUX has been loved by analysts and we have been selling bull put spreads as the stock has continued higher. We have a Hold rating with $55 PT, and we are starting to believe SBUX could get ahead of itself. At the same time, analysts are continuing to jump on board, and you can only trade this one for upside. Additionally, we saw another downgrade of Under Armour (UA) to Hold - this time from Stifel Nicolaus. We have a Sell rating on the company, and we believe the stock has gotten way ahead of itself.
Commodity Talk
What a disaster for oil today. Crude inventories rose 9M barrels, and that is a disaster for crude prices. Supply is finally catching up with oil, and we do not see oil being able to rise with the combination of oversupply, no QE, and high gasoline prices. We would continue to be short crude right now with a potential target of $95. We will look for a pop to enter a short via Ultra Proshares DJ-UBS Oil (SCO).
Our Moves
We closed two positions with mixed results. We got stopped out of our long Abercrombie & Fitch (ANF) position that we had already exited for a gain to end neutral. At the same time, we got a nearly 10% gain in our long-term equity portfolio in Constellation Brands (STZ) as we locked in half the position for a 10% gain before earnings tomorrow morning. We entered the bear call spread in AMZN at 220/225 level for May18 as well as short in A.
We have the following positions. In our Short-Term Equity Portfolio we are long VF Corp. (VFC) and short A. In our Options Portfolio, we are long Visa (V), PetSmart (PETM), Starbucks, Ralph Lauren (RL), Google (GOOG) and IBM (IBM). We are short Apollo Group (APOL) and iShares Russell 2000 (IWM). We have a reverse iron condor in Direxion Financial 3x (FAS). In our Earnings Portfolio, we are long Ulta (ULTA), Canadian Pacfic (CP), Ashland (ASH), Coinstar (CSTR), and Goldman Sachs (GS). We are short AMZN.
Chart courtesy of finviz.com.
Disclosure: I am long VFC.