Apple's (AAPL) booming decade has resulted from its leadership in devices such as the iPod, iPhone, and iPad. And rumors refer to similar improvements with watches and televisions. Of course, overlap amongst the three cash cows implies a marginal rate of return. So Apple must do more than simply issue reiterations of this trifecta. Apple needs to constantly reinvent itself in order to maintain healthy growth and meet shareholder expectations.
As a reminder that Apple is ultimately no safer than Gamestop (GME), Google (GOOG) has introduced us to the next wave in mobile devices. If you think Apple is a conservative investment, safely subsisting on phones and televisions, you need to know about Project Glass. The first thing you must do is watch this video on Google's Youtube.
While some may think this isn't coming to market anytime soon (and may not ever), the New York Times 'Bits' blog has reported from multiple sources that it's coming by the end of this year. Which would mean that it's not the fare of an R&D lab, but an in-the-pipeline product.
However it appears some conventional wisdom maintains that this is highly speculative.I would argue that the benefit of the doubt should lie with the NYT story. I would also point out that Google has a habit of referring to products like Gmail as "Beta tests" even after they have been widely introduced.
Here's what's remarkable about Project Glass:
1. Anyone can use Glass
I have written extensively about the importance of ease of use in technology. In particular, I love how "the cloud" compliments voice recognition interfaces such as Apple's Siri, which is powered by Nuance (NUAN).
Voice recognition compares to typing like telephone compares to telegraph: it's not a superficial change. The removal of computer literacy as a barrier to entry will allow an entirely new demographic to become competent. And for those who are already capable of navigating a textual computer, voice recognition will offer a faster way for doing so. Simply put, voice recognition is a new language for communicating with technology.
Keep in mind: Google is famous for being intuitive, and easy to use. As I have argued before, Google positions itself as a quiet extension of your brain:
Google assist[s] in the background while you focus on your work.
I have also argued that Google shines particularly in terms of productivity. Here's how Google describes Google Glass:
We believe technology should work for you --to be there when you need it and get out of your way when you don't.
2. Glass is an order of magnitude superior to everything else
I don't have to take it out of my pocket. I don't have to look away from what I'm doing. I don't have to switch through screens. Anything that's on my mind, I can talk to myself, and Google hears me. Google is getting into my brain. Siri is great at what it does, but inherently Glass is one order of magnitude greater.
3. Glass leverages Google's Internet position
Now Google+ is a bit more appealing. I can share photos on it just by making a wish out loud. I can join a hangout and video-chat while waiting for my plane to take off. I can stream a Youtube instructional video while assembling an electric bicycle, hands-free. I can send and receive communications to a ubiquitous cloud of updated information including Docs, Calendar, Gmail, Maps, and News. With its Finance service, I can watch GOOG surpass 800 on my glasses in 2013, and remind myself to write an article about it.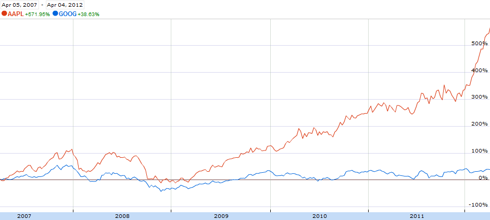 Click to enlarge
Don't wait for Google Glass to enter your eye before telling your computer to buy Google and sell Apple. If you're a conservative, product-oriented investor, fundamentals say it's the prudent thing to do. Remember that unlike Apple, which prices high and leaves room for competition, Google typically disrupts by offering a total value proposition cheaper than competitors.
And yes, I'm that guy who holds the crazy idea that Google is more than an advertising company. So reconsider your appraisal of my sanity.
Disclosure: I have no positions in any stocks mentioned, and no plans to initiate any positions within the next 72 hours.