Back on October 4th of last year, the Nasdaq was sitting at just under 2,300, while the S&P 500 was sitting at around 1,075. Now, here we are six months later and the Nasdaq is up a whopping 33% and the S&P 500 is up just over 30%.
That is a long way for the market to go in one half of a year. A seemingly improving jobs picture, continued low interest rates (by way of a very accommodative FED), and corporate earnings have all helped to propel the market higher.
I have had my clients fully invested throughout this entire uptrend, but as always I constantly watch for an inevitable correction.
I have been through numerous corrections during my almost twenty years in the business, and I have seen many of those corrections turn into full-blown bear markets. Neither are much fun (unless you are short), but they come with the territory.
Some corrections are short and swift and relatively painless, while others are long and drawn out, and quite painful.
Many investors panic during a correction and make stupid mistakes. Some freeze up and watch their hard-earned gains evaporate with each passing day, hoping that the market will suddenly turn around.
Others who have been waiting for a correction to come so that they can get into the market fail to take advantage of the pullback, because of fear.
Few things are guaranteed in the market, but corrections are one of them. How can you spot a correction, what should you do, and how can you avoid the aspirin and antacids?
I currently follow 2,819 different stocks, exchange-traded-funds, and closed-end funds. They will all behave differently during a correction. The short-term treasury funds, inversely correlated ETFs, and defensive stocks will do relatively well, while the stocks that have been leading the market will get roughed up the most.
It is important to remember that you have to handle your portfolio, one position at a time!
This is a market that has greatly favored the risk-on trade for the last six months. Technology, biotechs, small-caps, and aggressive growth stocks in general, have been leading the way in the market. Almost everyone that owns these stocks has very large gains in them.
These stocks obviously will be most vulnerable during a correction or bear market.
I have my own relative ranking and grading system that takes into account performance and value. I am neither a momentum investor nor a value investor-I am both. I am only interested in the top 200 ranked stocks at any given point in time. The more aggressive stocks have dominated my top 200 list for the last six months.
I have been fortunate enough to be invested in some of the biggest winners during that same period of time. Names like Monster Energy (NASDAQ:MNST), Terra Nitrogen (NYSE:TNH), Apple (NASDAQ:AAPL), Tractor Supply (NASDAQ:TSCO), Nu Skin (NYSE:NUS), Sturm Ruger (NYSE:RGR), T J Maxx (NYSE:TJX), just to name a few, have been very good to me and my clients. Stocks like these have dominated my top 200 list over the last many months.
As a correction starts to set in, these stocks will start dropping in rank and their charts will begin to roll over. I am just starting to see signs of this over the last few days. In fact, I sold two of my positions today and will use them as an example of what I mean by this.
I have a substantial profit in direct marketer, Nu Skin. It has been one of about 25 or so holdings in many of the aggressive growth accounts that I manage. The stock has been in my top 100 for the last several months, while I have racked up a gain of about 40%. A lot of the valuation has been taken out of the stock and it has now dropped to number 278 in my rankings. It has also broken a very tight uptrend-bye!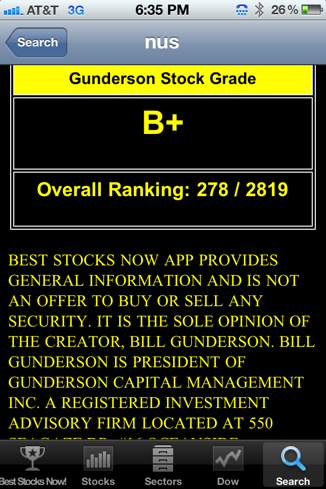 I also sold my Clean Harbors (NYSE:CLH), as it is doing about the same thing as Nu Skin. The stock has dropped in rank and the chart looks a little ominous:
Thanks for the memories!
This is the first step to take during a correction. Begin to harvest gains in vulnerable stocks that are getting expensive, dropping in relative strength, or starting to roll over.
Don't get faked out by little corrections that occur in stocks all the time, however. If they stay highly ranked, still make sense from a value point of view, and are still in good uptrends-why sell?
Here is a current example of what I mean by this:
Family Dollar (NYSE:FDO) still has good value: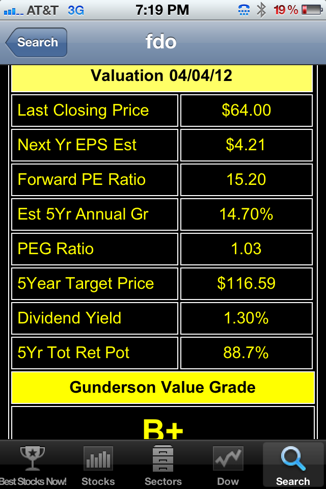 Good performance: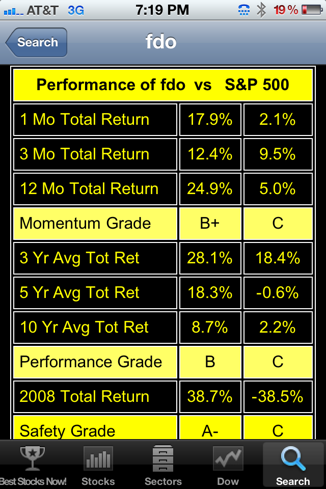 and a good grade and rank: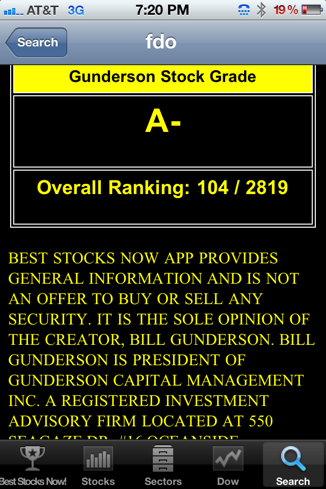 When you do harvest a profit, don't be real anxious to re-deploy the money. If leading stocks are beginning to sell-off, this is more than likely a sign that the market is entering into a correction or even a bear market-the market is beginning to rotate.
While leading stocks begin to fall from their perch, others will rotate into the top spots. Don't forget that U.S. Treasuries (NYSEARCA:TLT) were up 32% during the 2008 market sell-off of more than 38%.
Also keep in mind that many stocks like Dollar Tree (NASDAQ:DLTR), Autozone (NYSE:AZO), Ross Stores (NASDAQ:ROST), EZCorp (NASDAQ:EZPW), etc. flourished during the 2008 correction. They rotated up to the top of the heap while others plunged. Note that was up 38.7% in 2008.
If things start to get really bad, don't forget that there are a lot of inversely correlated exchange traded funds that could rise to the top, and be very profitable for savvy investors who are not afraid to hedge their portfolios.
(NYSEARCA:SKF) is a double inverse correlated fund that tracks the financial stocks that soared in 2008. Inverse commodity and inverse oil & gas funds are starting to make big moves up in rank right now. This is an ominous sign that something could be brewing.
I don't like the fact that the FED has taken away the so-called punch bowl of quantitative easing. The market has become very addicted to this, and it may go through some withdrawals for a while. I also do not like the way things are going in Spain, as they continue to rack up debt and their unemployment rate continues to soar.
In addition to this, the current rally is now six-months old, we are getting close to that go away in May crowd, and there are an awful lot of unrealized gains on the books of investors.
A correction is not the end of the world, unless you make it one. Don't do anything rash, analyze your positions one at a time on a daily basis. Don't be afraid to reward yourself with some hard-earned profits that you have earned. Stay focused on the top ranked funds and stocks, even if they are treasuries, hard-times stocks and inverse fund.