When considering stocks for purchase, one has to weigh the possibility of both short, and long term gains. Below are two choices, one which I am short term and long term bullish on, and one on which I am short term and long term bearish. Buy into strength on one, and sell out or short the weakness of the other.
Sirius XM (SIRI)
Sirius XM is the only provider of subscription-based Satellite Radio service in the United States. With over 20 million subscribers, a profitable balance sheet and exceptional prospects for the full year 2012, Sirius XM just recently jumped 20 cents in two days on news that Liberty Media (LMCA) had filed with the FCC for 'de facto' control of the company. With Liberty's intentions now in print, the game is on for Sirius XM.
A large driver of subscribers is auto sales, and March data has come in showing very strong numbers. I believe this data has been glanced over in light of the spectacle surrounding Liberty, and that Sirius XM is due for a snap back up from the quick pullback it has received after the rise. Expect a trading range from $2.30 to $2.50 to be established. With Sirius XM currently trading at $2.29, this presents tremendous opportunity to get in at the lower end of this range.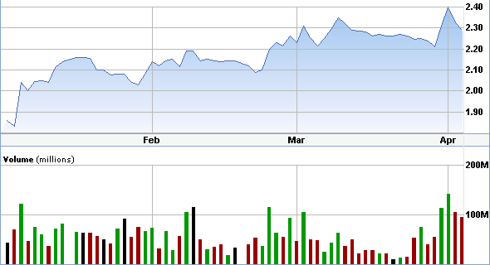 Click to enlarge
I fully expect Sirius XM's conservative subscriber guidance of 1.3 million for the year to be raised either before, or within their Q1 conference call which should be around the beginning of May. If this is done, Sirius XM could enter a new trading range beyond $2.50. Play the run up, and if you believe in the company long term like myself, hold for larger gains very soon.
Pandora Media (P)
Next up is Pandora Media. Having suffered a recent earnings miss and decreased guidance, the stock was significantly punished from $14 to below $10 per share. With a large move like this, one might expect some sort of a rebound, but it has yet to happen.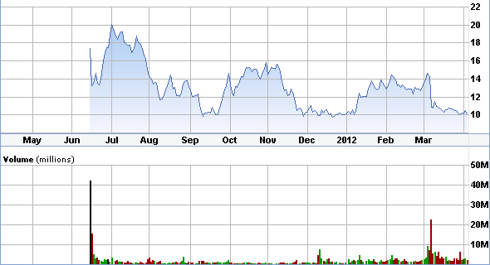 Click to enlarge
I do not really feel that Pandora has a viable business model. As subscribers increase, so do costs. There has been marked difficulty in selling advertising for the mobile market, and Pandora is on a very rough track right now running right along that $10 support line. In my opinion Pandora is drowning waiting for good news that just is not going to come.
When you consider that the required infrastructure for mobile delivery is really not available in capacity that Pandora needs in order to occupy people's drive times, I feel it will be a long while before Pandora can convince advertisers to pay enough for ad time. If the time comes that this does happen, Pandora is going to face additional competition from the likes of Spotify and whatever other services decide to take a piece of the IP radio pie. With a relatively low cost to entry, additional players could make matters worse for the fledgeling "music genome" based company.
It does not seem that Pandora's share price is due to bounce up from $10 as it has in the past. It has stagnated and may be a good candidate for short selling, or put purchase either now, or soon. Be careful with this one, as it may be due for one last hurrah in a nonsensical run to $12 before gasping for breath and going under that $10 line.
Often time opportunity presents itself in both directions, and investors can take advantage of strength or weakness in a company to produce profits moving forward. Each choice here presents opportunity to be had in opposite directions. Research each, and choose which option you feel offers you the most potential for gain and fits your own perspective.
Disclosure: I am long SIRI.
Additional disclosure: I am long SIRI April, May, and June $2 calls.