Themes
Today, my portfolio is attempting to profit from several big macro themes.
The slowdown in China and the ramifications across Equities and Commodities markets
US defensives versus EM cyclicals
Macro shift to Global Large Cap from Small Cap
These themes are contrarian to the positioning of most hedge funds and can be exploited using liquid, exchange traded instruments as opposed to risky OTC derivatives. In short, I am eschewing complexity for simplicity (KISS: Keep It Simple Stupid). I believe that if I am correct, and assuming I can execute properly, these asymmetric themes could have a gross return of greater than 20% over the next six months, with downside risk in the low-mid single digits. The returns should also be anti-correlated to hedge funds, which I expect would lose money given the economic scenario I believe we are within weeks of entering.
Macro Outlook
Global GDP continues to be below trend [click to enlarge images]: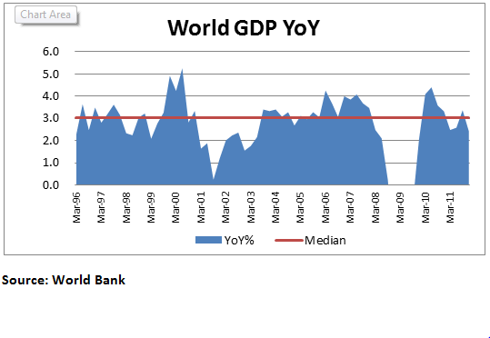 Click to enlarge
Meanwhile, using PMI New Orders-Inventory as a leading indicator, it looks like the Inventory Cycle could turn for the worse. If it did turn at this low level, there is a strong possibility we would see Global Manufacturing PMIs below 50 this summer (already Europe and China have dipped below 50).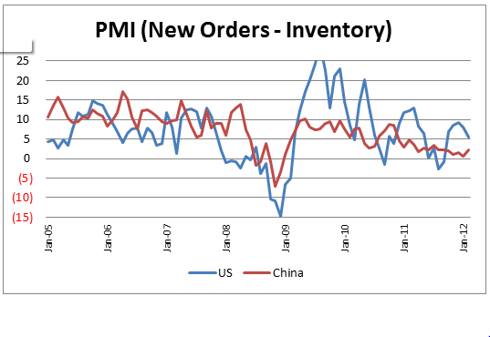 Click to enlarge
Source: Purchasing Managers Institutes, US and China
Global PMIs contracting below 50 are a rare occurrence. Other periods when global PMIs went below 50 include:
Summer 1998 (massive decline in global markets led by emerging markets)
Fall 2000 (biggest bear market in 25 years and the onset of the bursting TMT bubble)
Spring-Summer 2008: onset of global financial crisis and Great Recession
Each of these periods coincided with a fragile global economy and global growth below trend, not dissimilar to today's environment.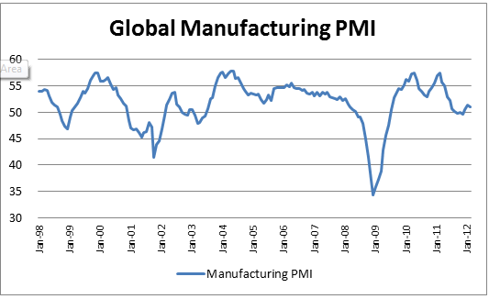 Click to enlarge
Source: JP Morgan
It would naturally be fitting if this happened in the face of economists having just revised their numbers up after completely missing the turn in Q4 (remember, economists have PhDs in linear extrapolation). The Citigroup Economic Surprise index shows there is plenty of room for downside surprises in economic data at this point. Recently, we have also seen a number of key misses and the reaction of the market to today's global PMI data will be important.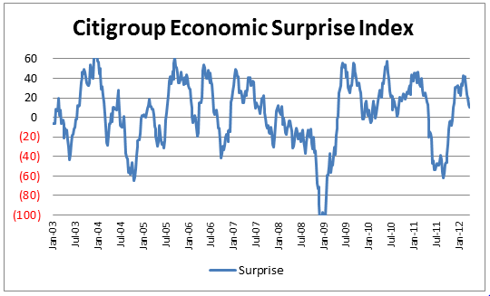 Click to enlarge
Source: Citigroup
Finally, we also have some pretty good technical evidence corroborating the macro-economics, as industrials have been meaningfully underperforming defensives for over a month now. Furthermore, it appears the cyclical downshifting of the global economy is manifest in the "lower highs" chart pattern of Defensives/Industrials AND the PMI data. A long defensives versus short cyclicals posture is warranted here.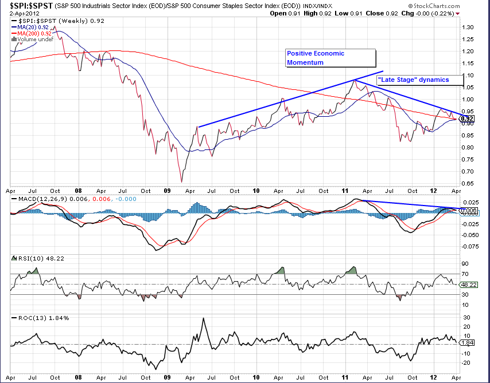 Click to enlarge
Source: Stockcharts.com
Fixed Income
Fixed income is a tough one. Clearly, if the global economy were to slip into a hard landing here, fixed income should do relatively well. In fact, this is my base case. At the same time, there are a number well publicized reasons to believe that fixed income yields should be a lot higher given US jobs growth, negative real yields, and consumer spending. Given the tremendous manipulation occurring in US treasuries, the best course of action is to walk away and to play parts of the credit space which have better convexity. One area is Local Currency Emerging Market debt. If indeed the global economy is going to slip into recession, we should see global central banks finally take their foot off the brakes. However, local debt is a risky asset and less liquid, and it is not an appropriate flight to quality instrument. I have thus paired my local EM debt position against a short Emerging Markets equity position to mitigate currency effect and isolate fixed income vs. equity beta. This trade would have worked magnificently during last year's growth scare and should work even better if the growth scare becomes reality.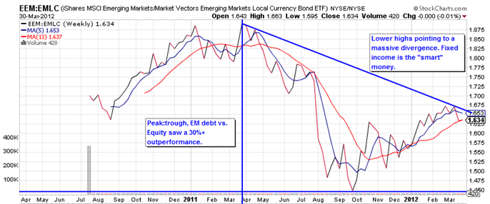 Click to enlarge
Source: Stockcharts.com
Will 2012 be a repeat of 2011? It remains to be seen, but certainly based on the data-points I have presented (among many more which I track), the prudent course of action at this point would be to reduce risk substantially.
Disclosure: I am long SPY, XLP, EMLC against EUM and RWM for an overall slight net short exposure.