For years Intuitive Surgical (ISRG) could do nothing wrong. Its revenues have grown at an average rate of 36.36% over the last 5 years. It has grown earnings yearly at an average growth of over 45% over the same period with growth forecast at a blazing 25% speed going forwards. However, with a trailing P/E of over 44 ISRG shares seem to be priced for perfection. The price assumes that the company can continue to execute as well at it has done historically. There is reason to be bullish.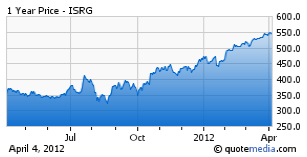 However, a lawsuit filed yesterday by the father of a deceased 24 year woman after a procedure using an Intuitive Surgical system may be a potential roadblock, raising questions about future liability from similar suits.
This is a medical technology company blazing an entirely new path of robotic surgery, and capturing large market share in multiple procedures, starting with prostatectomy, where nearly 80% of procedures are now done using Intuitive Surgical's da Vinci robotic system in the United States. Another growing procedure for da Vinci has been hysterectomy and da Vinci is also starting to find use in general surgery.
The da Vinci system is not really an autonomous robot. Rather, it is a sophisticated tool in the hands of an experienced surgeon. The surgeon sits at a console a few feet away from the patient and views the surgical area through a magnified high resolution display and manipulates the surgical instruments remotely. Since the surgeon is ultimately doing the procedure using da Vinci as a tool, Intuitive Surgical has avoided being embroiled in malpractice lawsuit unless it can be specifically shown that the problems occurred due to a malfunction of the da Vinci System.
According to the complaint filed in federal court in New York City, Gilmore McCalla's daughter died two weeks after undergoing a hysterectomy using the da Vinci in a Bronx hospital in August 2010. The complainant specifically alleges that the da Vinci robotic system was the cause of his daughter's death by causing burns to an artery and her intestines. According to the report:
In his complaint, filed by the firm of Rheingold, Valet, Rheingold, The complaint alleges design flaws in the da Vinci robot, including un-insulated surgical arms and use of electrical current which can jump to healthy internal organs and tissue. It also alleges that physicians are not properly trained on the device, and that Intuitive Surgery has failed to run randomized tests as to complications with its robot.
The suit also makes the claim that Intuitive Surgical has "suppressed reports of complications, and has oversold the merits of its da Vinci robot."
If it is found the problems in the surgical procedure was indeed a result of design flaws in the da Vinci system rather than surgeon's error or other causes it would open Intuitive Surgical up to significant liability in this and other cases and may put a damper on its growth rate and adoption.
The shares have had a big run, rising 79% in 2011 and 17% YTD, and it may make sense to book some profits or protect existing long positions using options.
Disclosure: I am long ISRG.
Additional disclosure: I have some covered calls against my long positions.