IHS, Inc. (IHS) handles the hottest commodity around: information. A publisher of technical documents for clients in the energy, defense, aerospace, construction, electronics, and automotive industries, the company distributes its data in several electronic formats (Internet, intranet, extranet, CD-ROM). Products such as collections of technical specifications and standards, regulations, parts data, and design guides are sold through its IHS Engineering unit. IHS also has an Energy segment that develops and delivers oil and gas industry data on exploration, development, production, and transportation activities.

Here's an interesting fact about IHS: There are 58.4 million shares outstanding, and the Thyssen-Bornemisza family controls about 80% of them. Usually, when concentration is that heavy in one family, the company is in good hands because the owners are very few, and they want a good return on their investment. Having said that, look what happened to Ford.

Here's another one. The company has over 55,000 customers in more than 100 countries. 75% of those customers buy only one product from IHS. There's plenty of room for cross selling here, especially since the company has many products for sale and a salesforce in place. The opportunity for revenue growth is strong. In fact, management recently changed the sales strategy from a focus on renewals to selling new products. Initially some of the sales force quit. That seems to be over now with more new and talented salespeople remaining.

Back at headquarters, management is working on better efficiencies by consolidating back-office functions like information technology, human resources, and marketing. It's also looking to remove operating distinctions between the energy and engineering segments. Furthermore, it's cutting the number of data centers from 11 to 5 initially, then to 3.

The big new push for the company is Asia, in particular China and India with both enjoying economic boom times. For companies looking to be part of the U.S. economy, and particularly any that would like to tap into the U.S. capital markets, IHS will be there to help with the process.

Part of the increase in recent earnings has been from price bumps. IHS has seen sales increase by 35 - 40% by passing along price hikes to customers. The company will no doubt continue to do so but runs the risk of clients seeking alternatives at a lower price unless those hikes come with some additional services.

IHS is fully valued, sporting a P/E of 38. It also carries a Price to Sales Ratio of more than 4. Those are high numbers, meaning investors love this stock. Maybe a little too much. With expectations priced this high, if there are any shortfalls, for whatever reason, look for this stock to pullback.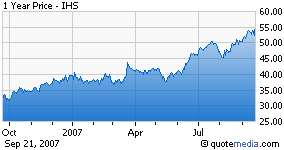 Disclosure: none