I like to believe that the readers out there read each and every article they can about their investments, no matter the source. As I have said repeatedly, it is oh so important to gather up all the information possible, process it, filter it, and make your decisions based on everything available.
A daunting task, isn't it?
With the internet comes such a steady stream of information, and this is especially so in the case of highly followed stocks. Apple (AAPL) takes the cake at the moment at the top of the list. One would have difficulty processing all viewpoints available. Perhaps that is why my Apple investment is not as interesting. Information overload. I look at the numbers, I say "ok," I look at the charts, I say "ok" again. I scan the headlines looking for sentiment, and I either buy, hold, or sell based upon this data. It has worked very well this year, but that's not really saying much. The stock has simply been "going up" and buying call options has subsequently returned hefty profits.
I know. Boring, right?
And this is the reason I read about, and write about, Sirius XM (SIRI) so much. It's a bit different. It trades a bit on fundamentals, a bit on speculation, a bit on rumor, a bit on future prospects, a bit on current events, and a bit on what I say it's going to do.
Ok ok you got me, I was kidding on that last part. Maybe. I'll be serious from here on.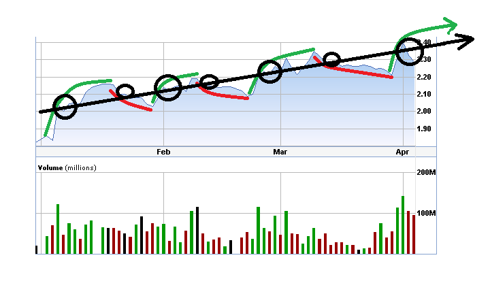 So I'm not the best artist in the world, but this is Sirius XM's chart as of close on Wednesday, at a closing price of $2.29. Had you read my article from Wednesday morning, you could have expected the close, and used the intra day drop to $2.24 to your advantage. Buying calls would have shown around a 20% appreciation, and buying the stock would have yielded 2% off the low. As discussed in the previous article, Sirius XM has been following fairly predictable patterns as shown by the green and red curves above. I added the black line to show average trajectory (which has been quite consistent and predictable) as well as show the pops and drops with the circles.
Remember, each large pop has been followed by a subsequent smaller drop, without fail, and this past increase was no exception. Two days up 20 cents, then two days down 11 cents. Is past performance indicative of future results? No. But in this case I think it's a pretty good bet that we will see a return to test that $2.40 hit on Monday very very soon.
Something else very important to consider. Each pop, followed by a drop, has been followed by another gradual rise roughly equal to the original pop. Do you see it under each green line?
Start left to right, 20 cents up, drop 5cents, 20 cents gradual rise.
10 cents up, drop 2 cents, 10 cent gradual rise.
18 cents up, drop 4 cents, 18 cents gradual rise.
This past time? 20 cents up, drop 11 cents. What comes next?
If you answered 20 cents gradual rise you just might end up being correct. This places us at $2.49, 1 penny shy of my $2.50 current price target.
You must, of course, decide if the above makes sense to you. If it doesn't, then your failure as a student is my greater failure as a teacher, grasshopper.
Consider the news about Liberty Media (LMCA) which propelled the stock upwards. All fine and dandy, but initial excitement wore off Tuesday and Wednesday, and allowed Sirius XM to drop. I believe auto sales figures, a crucial figure to look at when attempting to determine Sirius XM's new subscriber rate, were all but glossed over. I had expected Sirius XM to rise based on these excellent auto numbers, and since I believe these numbers have not had their impact yet, I think we are due for that gradual 20 cent run from $2.29 to $2.49 over the next two weeks.
Of course, any spike brings with it volatility, but watch for increasing highs with higher bottoms as time moves forward.
There's little to no mystery here. If you've been following along, everything is working out, generally, as expected. While some estimations have been off by a penny or two, the general trajectory and behavior of Sirius XM has been spot on.
Something every investor needs to consider. $2.50 is going to be an absolutely critical pricing point. I believe we will approach it over the next two and a half weeks leading up to April options expiration, and if Sirius XM decides to raise guidance, I would expect it to come closer to this $2.50 price point if they can time it. I believe raised guidance or the actual Q1 conference call itself will be crucial to push this past $2.50 and beyond. But investors must also consider if guidance is not raised, or Q1 comes in simply "as expected" within the 1.3 million guidance, that the stock could very well retrace right on down to $2 per share.
Be ready for strong gains if $2.50 is passed with news, but I'd suggest covering yourself with $2.50 May puts if we get near that $2.50 price point towards the end of April.
"The best laid plans of mice and men oft go awry."
While Sirius XM has been performing as expected, it is always best to expect the unexpected and cover yourself just in case.
Disclosure: I am long SIRI.
Additional disclosure: I am long SIRI April, May and June $2 calls.