Middlesex Water Company (MSEX) engages in collecting, treating, distributing, and selling water for domestic, commercial, municipal, industrial, and fire protection purposes. It operates utility and waste water systems in New Jersey, Delaware, and Pennsylvania.
Why would anyone pay attention to a small water utility stock like this one? Let me give you two quick reasons:
Perhaps one of the most dependable stocks in the world, Middlesex Water boasts a nice five year average dividend yield of 4.00% with an 87% payout ratio.
(click to enlarge)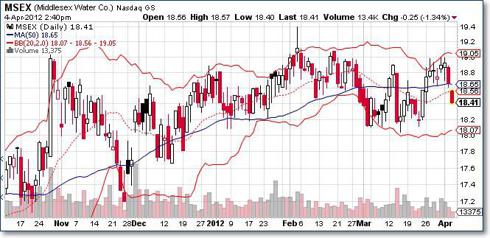 The company is well run. It has the lowest debt to equity ratio in its industry, about 55% lower than the industry average. (0.89 to 2.00) and if it has to attract lenders, it would have no problem. Its low debt burden can be seen in its ability to pay off the interest on its loans. With an Interest Coverage Ratio of 3.80, again it is much better than the industry average at 2.50.
Although this quarter the company is not expected to perform well, with earnings growth estimates coming in about 4% lower than last year, it has been forecasted to grow through the rest of the year performing much better than last year. Here are the company's projected earnings growth for next quarter and the year:
(6/2012) - 13.04%
(12/2012) - 15.87%
(12/13) - 9.25%
With assets 50.4% higher than liabilities, the stock is very healthy and should continue to remain so.
Why would anyone own this stock? It has a proven track record of a healthy financial state and has consistently paid out a nice generous dividend year after year for about 100 years. They don't get any more consistent than that!