Gold's London AM fix this morning was USD 1,631.75, EUR 1,239.65, and GBP 1,027.75 per ounce.
Yesterday's AM fix was USD 1,674.75, EUR 1,254.03 and GBP 1,044.17 per ounce.
Cross Currency Table - (Bloomberg)
Gold fell $30.70 or 1.83% in New York yesterday and closed at $1,646.30/oz. Gold traded sideways in Asia prior to a further $10 drop after the open of European trading.
Heightened risk aversion saw all markets fall yesterday after the Federal Reserve said inflation appears to be under control and suggested that the Federal Reserve may be reluctant to further debase the dollar with more QE.
This weakness continued in Asia where the Nikkei fell by 2.3% and European indices are down this morning.
The minutes came out just a week after Fed chairman Ben Bernanke alluded to the possibility that further QE and stimulus was needed in the U.S. economy, which pushed equity & commodity markets up.
Very contradictorily, the minutes suggested the Fed's appetite for further quantitative easing had waned.
However, the Fed and Bernanke have received much criticism for the ultra loose monetary policies of recent years and the ostensibly somewhat more hawkish stance may be an attempt to position the Fed as being monetarily prudent and wishing to protect the value of the U.S. dollar.
Prudent investors will rightly remain skeptical and will as ever judge the Fed by its actions and the data rather than its words.
With interest rates remaining near zero and continuing negative real interest rates, and these set to continue in 2012 and into 2013, monetary policy is set to remain extraordinarily accommodative.
Gold's bull market will almost certainly continue as long as we have negative real interest rates (see chart below).
Tops in Gold Prices Mostly Associated with Rising Real Interest Rates - (Bloomberg)
Gold's price peak in 1980 came about when U.S. 10 year bonds were yielding over 12% and with rising real interest rates. Today the U.S. 10 year is yielding a historically low and negligible 2.26%.
Real rates are have risen marginally but levels below 2% have been supportive of rising gold prices.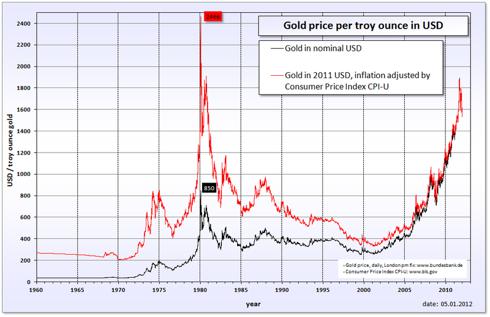 (Click to enlarge)
Gold price per troy ounce in USD - (Wikipedia)
The degree of monetary debasement seen in recent years means that gold's inflation adjusted high of $2,400/oz remains a very viable price target.
Indeed, the scale of the European and coming U.S. debt crisis and the real risk of currency devaluations makes $2,400/oz a conservative price target in the long term.
Disclosure: I have no positions in any stocks mentioned, and no plans to initiate any positions within the next 72 hours.