It is rather obvious what a painful time this has been for investors in Financials, but the Consumer Discretionary stocks aren't having much of a picnic either. In fact, it is actually the worst performing sector in the S&P 500 this quarter (-5.45%) as well as in smaller capitalizations.
While homebuilders certainly are an obvious contributor to the weak performance, it is rather broad-based. 48 of the 88 S&P 500 names in this sector are down year-to-date, and a stunning 66 are down this quarter with just a week remaining. While there have certainly been some strong performers within the sector, it has been difficult to identify any consistent areas. Two areas that have stood out include Consumer Services (mainly hotels and large chain restaurants) and Automobiles & Parts. Looking at the broader S&P 1500, these same trends hold as well. Drilling down on the varied Consumer Services, it is clear in the broader market that smaller restaurant chains are quite negative in contrast to the McDonalds and Yum. Separating the group into its two Industry components shows a real standout in the market for 2007. The 15 stocks in GICS Industry 253020 (Diverse Consumer Services) have an average return year-to-date of an astounding 21%:
click to enlarge

I mention all of this as a backdrop. I wanted to investigate the "competition" for a stock that has caught my attention, Bright Horizons Family Solutions (NYSE:BFAM) (43.80, $1.15 billion market-cap), which is a member of the group of 100 stocks I follow most closely. Many institutional investors are required to have holdings in the Consumer Discretionary sector. As the economy has started to show many signs of weakening, I expect that the field of candidates could shrink. The Diverse Consumer Services industry is filled with companies that enjoy recurring revenues or that are much less sensitive to the economy than typical consumer companies. They don't hold inventories, they don't have large capital investments and they tend to have decent balance sheets. As you can see above, educational stocks stand out in terms of representation.
BFAM is the only public company dedicated to providing child-care to employees of large corporations. Here is the summary of their business from their recent 10-Q:
Executive Summary and Discussion

Bright Horizons is a leading provider of workplace services for employers and families. Workplace services include center−based childcare, education and enrichment programs, elementary school education, back−up care, before and after school care, summer camps, vacation care, college admissions counseling services, and other family support services.

As of June 30, 2007, the Company managed 635 early care and education centers, with more than 60 early care and education centers under development. The Company has the capacity to serve approximately 69,500 children in 42 states, the District of Columbia, Puerto Rico, Canada, Ireland and the United Kingdom, and has partnerships with many leading employers, including more than 95 Fortune 500 companies and 75% of Working Mother Magazine's "100 Best Companies for Working Mothers". The Company's 519 North American centers average a capacity of 121 children per location, while the 116 centers in the United Kingdom and Ireland average a capacity of approximately 58 children per location. At June 30, 2007, approximately 65% of the Company's centers were operated under profit and loss ("P&L") arrangements and approximately 35% were operated under management ("Cost Plus") models. The Company seeks to cluster centers in geographic areas to enhance operating efficiencies and to create a leading market presence. The Company also seeks to enhance its reputation as the provider of choice for a broad spectrum of work−life services.

Bright Horizons operates centers for a diverse group of clients. At June 30, 2007, the Company's early care and education centers were affiliated with the following industries:

Industry Classification (Percentage of Centers)

Consumer 5%

Financial Services 15%

Government and Education 20%

Healthcare 10%

Industrial/Manufacturing 5%

Office Park Consortiums 30%

Pharmaceutical 5%

Professional Services and Other 5%

Technology 5%
A few of the things that stand out are that they cater to very large corporations for the most part, their customers are quite diverse, they have begun to expand internationally and they go well beyond "child-care". Growth comes from new centers with existing or new clients, expanding their service offerings to existing clients, acquisitions and management contracts. Pricing also adds to growth. While it isn't a big part of sales yet, companies are increasingly interested in adding "Back-up" services in order to prevent employees from having to miss work due to a sick child. To learn more, you might want to visit their presentation from the B of A conference earlier this month. Some of those highlights are their large market share, the power of their business model (long-term contracts, low capital costs, recurring revenue), the high ROI to their clients (employee retention) and a good explanation for the recent slowdown (loss of Ford/UAW – impact on EPS of 2-3%.
I think that this business model is very strong and that the economic slowdown shouldn't impact the growth of the company too much. Employers are unlikely to terminate programs. Perhaps pricing will be soft, but the weaker segments of the economy, at least at this point, aren't represented in the client base of BFAM to a significant degree. The financial services clients, in fact, might pick up some market share as the industry consolidates. Additionally, any sort of tougher economy might result in mothers currently staying at home returning to the workforce (and increasing demand). There is a huge short-interest position, and I believe that it is a poorly placed top-down or macro bet as opposed to a specific company issue. The valuation is attractive: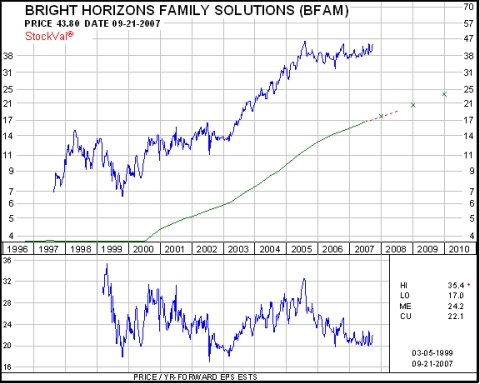 \
Earnings estimates have started to tick up marginally. Insider selling has slowed from $10mm two years ago to just $5mm in the past year (split between outright sales and options exercises). The stock has been consolidating for over two years now and is showing some positive momentum as it moves to the top of that multiyear range. It hasn't broken out yet, but it bears watching.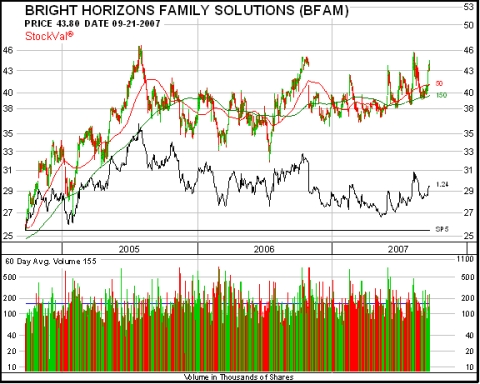 As you can see, the stock faces resistance at the 46 area. The stock has been outperforming the S&P 500 since April as it has been channeling higher. Support is very strong near 39, though I think that 41 may hold. Volume has been stronger on up days all year. I plan to be long on a breakout and may try to get long in front of it. Fundamentally, I believe that the valuation a year from now might be 24X or 58.
Disclosure: None