Toro Company (NYSE:TTC) makes lawn mowers and other products for professional and residential use. Toro's professional products include irrigation equipment, mowers for commercial use, riding and walk-behind power mowers for golf course fairways and greens, trimmers, and utility vehicles. Some professional brands are Toro, Rain Master, Exmark, Irritrol, and Dingo. Its residential products, sold to distributors, home centers, and mass retailers, include walk-behind and riding lawn mowers, lawn tractors, electrical trimmers, and snow blowers. Brand names in this sector include Toro, Rain Master, Irritrol, Lawn Genie, and Lawn-Boy.

Toro's Return on Equtiy pops out at you, in a 33% kind of way. It's been improving since 1999 when it started at 10.3%. Analysts think it will increase to 34% this year and 35% next, with it finally evening out around 33% in a few years. That's a great return on an investment.

Toro is lean, mean, profit machine. Late last year, management announced the completion of its "6+8" three year profitability and sales growth objectives. It beat the profits of 6% goal and was just shy of its 8% three year compounded sales growth. Management has a new plan now, the "GrowLean" program with emphasis on internal and external (by acquisition) growth. It's also got another program going called "Lean Enterprise" which should show real results in operations and SG&A expenses.

Toro has money to spend, about $94.2 million in cash as of the end of the third quarter (ended in July). Look for shares to be bought back. In July of 2006, the board announced the intention to repurchase 3.0 million shares. That's on top of two previous buybacks that brought in 5.5 million shares. Total shares outstanding are 39.676 million. So this buyback, if completed, will take about 7.7% of the stock off the market. That will certainly help boost earnings.

Other numbers: Current asset over current liabilities is about 1.8 to 1. Return on Equity is 33%. Net profit margin is 7%. Earnings were $2.02 in 2004, then $2.45, followed by $2.91. This year look for $3.35 with expectations of $3.65 next year. There's a small dividend of 48 cents share, up from 36 cents a share last year which was up from 12 cents the previous year. Revenues were $1.836 billion last year. Analysts are projecting $1.89 billion this year and $2.00 billion next year. They're also expecting revenues to grow by 9.5% a year, on average in the next 5 years while earnings improve by 13% a year, on average, in the same time period.

Toro's price history has been very good, starting from a low of $4.10 in 1998 (all prices split adjusted for two 2 for 1 splits) and going to a recent all-time high of $63.70. It's been a rewarding stock to own. To continue this trend, management has to deliver on its lean and mean image and grow earnings at or above analsyts' expectations. If there are any shortages, the stock will reflect them, quickly.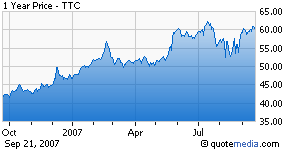 Disclosure: none