In sports, the character of a champion is most often revealed in times of adversity--facing tough competition, challenging conditions, even problems in its own backyard. Nike (NYSE:NKE) is showing the heart of a champion again, and the latest quarterly stats from the company on Thursday suggest there is a vast gap between the leader and the rest of the pack.

Nike is facing a precarious situation with the slowing domestic economy and a scandal-ridden landscape in professional sports, but this is one of the premier global brands and its geographic diversity is proving to be a valuable attribute these days. Double-digit sales growth in Europe (16.3%) and Asia (21.7%) powered Nike's quarterly revenue total to $4.7 billion, up 11% overall from a year ago. Net income surged 51% for the fiscal first quarter.

Favorable foreign exchange rates dressed up those figures to some degree, but the company also reported an impressive 11.5% increase in order backlog. Nike's stock price gained just over a point to $59.34 as of Friday morning, and the stock is up roughly 50% since we wrote about it 18 months ago. The advance has been underpinned by a combination of strong earnings, new product initiatives, and some flexing of brand power to wow investors with impressive results, creating the equivalent of a monster dunk for shareholders.

Nike's first quarter earnings per share of $0.92 (excluding a one-time gain) beat the consensus by five cents. Prior to Thursday's numbers, the analyst consensus for earnings per share was up to $3.33 Fiscal Year 2008 ending in May and $3.77 for FY2009. EPS growth is projected at a 14% annual rate over the next five years.

This is not just any consumer products company, after all, Nike revolutionized the athletic shoe business and is case study in marketing genius whose brand and slogans transcend the threshold between the marketplace and popular culture. "Just Do It" and the Nike Swoosh are ubiquitous around the globe. The company has successfully grown from a running shoe innovator to a powerhouse in every major category of athletic footwear, not to mention sports apparel, equipment, and accessories.

Nike is expected to post sales of $17.7 billion this fiscal year and the goal is to hit $23 billion by 2011. That's impressive growth for such a large company. Return on equity is a strong 22.4%, and net profit margins consistently in the neighborhood of 9% are rather attractive.

Recent concerns about a heightened competitive threat from the merged powerhouse of Adidas-Solomon and Reebok have proven to be overblown. Nike has taken several opportunities to assert its power as #1, though, such as offering a 450 million euro sponsorship deal to Germany's national soccer team--nearly five times what Adidas pays--when the current Adidas contract expires in 2010. Adidas wound up having to jack up what it will pay considerably to extend its history with the national team of its home country which dates back more than five decades. This was a classic shot across the bow from Nike.

With Nike's stock price advancing as it has over the past two years, it's no longer cheap. NKE is trading at 15.7 times forward earnings (the P/E is 20.1 using trailing earnings), and a Price/Sales Ratio of 1.7. The company pays a dividend of $0.74 annually for a yield of 1.30%.

Nike is beating the current domestic slowdown with overseas growth, and in general overcoming adversity like a true champion. Love 'em or hate 'em, there is a culture of winning embedded throughout the organization. This is a mature company with one of the best brands in the world, and it's delivering impressive profit growth in the mid-teens. A decent dividend and reasonable valuation add to the list or reasons why Nike is a company that deserves some attention from investors.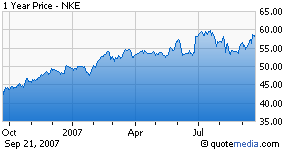 Disclosure: none