Long-term shareholders of Advanced Medical Optics (EYE) must be wondering what hit them as the stock languishes near its 52-week low around 28. After all, the aging of the huge baby boomer cohort, with the accompanying need for increased eye care, is now presenting huge opportunities for companies that serve ophthalmologists and optometrists.

The event that triggered EYE's fall from grace was the announcement in May of the worldwide recall of the company's widely used Complete MoisturePlus contact lens solution after the solution was linked to at least 21 cases of a serious corneal infection. The company contended that the infections were the result of improper use of the product, but the damage was done and class action suits have been filed against the company in recent weeks.

Prior to the announcement of the contact lens solution problem, EYE was in an acquisitive mode, purchasing two leading companies (VISX and IntraLase) that provide equipment for laser vision correction. The acquisitions cemented EYE's number one position in laser vision correction, which serves a relatively young demographic, but did nothing to help the company's position with aging baby boomers, where a major opportunity for growth exists. EYE did make an eleventh-hour $75 a share bid for rival Bausch & Lomb (BOL) after B&L agreed to be bought by Warburg Pincus for $65, but the bid was withdrawn after a major EYE shareholder contended that the company would be taking on too much debt and too many integration problems by making yet another major acquisition.

All this activity leaves EYE with little to offer baby boomers other than a broad range of well-regarded intraocular lenses and phacoemulsification equipment used in cataract surgery. EYE is not yet in the game when it comes to the other major aging eye diseases -- glaucoma, macular degeneration and diabetic retinopathy. This is where adding Bausch & Lomb would have helped greatly. Overall, despite some bad luck and some missteps, EYE still has the advantage of being a major player in a high-growth marketplace.

This year is pretty much a writeoff for the company but earnings should recover to the $1.40 - $1.50 range in 2008. If EYE can make some moves that give the company better positioning to serve the increasing eyecare needs of the baby boomers, long-term holders should be rewarded.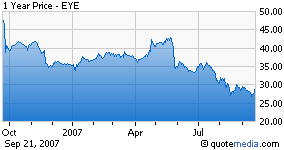 Disclosure: none