Are there any oversold and undervalued dividend stocks left after the market's big multi-month rally? The Basic Materials sector has been on the bottom of the heap for the past year, and is next to last in appreciation year-to-date.
Within this sector, the Oil & Gas Equipment & Services industry has 2 dividend paying stocks that look oversold and mostly undervalued: Halliburton, (HAL), and Schlumberger, (SLB). HAL's P/E of 10.31 is near the low end of its 5-year P/E range of 6.24 - 23.52, while SLB's P/E of 19.87 is closer to the upper part of its range of 9.58 - 24.97.
As the 2 premier stocks within this industry, they both command a premium Price/Book, but, they're both undervalued on a PEG ratio basis, and look poised to continue their strong growth:
click to enlarge

Share Performance: Both stocks are down considerably over the past 12 months, are way down from their 52-week highs, and have low Relative Strengths of below 40:

Dividends:

Covered Calls: Although these certainly aren't high dividend stocks, they both have high options yields, which are much higher than their dividend yields. We've listed 2 different covered call options trades for HAL, to illustrate how you tailor option trading strategies to meet your market bias, be it conservative or aggressive.
The first HAL call is more defensive: It has a strike of $33.00, and a call bid premium of $3.35, which is over 18 times HAL's 2 dividend payouts during this 7-month term. However, since the call strike price and the stock price are equal, the $33.00 call options leave no room for price appreciation that offers a potential assigned yield, if the shares are assigned/sold at expiration.
The second HAL trade is more bullish: It has a $34.00 strike price, which leaves you the potential for a $1.00/share price gain, BUT, its call bid premium is only $2.88, $.47/share less than the $33.00 call option.
(You can see additional details for this and over 30 other high options yields trades in our Covered Calls Table.)

Cash Secured Puts: Another way to profit from these stocks is to sell cash secured put options. The SLB trade listed below is the more conservative of the 2 trades, in that its strike price is below SLB's $68.69 price/share, and gives you a break-even that's fairly close to SLB's 52-week low of $54.79. SLB's November $67.50 put options pay over 7 times what its dividends pay for the next 8 months.
You can see more details on these and over 30 other high yield Cash Secured Puts trades in our Cash Secured Puts Table.)

Financials: Both firms' financial metrics are superior to industry averages, except for operating margins, where the averages appear to be skewed higher, mostly by much smaller companies: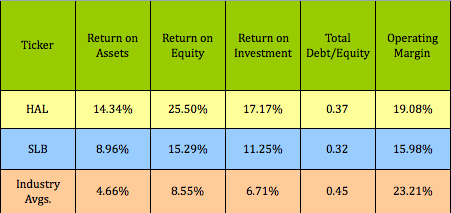 Additional disclosure: I'm long Halliburton via being short Halliburton puts.