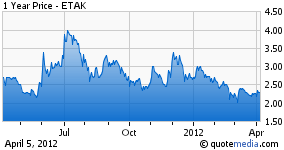 After I wrote about transaction security recently a reader suggested I take a look at a company he thinks has solved the problem, Elephant Talk (ETAK).
This one's for you.
Elephant Talk Communications is a Dutch-based provider of services to mobile networks. Its best known unit is ValidSoft, a security service aimed at stemming cross-border fraud by noting what country the phone is in and flagging transactions while they're being processed. The unit also offers voice verification for online transactions, calling buyers to confirm details.
This is the kind of thing that has to be implemented centrally, by credit networks and mobile operators. Thus, it's a tough sell. But the company seems to be making headway. It did a deal with Visa (NYSE:V) Europe Dustin Moore wrote about here in 2010. Come to think of it, Dustin writes about ETAK quite regularly. He really likes this stock.
There are some things worth liking. ETAK signed a bunch of deals with global mobile providers last year. The company has also made some key hires, sales veterans from outfits like Symantec (NASDAQ:SYMC) and Esprit Telecom (OTC:ESHDF).
So, you have revenues. Over $8 million each quarter. But you also have costs, big costs. ETAK doesn't have an earnings stream, it has a burn rate. Last year it averaged about $6 million/quarter. So if you saw Konrad Kuhn pounding the table for the stock and bought in last July, you've lost over 40% of your money.
Elephant Talk still has some street credibility, enough to recently buy the assets of a German service provider called Ensercom. Ensercom recently had its wholesaling agreement with Telekom Deutschland (DTEFG.PK) (the successor to T-Mobile after they wrapped the landline business into it) renewed so the hope is they can introduce all their services there.
So, is the glass half-full or is it half-empty? Josh Levine, who runs a Micro-Cap newsletter, pounded the table for ETAK last month. Rather than pushing the mobile operator side of the story, he was pushing the banking angle. If a big commercial bank adopts ValidTalk's technology as a standard, he wrote, it will be a really big deal.
Maybe.
If you're the kind of investor who likes sentences that start with the word "if," then you should consider talking a flyer on ETAK. You might come up a winner. Me, I get nervous playing quarter slots and will stick with the transaction processors. But I'll be rooting for you.
Disclosure: I have no positions in any stocks mentioned, and no plans to initiate any positions within the next 72 hours.